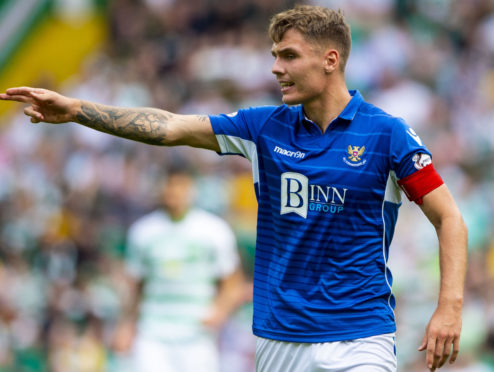 Jason Kerr would gladly have squared up to the Premiership winners again on day one of the new season.
But an opening weekend trip to face the Championship's top side will get the competitive juices flowing just the same, according to the St Johnstone captain.
The Perth team were on the wrong end of a 7-0 Parkhead thrashing by Celtic on flag day of the 2019/20 campaign.
Now the fixture list for 2020/21 has handed Saints their ninth first game away date in 11 seasons.
And the resumption of their local rivalry with Tayside neighbours, Dundee United will get the league season underway with a bang.
"We can't really start as badly as we did last year!" said Kerr
"I wouldn't have minded getting Celtic again to put last season's result right. But we're happy with Dundee United.
"Everyone will be motivated to start the season well.
"We've not played them in a while so that is going to be different. They did really well in the Championship.
"It's a good first fixture for us but we'll be disappointed that the fans are not going to be there.
"I imagine it would have been a sell-out because St Johnstone fans love playing against Dundee United.
"We will prepare as we normally would.  It's still three points up for grabs and we need to approach the game as we would any other."
As a promoted team, and as a promoted team with a new manager, United will have the surprise factor in their favour. The identity of their main man will not come as a shock to Kerr, however – Lawrence Shankland.
"You saw how well Shankland did for them last season," said the McDiarmid Park skipper, whose job in a few weeks will be to nullify the Scotland striker's threat.
"I've been watching him over a few seasons and he is a really good goalscorer.
"We'll need to keep him under wraps.  It will be a hard game and they will be full of confidence from their promotion.
"We played really well as a team towards the end of the season and now we need to start like that.
"I've been watching some of the Premier League games in England and it has been a little slow, like a training game.  Hopefully we can play at a high tempo."
The fact that Callum Davidson wouldn't want to take a sledgehammer to everything that had worked so well under Tommy Wright was one of the big advantages of his appointment as Saints manager. And Kerr confirmed that the training ground transition has been a smooth one.
"It's been hard work, having been away from it for three months," he said. "It's been a high tempo, just the way I like it.
"We've all gelled again already – Shaun Rooney has settled in well – and, with the new manager, it's not going to be too different in terms of how we play.
"I played under the gaffer when he was assistant manager in my first year. He just wants me to be myself and I know it's going to be good working under him.
"For me personally, it is good to now have that bit of experience as a captain. I'm looking forward to seeing how it goes next season."
Davidson and Micky Mellon will be taking charge of their new teams for the first time in the Tannadice encounter.
Playing without supporters was always going to make it an intriguing derby and now there is also the added ingredient of two rookie managers in the Scottish top flight coming up against each other.
"When you start a pre-season you always look forward to seeing who you are playing in your first fixture," said Davidson.
"It gives you a focus to build-up to the start of the season. Obviously we haven't played for a while so we will be raring to go.
"It's a local derby and it would have been good to have the fans there. But that won't be possible.
"We are going to have to deal with playing in front of no crowds and try to figure out the best way to do it.
"United will be a bit of an unknown quantity. Any new manager coming in has their own ideas and styles and when the transfer window opens it will be interesting to see what kind of business they do.
"In any new season teams have different ideas.
"I think it's exciting for a manager to find out what different teams are doing, what tactics and systems they are trying to play. I'm looking forward to it."
Assessing the early season fixture list for Saints beyond the Tangerines, Davidson observed: "It's a tough opening for us with United first, Aberdeen at home then Rangers and Kilmarnock away.
"But that's the league for you. There are no easy games. It's a small league and the teams are competitive.
"Rangers and Celtic have usually pulled away in the past but the rest are all fighting for the four places that are left in that top six."
St Johnstone's Premiership fixtures revealed in full as new boss Callum Davidson takes his side to Tannadice for Tayside derby on week one