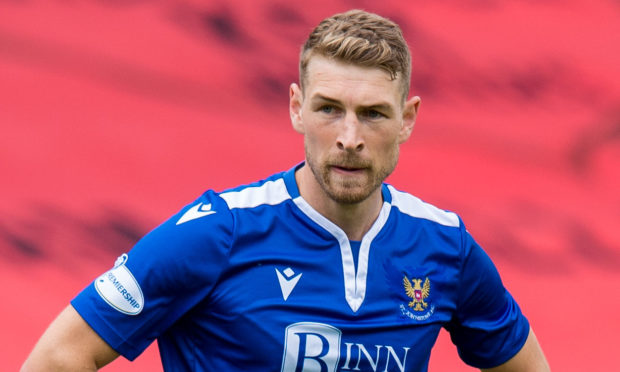 Tommy Wright described him as his best ever signing for St Johnstone.
And David Wotherspoon has given new manager Callum Davidson an instant reminder of why that was the case.
The 30-year-old has been Saints' man of many positions since arriving at McDiarmid Park seven years ago.
And, after playing across the midfield and occasionally at full-back for Wright, he was deployed in a new-look front-three by Davidson in the Premiership opener at Tannadice on Saturday.
Saints only had pre-season training and a couple of bounce games to work on the 5-2-3 formation but Wotherspoon showed in the first competitive fixture against Dundee United that he has quickly taken on board its detail.
"David has always been a very good player," said Davidson. "He's someone who can play anywhere.
"What I like about him is he understands the game. When you tell him something you know he'll take it on board and do it.
"I thought he was excellent on Saturday, especially in the second half when we were down to 10 men.
"He worked extremely hard when United had the ball and when we got it, he gave us a bit of quality in the final third of the pitch.
"Tommy and I always said he was really flexible in where you can play him, he's comfortable in a number of positions.
"I had no qualms about putting him higher up the pitch and he did a great job for us."
The drop in the age profile of the Saints squad over the last two years has placed a requirement on Wotherspoon to become a leader on and off the pitch. And it's a requirement Davidson has seen him take on board.
"He's an influential player," said the Perth boss. "He's older now and he's stepped up to being one of the senior players in the squad.
"He's taken on that role in the team and within the group. He's really stepped up on that front."
Wotherspoon twice came close to scoring for Saints at the weekend – with a shot from just outside the box in the first half that had Benjamin Siegrist beaten but scraped past the post and, after Liam Craig's equaliser, with a deflected effort that the United keeper did very well to keep out.
His last goal was in January and you would expect that barren run to be ended soon.
Davidson said: "What we want from David is to keep doing what he's doing, a bit more quality with the final ball and to add goals.
"He's capable of playing that role in a front three and you saw that on Saturday.
"We need goals from all over the pitch."
Davidson was confident going into the United match that he could rely on his players' fitness from day one. Seeing them match-up 10 v 11 for over 45 minutes without holes opening up gave him his confirmation.
"The first 25 minutes were difficult because it was the first game of the season and we hadn't played for five months," he said.
"So it was always going to be difficult, but I was delighted with the fitness levels.
"I wasn't too concerned about the lack of matches, even though we'd only had two pre-season games, because I'd seen them in training.
"You can train just as hard if you put everything into it and from what I saw they were doing that.
"Not having the amount of games we wanted wasn't ideal but I knew the fitness levels were there from looking at the way they'd worked.
"So I was delighted to find out after the 90 minutes exactly where they are fitness-wise.
"I felt we got stronger as the game went on and I couldn't have been more pleased with the second half.
"Being down to 10 men and putting in a performance like that away from home was impressive.
"I picked my team on who had done best in pre-season, who was fittest and now it's up to them to stay in the team by performing."
Having watched the game back, Davidson hasn't changed his position on Michael O'Halloran's red card.
He explained: "The one Mikey got sent off for was pretty soft but he'd already been booked and had been given a warning as well.
"So when the third one happened, that counted against him.
"It was just over-enthusiasm. He's desperate to do well.
"It was more about eagerness than malice, so that's something he has to take note of.
"We don't want that enthusiasm to go out of him but you have to curb it at the same time."
No timescale has been put on Zander Clark's return from a pre-season knee injury but there was positive news to report on Murray Davidson, Chris Kane and John Robertson.
Davidson explained: "Murray has a little Achilles problem. He has a bit of inflammation which we are waiting to settle down.
"Chris Kane has had a niggle with his calf so hasn't played in pre-season.
"We can't rush him back in with a calf injury but he's feeling good and hopefully he'll be back soon.
"We need to make sure he's right because he offers something different to our other strikers. He gets us up the pitch.
"He works extremely hard, he brings real work-rate and energy at the top end of the pitch.
"There are aspects of the game he has to improve on and he knows that, but he's someone I'm keen to get back.
"Murray is the same. He gives us real energy in the middle of the park so hopefully he'll be back soon enough.
"John Robertson will be back training at some point this week hopefully.
"He'd done well in pre-season but got an unlucky one rolling his ankle in training.
"We thought it was worse at the time but he's a quick healer and it's got a lot better in the last few days."
ANALYSIS: Callum Davidson shows he will be a bold and innovative St Johnstone manager