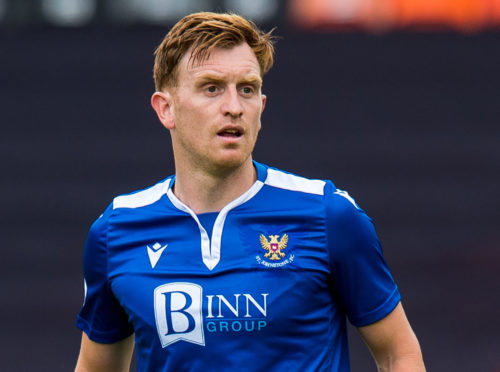 There would have been a nice bit of symmetry had Liam Craig clocked up his 400th appearance for St Johnstone against a team led by the manager who gave him his first game for the Perth club.
The Aberdeen postponement however meant that milestone was instead reached at Ibrox in midweek, with Steven Gerrard in the opposition dugout rather than Derek McInnes.
Even a veteran pro schooled from a young age to always look to the future and not the past is permitted to get nostalgic when he's contemplating such an auspicious landmark.
Stuck two short of the magic number for several months of a pandemic lockdown, Craig had plenty of time to let his mind wander back to when and where it all began for him in the blue and white of Saints.
"I can remember the first one clearly," he recalled. "It was Hamilton away. They were top (of the second tier) and we weren't in with a chance of catching them.
"James McArthur scored the only goal and James McCarthy played as well. Those two haven't done too badly since.
"The week after was my first home game against Livingston. We won it 5-2 and I've no problem remembering that one because I scored with my right foot! There haven't been many of them since."
With Graham Dorrans, Robert Snodgrass and a certain Dave Mackay in the Livi line-up that day, they weren't too poor an opponent either.
"Back then I'd have been delighted to reach 40 games for St Johnstone, never mind 400," said Craig.
"Del was brilliant for me in terms of how he managed me on the pitch and helped me off it. He showed belief in me and played me week in, week out.
"And Doc (Tony Docherty) was brilliant with the wee things that gave you confidence and made you feel great about yourself. I owe them so much.
"I would never take it for granted that I'll be selected for any game but it could have been 400 against Aberdeen. For sentimental reasons it would have been fitting if the match had been against the manager who signed me.
"Obviously that didn't happen but I'll see them on Thursday."
Reminiscing about different St Johnstone teams he has been a part of over the last 13 years, all of them successful in their own way, has reinforced Craig's belief that the common denominator is an obvious one.
"The changing room was brilliant then and it still is," said the former Falkirk man, whose time at Saints has only been interrupted by a couple of years with Hibs.
"Nobody has ever thought they were bigger than the club.
"As tough as lockdown was, it's been enjoyable to look back on some of these games along the way and the team-mates I've played with.
"There were a lot of good players here at the start – even the younger ones coming up like Mooner (Kevin Moon).
"You had some big characters like Kevin Rutkiewicz, big Allan McManus, Alan Main and people like Goran Stanic – I loved playing with him and being in his company even though it was only for six months.
"I struck up a really good bond with Paul Sheerin. We're still close even now. And boys like Peaso (Peter MacDonald), Savo (Steven Milne) and Martin Hardie were very good players.
"Then it was the likes of Cuptie (Mackay), Ando (Steven Anderson), Muzz (Murray Davidson), Frazer (Wright), Midge (Chris Millar) and Callum (Davidson) who had a couple of years as a player.
"From just wanting to play football after being left out at Falkirk, six months became three years and then five-and-a-half years. The club was going from strength to strength and I was just glad to be part of it.
"Managers have been given time to get it right and every one of them has done that.
"I enjoy it just as much now as I did when I played for the first time. I still get that buzz going in to training every day.
"You're lucky if you get a club that suits you and that's been the case for me at St Johnstone."
Tommy Wright was Craig's first manager second time around. Signing for Saints again after leaving Easter Road was as significant a crossroads moment as when he was a 20-year-old trying to find a way into regular first team football.
"I'm not talking about finishing anytime soon but the way I rejuvenated my career after coming back from Hibs gives me the most pride," he said.
"My career could have gone anywhere at that stage, let's be honest. It could certainly have gone part-time.
"If it wasn't for my association with the club and the way I conducted myself in my first spell I probably wouldn't have got asked back by St Johnstone.
"I felt I could still play at that level but I needed someone to have that trust in me. I don't think Tommy would have seen it as too big a risk and I'm glad I've played a part in recent successes.
"The fans welcomed me back and those relationships build as well. That's another reason I've stayed as long."
The day after his 400th game, Craig received a text from the one man in front of him. Forty-two more appearances to break Anderson's club record won't be easy, especially with Covid-19 now a thing, but it's definitely not impossible.
"Ando's another great servant to the club," he said.
"It is do-able, I suppose. I've been lucky enough to go through my career without serious injuries. A lot of folk will say that's because I haven't run enough and I don't tackle!
"I just want to play as many games as I can. If I keep doing that and the team keeps winning then there is every chance.
"Hopefully a contract beyond January can be sorted out and I'm here for longer. I've always said it will not be my decision to leave the club it will be the club's decision. I can't thank the club enough.
"Hopefully this will be another successful season and I can get a few more games yet.
"When you go to hall of fame dinners and hear about greats of the club, it brings it home how special it is to be one of two players who have reached 400 games. You're a part of club history. That's what makes it sink in that it is a huge achievement.
"To get to do it in such good teams at such a successful period for the club makes it even more special."
And Craig believes that successful period he talks about can continue for a good while longer.
"It was a disappointing result at Ibrox the other night and they showed their quality but for the most part our discipline and shape were excellent," he said. "We can certainly take positives into the Kilmarnock game.
"Look at how young, hungry and enthusiastic that team was at the end of the game. That's really encouraging.
"Robbo (John Robertson) got on. He's 18. Looking back, that was me going to places like Ibrox for the first time. The same for the likes of Tanto (Olaofe) and Danny (McNamara), who I thought was excellent again. They're all going to get better and better.
"You always have to prove yourself in your career. That hasn't changed.
"I'm enjoying passing on my experience on the training ground. Hopefully these younger players will make 400 appearances, if not at St Johnstone then elsewhere.
"They'll have that support from me and others at the club."
Not only are Ali McCann and the rest of the young guard at McDiarmid growing as players in the same team as Craig, they are also growing as leaders.
"Ali has been brilliant," he said. "He's gone from strength to strength. That will only continue. He doesn't need looking after.
"I look behind me and see Jamie (McCart), Liam (Gordon) and Jason (Kerr) and there's Ali beside me in the middle of the park.
"You certainly don't think: 'We're going in here with kids'. They've got bags of ability and will all have really good careers."
ANALYSIS: Rangers frustrations show St Johnstone game plan is getting more effective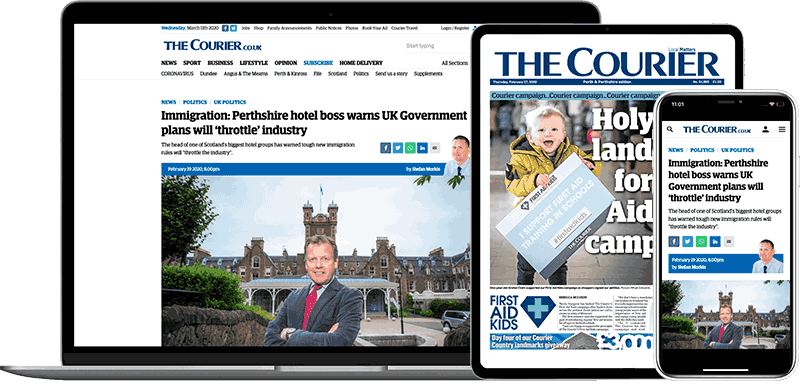 Help support quality local journalism … become a digital subscriber to The Courier
For as little as £5.99 a month you can access all of our content, including Premium articles.
Subscribe