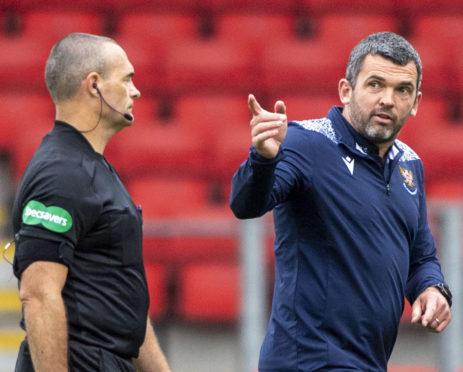 St Johnstone have been forced to swallow a double dose of Premiership pain in the last four days, with Hibs following Aberdeen's lead of snatching a late win against the Perth men.
The Dons loss was a tough one to take for Saints but nothing like as painful as this 1-0 defeat to Hibs.
The hosts had a Callum Hendry first half header wrongly disallowed for offside.
Then, after creating chance after chance in the second period, went down to a highly controversial stoppage time Stevie Mallan penalty when Liam Gordon was punished for pushing Ryan Porteous.
Reflecting on the chalked off goal, Saints manager Callum Davidson said: "I'm not standing in line so it's always difficult to see. You accept the referee's decision."
He was more aggrieved with the late penalty call, however.
"Let's just say there were a lot of hands up in the box," said Davidson.
"What I will say is he (Gordon) gives the referee an opportunity by raising his hands. I can't say anymore. There are another couple of hands there to create momentum for certain players.
"It's hard to take, especially after the decision in the first half.
"At the moment it's quite raw.
"Referees make decisions and it's a hard job. I referee games in training and sometimes it's hard to see things.
"Ultimately we were on the wrong end of it today so we just have to move on."
On the game as a whole, Davidson said: "We weren't good enough in the first half. It was a credit to how Hibs played. I asked for a reaction in the second half and my players gave me that.
"We were excellent and were the only team looking like winning the game. To lose it in that way was a bitter pill to swallow."
The salt in Saints' wounds was Liam Craig being red-carded for the way he spoke to referee John Beaton after the final whistle.
"I was disappointed with him," said Davidson. "He's an experienced player, and one I can't really afford to have missing for the games coming up.
"So yes, I am disappointed. Obviously, it's frustration, but that's why we play football.
"You get frustrated, angry, annoyed. But you have to move on, and I expected better of him given he's one of my more experienced players."
All told, no points in the last two games and a cruel week.
"It definitely was. The lads have been brilliant," he added. "I asked them for performances against Hibs and Aberdeen and they have given me 180 minutes of that standard.
"The first half today wasn't quite there and I thought we looked a little leggy from Thursday night.
"But they got going and I thought in the second half we were really good.
"So it's hard to take. I am finding it hard to take myself. But we have another big game coming up on Saturday (against St Mirren).
"And that's why we play football. You get good decisions, you get bad decisions, sometimes you're lucky and sometimes you're not. That's why we all watch it."
Hibs manager Jack Ross admitted that his "gut instinct" at the time was Hendry's goal should have stood but he backed the officials for their stoppage time decision.
"I thought it was a penalty," he said. "I've only seen it again from our footage. By the time Ryan falls there are a lot of bodies round him but I thought there was contact from Liam Gordon, two hands on the back quite early as the ball is in the air, which maybe people don't look at, but from that point of view it was a penalty.
"But I can understand people arguing for and against it."
VERDICT: Hibs hard luck stories continue for St Johnstone after cruel late plot twist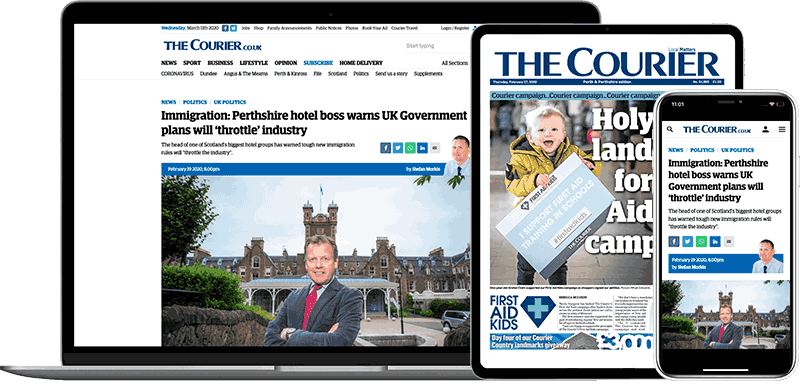 Help support quality local journalism … become a digital subscriber to The Courier
For as little as £5.99 a month you can access all of our content, including Premium articles.
Subscribe