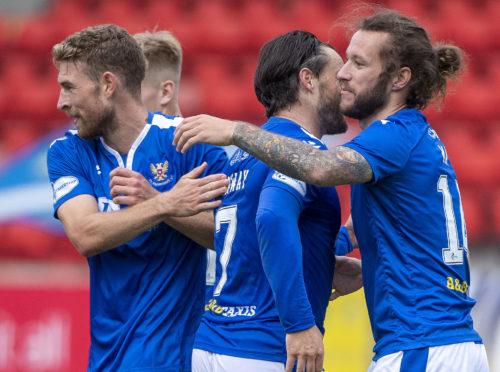 Stevie May has been good for new St Johnstone managers.
For all his achievements in Perth over seven history-making seasons, Tommy Wright never played down the importance of May's goal against Rosenborg on a Europa League summer's night at McDiarmid Park when he was settling into the role of number one after taking over from Steve Lomas a few weeks earlier.
We're a long way away from getting nostalgic about the Callum Davidson era but another goal from the talismanic Saints striker already has a transformative feel about it.
Before assessing his 72nd minute finish and the impact it will have on this team and its direction of travel, you must first consider the alternative scenario had May not come off the bench to find a winner. The players won't admit it but by the time he joined the action, and probably long before it, there wouldn't have been a supporter watching this match on their internet streams who wasn't fearing a third game in a row of being punished for missed goal-scoring opportunities.
The Aberdeen and Hibs defeats were from the same cloth but losing – or even drawing – to St Mirren would have left no material left to cut.
It would have been a sporting travesty if Saints hadn't won this one.
If statistics are your thing, the first half in particular made for as black and white reading as the Paisley club's colours. There were 14 chances to nil – and several of them clear-cut ones (Callum Hendry's six-yard header, Scott Tanser's back post volley and Craig Conway's skied shot from a Danny McNamara cut-back were the best of them but there were others that ran them close).
There was a befuddled Jim Goodwin making a tactical substitution before half-time in an attempt to alter the flow of the match. He needn't have bothered – with that or the several systematic tweaks that followed to no great effect.
And listening to the shouts from the St Mirren directors' seats was further confirmation, not that it was needed, of the one-sided nature of the fixture. They're a noisy bunch (Jonathan Obika wouldn't have wanted to sit near the front of the team bus on the way back west) but an honest one. You didn't have to breach social distancing protocols to over-hear one member of the official party head for his half-time hospitality saying: "They should be at least 3-0 up."
The spurned chances weren't as frequent in the second period but the overall dominance was still there, and the possibility (probability for the real pessimists) of another smash and grab was hanging in the air.
A 1-0 home win against St Mirren at the end of August won't jump off a page in any season but, make no mistake, this was a crossroads result for a young manager and a young team needing evidence that their impressive box to box play could produce an end-product to match.
Instead of doubts festering over an international break whether an easy-on-the-eye style of play that was confusing opposition management teams and players could be converted into cold, hard results, the Saints squad have proof that they can have both.
It wasn't their first win of the season but it was far more significant than the comeback triumph at Kilmarnock.
If Davidson could have chosen a type of goal to seal that conformational victory, it was this one from May. It was exactly the type of direct wing-play and direct striker-play that has been missing.
Craig Conway's acceleration to buy himself enough space to cross and, May's similarly decisive short, sharp burst to the near post between two St Mirren defenders was beautiful simplicity.
Players talk in general terms about 'being better in the final third', 'taking our chances' and 'being more clinical'. But you can be confident that when Davidson gets down to specifics on the training ground with his forwards he will have been working on encouraging the central ones to make penetrative runs that provide a focal point for a midfielder or wide player with his head up.
Wright's focus with May last season had been on cutting back on the work he was doing on the fringes and upping the output between the width of the 18-yard box. Davidson has picked up where his predecessor left off and this goal was the result.
Full-back McNamara didn't see the Stevie May of last season or the Stevie May of 2013/14 who scored 27 goals in one glorious campaign but he'll be looking forward to spotting darts between defenders like Saturday's in the weeks and months ahead.
"It was a great run from Stevie," said the Irishman, who will now spend the week on under-21 international duty.
"He showed a bit of class and it was a brilliant finish."
'Class' is one word that can certainly be used in relation to McNamara. Equally at home playing slick pass-and-move football in and around the opposition box as he is closing down a winger and throwing himself into a tackle, he was a strong contender for Saints' man of the match at the weekend. And it wasn't for the first time.
He doesn't lack confidence but to have started all six Premiership matches and to have performed excellently in all of them after arriving on-loan from Millwall, has exceeded expectations.
"It has," said McNamara. "I didn't expect to start the first game of the season. There's a lot of competition for places. But the gaffer trusted me and I've started all the games.
"I'm trying to be as consistent as possible."
When matches pan out like this, McNamara's attacking duties are more important than his defensive ones. He includes himself when he speaks about where the team can improve.
"We know we can step it up even more," he said.
"Myself, I've had a couple of chances to score. That's something to work on. I've got to try and put them away. The keeper's had a really good save to keep one out but it was a bit of a hit and hope. If I'd hit it low it probably would have gone in.
"I'm playing a lot higher up so I'm still learning that position."
McNamara's optimism for Saints' season is not only grounded in Saturday's mismatch. There is the knowledge that they can compete with – and in some cases, better – the big guns in the Premiership.
"Coming up here, you look at the likes of Rangers, Celtic and Aberdeen and think that they're going to be top, top teams," said the Londoner.
"To be fair, we've given Rangers and Aberdeen a good game.
"We lost to Rangers 3-0 but I didn't think we did badly. And against Aberdeen and Hibs we dominated at least one half against both of them.
"There's no reason why we can't beat the top teams in the league. We can definitely move up the table."
And McNamara's optimism is further reinforced by the belief that the fluid Saints' football – with centre-backs becoming auxiliary forwards when opportunity presents itself – that is proving to be so problematic for opponents to get a grip of, has yet to peak.
"We're still learning the formation," he said. "As you could see today, it can really help us hurt teams. Once we nail it down there's no reason why we can't improve even more. It's not as if it's not working but we just need to be a bit more clinical."
The previous weekend, Jason Kerr was making penetrative runs inside McNamara's left shoulder and against St Mirren he was going past him outside his right one.
Whether underlapping or overlapping, it's incredibly hard to stop.
"You don't see it often," said McNamara. "Sheffield United do it and I think that's where it's come from. It can be really effective.
"Teams don't know how to press against it. When I'm at wing-back and Jason is overlapping me, if a centre-back steps out it creates so much space for Michael (O'Halloran) to run into.
"We still haven't nailed it properly. Hopefully we can make it work even better."
It's a prospect that should whet the appetite of the new Stevie May with his old Stevie May number nine's mindset.
https://www.thecourier.co.uk/fp/sport/football/st-johnstone/1545115/st-johnstone-looking-up-after-first-home-win-of-the-season-says-danny-mcnamara/