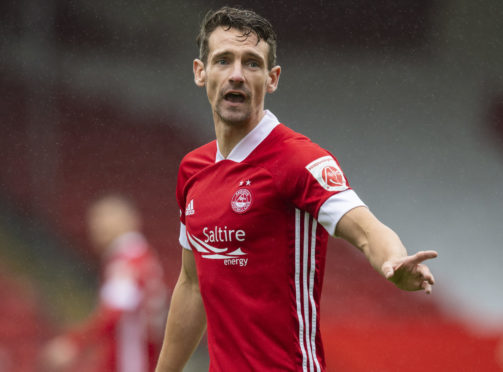 Craig Bryson is on St Johnstone's radar, manager Callum Davidson has confirmed.
The 33-year-old midfielder was released by Aberdeen recently and Davidson is keen on bringing him to McDiarmid Park.
The Perth boss stressed, however, that there are other targets apart from the free agent.
"He's one of many players I'm looking at just now," said Davidson.
"He's a good player and he's obviously been released by Aberdeen. He's definitely somebody we're interested in, along with two or three others.
"Hopefully in the next couple of weeks we'll get a couple in."
Versatility is high on Davidson's wishlist for any remaining recruitment business he can get done.
"There are certain areas I'd like to strengthen," he said.
"As we go into a busy period of games we need to make sure the squad is big enough to cope with three or four injuries and there's also the Covid issue as well.
"You've got to factor that into the equation.
"I have to make sure I'm covered and have players who can play two or three different positions.
"That's what we're looking at. If a player comes up who I think is too good to turn down, hopefully I'll get the backing to do it."
With coronavirus cases in the country on the rise again and the number of clubs being impacted by the pandemic following a similar curve, it remains a unique and ever-present threat to a manager's pre-match planning.
"Having numbers and coping with it is a different story," Davidson admitted.
"You don't sign players just because of Covid. It's such an unknown factor. But it's always in the back of my mind that if I lose two or three players, all of a sudden my squad thins.
"With injuries you can try and alter things a bit and try and protect players in training but with Covid there's nothing you can do. It's a scary one.
"You look at the three goalies at St Mirren. It's quite a scary situation and I wouldn't like my club to find itself in it."
The show must go on is the SPFL mindset as Jim Goodwin found out last weekend when he had to bring in a goalkeeper on an emergency loan. Davidson had sympathy for the St Mirren boss.
"Goalkeeper is such a specialised position that it's a real hard one," he said.
"You can do nothing wrong and that can happen.
"Smaller clubs obviously won't have the capacity to deal with it as well.
"It's a difficult question for me to answer and hopefully a situation I never have to deal with."
The Betfred Cup gets underway at the start of next month, with lower league clubs returning to competitive football. The finer detail of coronavirus testing requirements for these sides has yet to be publicised.
Asked if he has been given any clarity, Davidson replied: "Not really, no. To be honest it's not something I've thought about or looked at yet.
"The fixtures have come out but I'm not quite sure about all the rules with testing etc. We'll cross that bridge when we get there. We've got three really important fixtures before then.
"I'll let the Covid experts deal with it."
St Johnstone star Stevie May will score more often than not if he keeps getting in good positions, says Callum Davidson