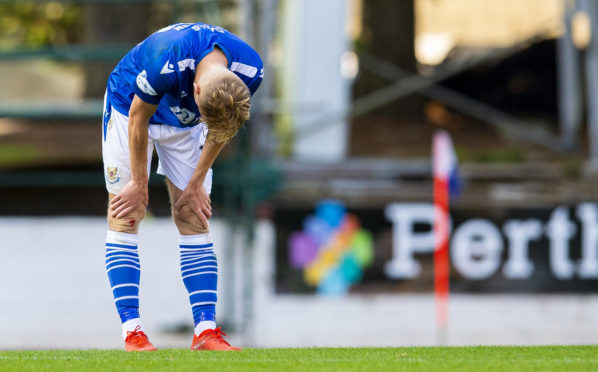 Although very little of significance is changing – or, perhaps more pertinently, because very little of significance is changing – St Johnstone's season has reached its second phase.
The hope at the time was that the unlucky, narrow, back-to-back defeats to Aberdeen and Hibs would be a two-part mini-series of its own, with the convincing victory against St Mirren putting the hard-cover on a boxset that could be left to gather dust.
What happened at Motherwell, though, when the Aberdeen/Hibs themes re-emerged, suggested that if early-in-the-campaign meaningful trends were to be identified we should in fact be looking before and after the Paisley Saints fixture, not at it.
Now, with Ross County doing a similar job on Callum Davidson's side, and like Motherwell not leaving it late, it would be denying the evidence to argue that some form of norm hasn't taken hold.
Saints' first three games – Dundee United, Rangers and Kilmarnock – were understandably a new season, new manager mixture of good, bad and indifferent. Since then, however, Saints have lost four out of five by a 1-0 margin and made the win that they did get much harder work than it needed to be.
There is still good (very good) in there, arguably more of it than ever. But it isn't proving to be enough to draw or win matches.
Opposition teams of lesser quality have figured out a game-plan that is proving successful – don't worry about having less possession, sneak a goal and then make sure your centre-halves stay disciplined. Derek McInnes, Jack Ross, Stephen Robinson and now Stuart Kettlewell have all talked up the defensive and combative qualities of their sides after beating Saints, knowing fine well that they couldn't claim to have out-played them.
You could virtually cut and paste Kettlewell's summing up.
"I thought we were better in open play last week than this week," he said. "But we defended our penalty box manfully. We probably didn't have too many chances going towards St Johnstone's goal.
"We said to the players before the game it was going to come down to the odd goal. If you look at St Johnstone's results over the course of the season it's kind of been that scenario."
Indeed it has.
The main reason for describing the next run of matches as a second phase for Saints isn't to do with other sides and what they're now putting into practice so effectively.
It's that the Perth players know themselves there have been too many examples now for the 1-0 defeats to be pure bad luck. And they also know that they have to do something different to change it.
The alternative is style continuing to outweigh substance. Patronising pats on the back week after week would be an unpalatable prospect.
Scott Tanser summed it up succinctly.
"Hopefully we don't become the team that plays other teams off the park, concedes and doesn't get any points."
So how do you stop yourself becoming that team?
"It's about taking our chances," said Tanser. "Me included.
"I've hit the bar with my one at the back post that I should have been scoring.
"If we score the first goal in games it will be full steam ahead kind of thing but that's not happening just now.
"When you go behind you end up chasing the game. The opposition can start time-wasting and sitting in. That's the way they've played it but they've won the game at the end of the day.
"We're playing really well so you can't fault what we're doing. We're working hard and creating chances but we're conceding soft goals at the moment.
"It's Livingston next week and we just have to move on to that now."
Every club is attempting to find ways of enhancing their match day product for armchair fans. St Johnstone could give half-time bingo a try. There was enough for a full house on Saturday. All the familiar boxes were being ticked.
Refereeing calls going against them – if a hand-ball penalty was rightly given against Liam Craig on day one at Tannadice then there should have been two for Saints at the weekend; Keith Watson was a lucky boy not to see red for a crude lunge on Tanser; and Jamie McCart was being climbed on by Alex Iacovitti for the winning goal.
Poor decision-making in promising attacking positions – Tanser not picking out Stevie May, David Wotherspoon shooting rather than crossing from a tight angle and Callum Hendry taking the ball off Wotherspoon's toes were all examples of that. And there were others.
Poor decision-making in a defensive position – Tanser had no need to cut-across Michael Gardyne for the free-kick that led to Iain Vigurs' fortuitous goal because Liam Gordon was getting the ball.
The full-back, who was Saints' chief creative threat in the match, believes the award of a foul should be listed in the poor refereeing decisions category.
"There was no chance he was getting there," said the Englishman. "I blocked him off to protect the ball and he's gone down a bit soft in my opinion.
"The referee's given it and they've scored from it.
"From those wide free-kicks you want to be aiming it at the back post. That's what he's done. It's missed everybody and he's scored. Maybe they've worked on that kind of set-piece and it's paid off for them
"It's gone now and we just need to move on."
There isn't a team other than Rangers sending more crosses over than St Johnstone, which makes the fact that those crosses are coming to nought all the more irritating. When the delivery is perfect, there isn't a run to match. And when the run is being made, the crosser isn't spotting it.
Tanser believes there is no one-size-fits-all solution.
"It's about putting them in great areas but sometimes you're putting them in an area where the defenders are," he said.
"Maybe I could just pick someone out on a cut-back instead of putting it in?
"But we've been working on getting crosses into the box. I got quite a few in today. Hopefully we'll start to score goals from some of them."
Are his balls in from the left (and Danny McNamara's from the right) begging a decisive near-post centre-forward's run, perhaps?
"Yeah, somebody across the front maybe," said Tanser. "But it's not just about the strikers. Maybe it could be a late run from a midfielder or maybe I should be picking my head up more."
Davidson is mixing up his team selections to try and change the narrative and, with Craig Bryson soon available to him, there is likely to be more of that.
He believes that May's first start – and the influence he had against County – is a big cause for optimism as he seeks to guide his team out of this goalless rut.
"I'd like to work the goalie more when we get in good areas and that's something we'll continue to work on," said the Perth boss. "I thought Stevie May worked extremely hard and his movement was really good. I'm glad he's back to full fitness going forward."
May's performance was encouraging and he will definitely be part of the goal-scoring solution as a regular starter from now on. With every passing game, however, the case to sign a striker who comes alive in the penalty box is transitioning from desirable to compelling.
https://www.thecourier.co.uk/fp/sport/football/st-johnstone/1592218/st-johnstone-need-points-more-than-praise-says-scott-tanser/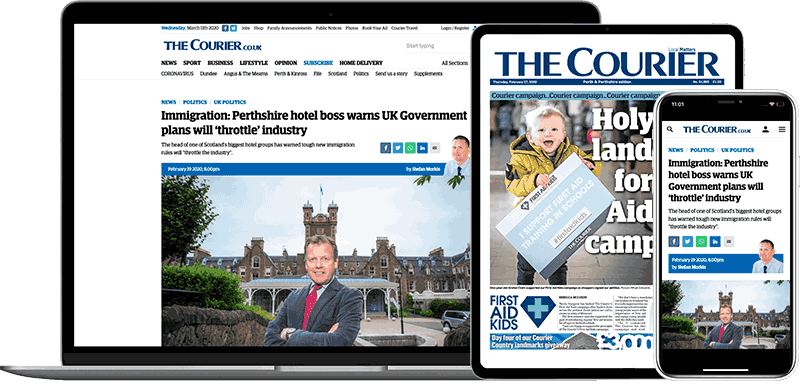 Help support quality local journalism … become a digital subscriber to The Courier
For as little as £5.99 a month you can access all of our content, including Premium articles.
Subscribe