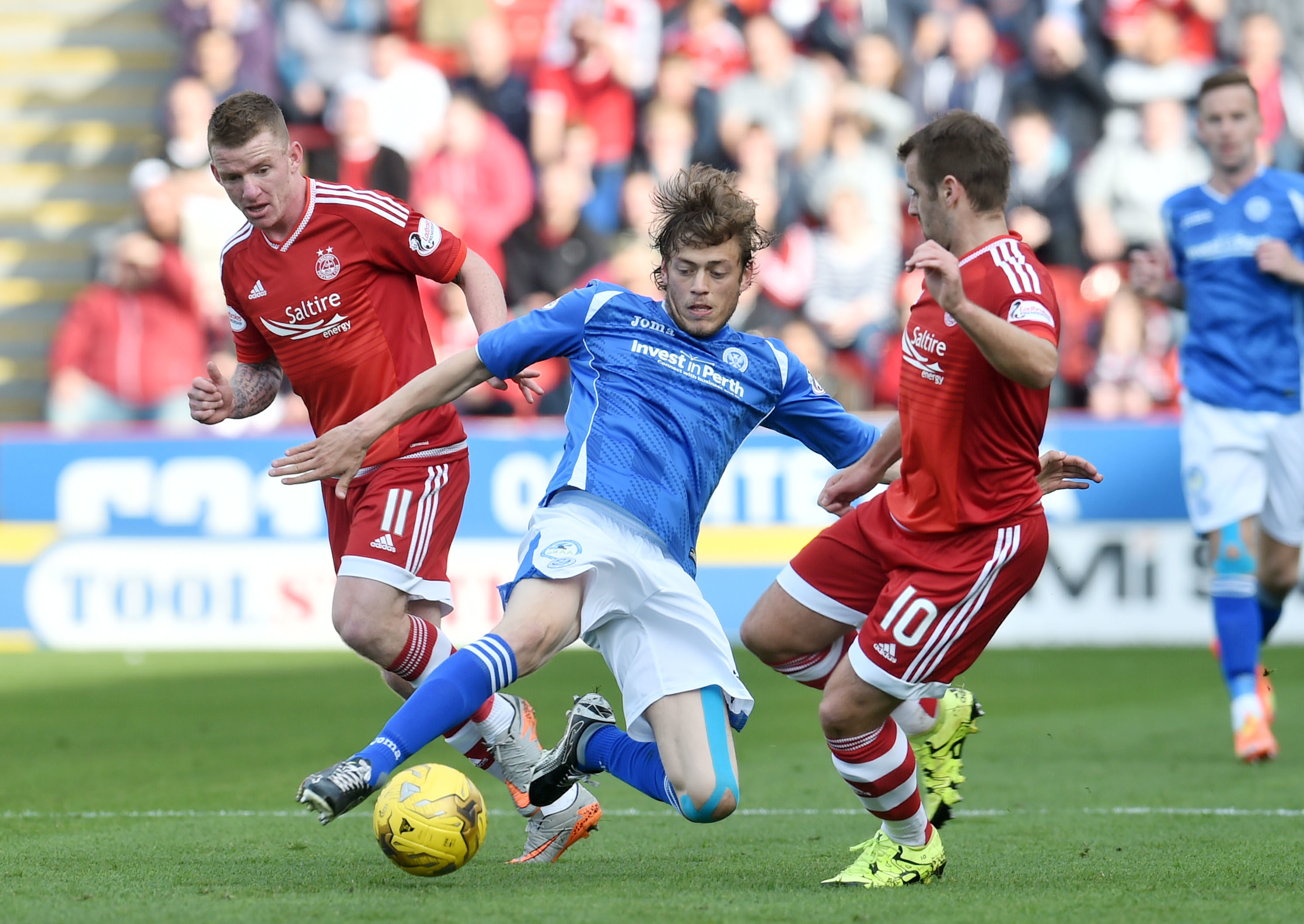 St Johnstone boss Tommy Wright is hopeful that Murray Davidson's hamstring injury isn't serious.
The midfielder was substituted well before the end of the Aberdeen match on Friday night and was due to be assessed by the Perth club's medical team yesterday.
Wright is optimistic that there will be good news.
"Murray's hamstring tightened up so we'll get a better assessment today," he said. "Hopefully he has a chance for Saturday.
"When he felt it tighten up he came off and said it wasn't a pull.
Saints started their post-split fixtures with a bang, and if they can score another seven goals in their remaining four matches they will beat a club record for the Premier League/Premiership.
Their current goals for tally sits at 51, with 57 their highest ever in the modern-day top flight.
"Last season we only scored 34 goals and wanted to try and improve on that," Wright said.
"We probably just haven't got the balance right this season because of the number of goals we have conceded. It's been too many.
"But being more offensive and creating more chances has obviously left us a little bit more exposed.
"We need to look at that over the next four games and over the summer to try and get the balance right for next season.
"It's been an entertaining season. Anyone who has come to watch us has seen well over 100 goals in the league. So they can't complain that they haven't been entertained."
Wright was full of praise for frontman Graham Cummins in the wake of the Dons victory.
He said: "I watched him in training during the week. He looked sharp and quick.
"It's taken him a while to get over his injuries totally. I felt all he needed was a goal to cap off a perfect performance."
Wright may soon have some re-signing news, he revealed.
"Everything is moving along nicely," he said. "Later on in the week there might be something to report."
With Saints and Motherwell both winning and Ross County getting a draw at Parkhead, Wright believes the weekend football highlighted the strength in depth of the Premiership top six.
He said: "Sixth draws with first, fourth beats third and fifth beats second.
"When the split fixtures were announced you would expect Hearts, Aberdeen and Celtic all to win. But that didn't happen.
"The top three have that little bit more quality, depth and consistency. That's why they are at the top of the table.
"But on any given day there's not a lot between the six teams."