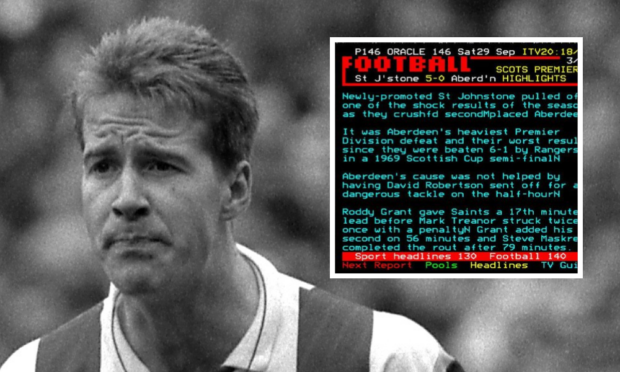 Page 146 3/3 of ITV's Oracle service on Saturday, September 29, 1990 is a gloriously imperfect window into a gloriously perfect afternoon in the history of St Johnstone Football Club.
Complete with all the typos and rogue pixels that were standard teletext fare, a four-paragraph report of a match that has lost none of its mystique and legend with the passing of three decades conjures up so many wonderful images.
The first of those being the scene in the McDiarmid Park press box as whoever was phoning his or her copy over on the final whistle tried to condense as unexpected a scoreline the top flight of Scottish football has ever known into less than 100 words. Even the great Hugh McIlvaney might have struggled to meet that challenge.
Then there's all the living rooms up and down the country where armchair fans who had missed Grandstand's Vidiprinter would have been impatiently waiting until the Oracle took its customary age to work through pages one and two out of three before it found its way back to 'St J'stone 5-0 Abrd'n'.
If ever a result needed to be read twice, it was this one.
Mark Treanor, who scored two of the Saints' five, has heard plenty of tales of disbelief over the course of the subsequent 30 years. And most of them from the Perth team's own supporters.
"The reaction from our fans was amazing," said Treanor. "Some of them just couldn't get their heads around it. There was one I remember telling me that he was abroad at the time and went into a pub to ask what the final score was.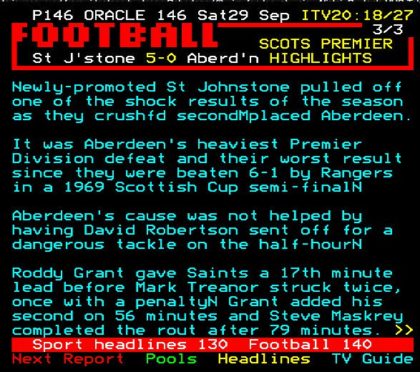 "He was told '5-0' and just automatically assumed we'd been beaten. A couple of minutes later he found out it was the other way around. He said it was the best night he'd ever had. Even the Saints fans thought we'd be cuffed!"
In their defence, there was good cause for such pessimism. It was realism. The context elevates this result to a higher plane.
The passage of time could lead to a false assumption that the 1989/90 and 1990/91 seasons rolled into one continuous success story of a promoted team that surfed a wave of confidence to extend its winning habit on their return to the big league. That, though, doesn't factor in the extent of the close-season transition and the dodgy start to the second of those campaigns. It was a golden era, alright, but there was a month or so when it lacked a bit of polish.
Saints evolved from a part-time squad to a full-time one, a couple of title-winning heroes decided they couldn't afford to leave their day jobs, Paul Hegarty's short and sharp Perth career came to an end and effectively a whole new defence (bar Treanor) was assembled.
"It was a bigger decision for some of the lads to go full-time than others," he said. "For me it was an easy one. I'd actually been full-time with Clydebank – they had a bit of a hybrid mix. I was captain there and was doing a bit of coaching during the day. It was bigger decision to go part-time with St Johnstone actually.
"When I joined Saints I got a job with Glasgow City Council, taking kids with special needs to and from school. Alex Totten had sorted me out with work at a car rental place at Ibrox for a short time – the guy was a big St Johnstone fan – but that wasn't for me.
"So getting the chance to go full-time again – they could have offered me anything and I'd have signed.
"Ian Heddle and John Balavage had good jobs that they didn't want to give up. Heggy left and Sammy Johnston was on his way out as well."
Early results sat somewhere between underwhelming and mildly concerning. There was a shock first round 2-0 defeat to Clyde in the Skol Cup and by the time of the Dons game, Saints' league record read – played five, lost three, drawn one, won one. Summer was turning to autumn and the momentum of champions hadn't materialised.
"The Clyde game sticks in my mind because a wee winger I grew up with, Jimmy Gilmour, scored a free-kick that night," said Treanor. "That was just before the league started and there was no squad rotation in those days. it was our first team playing.
"We lost to Dundee United on the first day in the league and had to wait until the fourth game before we got a (3-2) win against Dunfermline.
"It's hard to remember what the reason for the slow start was. New players would probably have been a factor, and getting used to full-time football. It certainly wasn't a lack of belief. We never doubted ourselves.
"It was understandable it took a wee bit of time for us gel. You can't just put a new defence together and suddenly it all clicks. You learn from the mistakes you make. It takes a bit of time to get used to each other, which would have been the case with us."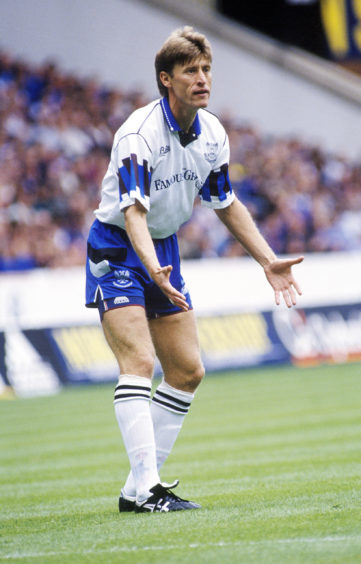 Among those new players Treanor referred to was Sergei Baltacha. One of Europe's elite central defenders of the 1980s, capped nearly 50 times by the Soviet Union, had found his way to Perth after discovering the long-ball game of Ipswich wasn't to his liking. At 32, Baltacha might have been just past his prime but he was close enough to it to still be regarded as an incredible transfer coup for a provincial Scottish club only just pulling up a chair at the top table.
Any professional footballer – certainly any defender – who closed his mind to what could be learned from a man who had won the European Cup Winners' Cup, captained Dynamo Kiev and played against the likes of Maradona and van Basten would be a fool.
"There was a bit of a language barrier at the very start," said Treanor. "But Sergei had already been in England with Ipswich for a season. Football-wise, he probably took a bit of time to adjust to us and we took a bit of time to adjust to him. It didn't take him long to learn the words he needed on a football park, though.
"He was a very imposing man – he had the physique of an athlete. You learn a lot from people like that. Back then stuff like making sure you had the right diet weren't common. Sergei was doing all the right things. He wouldn't touch a fish supper or a couple of beers on the bus after a game like the rest of us!
"I can't speak for anybody else but, on the whole, I remember thinking if that's good enough for him, I should be doing it. In the gym, even though we were full-time, there was no-one telling us what weights we should be doing. It was down to Sergei to keep us right.
"He mixed well with the lads. He wouldn't have survived in that dressing room otherwise. And you could see his quality in training. He had everything.
"You can have the best coaches in the world or the best manager but it's just as important what you pick up off top professionals playing and training beside you. Things like the positions you take, when to make a tackle and when to stand off. You learn all that off experienced pros and there weren't any more experienced than Sergei – and Paul Hegarty before him."
The context of the 5-0 has to take in the Aberdeen team as much as the Saints one, however.
Thrashing post-Alex Ferguson Pittodrie sides wouldn't always have been headline news. Even a good one of 2015 managed by Derek McInnes, which lost 5-1 to Tommy Wright's men, was susceptible to a heavy defeat every now and again.
But the 1990 Aberdeen is probably the best side Dons fans have seen since the glory days. They won both domestic cups the previous season and had a 1 to 11 without obvious weakness. Oh, and they ended up only being denied the Premier League title on the last afternoon of the season at Ibrox.
Had Aberdeen secured the draw they needed against Rangers, this would have been a story of beating the Scottish champions 5-0.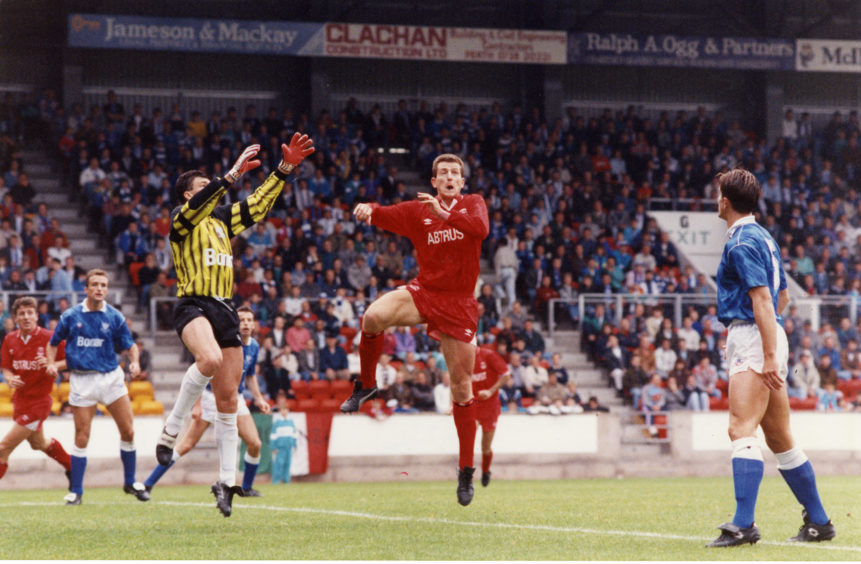 "They were a right good team," said Treanor. "Hans Gillhaus was a terrific player – absolutely tremendous. There were a lot of internationals – and not just Scottish ones. Later in the season we went up to Pittodrie and drew 0-0. We should have won that too. I think Stevie Maskrey missed a great chance. They were obviously after revenge. They didn't want to just beat us that day, they wanted to hammer us."
Whether Aberdeen underestimated Alex Totten's side 30 years ago isn't in Treanor's gift to judge. What he can say with authority is David Robertson had been given a torrid time by Allan Moore for the best part of half-an-hour, prompting the notoriously volatile full-back (watch the BBC documentaries of his time managing in India if you can't remember his playing days) to lash out and get sent-off. Robertson was the only one to lose the plot so conspicuously but others in red were failing to grasp what was happening at McDiarmid Park.
"We were in front by the time he got sent off," said Treanor, now a taxi driver in Glasgow.
"Moorie was giving him a bit of a roasting to be honest. He started really well and we kept feeding him the ball. I'd imagine Moorie would have had a few words in his ear when he was flying by him! When he was on form he was a brilliant player for us and something like that would have been a red rag to a bull for Davie Robertson. You knew he had a temper and you'd play on that.
"After he was ordered off I was thinking: 'The left-back isn't there so me and Moorie can have a field day on the right-hand side'. I was wanting to make runs forward all the time but the manager was telling us to calm down and keep our shape. I learned that day that just because a man gets sent off on your side of the pitch, there's no need to go charging forward. You can be patient and disciplined, which we were.
"We played some unbelievable football. It could have been more.
"I think we battered them into submission – I don't mean that in a physical way. Teams become more defensive and organised when they go down to 10 men but we overwhelmed them really. Players like Harry Curran didn't give you a minute on the ball. You hear about the high press all the time these days but we were doing it back then.
"Aberdeen wouldn't have been used to it.
"I can't remember what they were like at full-time but I can remember what we were like! The dressing room was a great place to be. There wasn't a team night out but we all went out individually to celebrate, that's for sure. I know I did."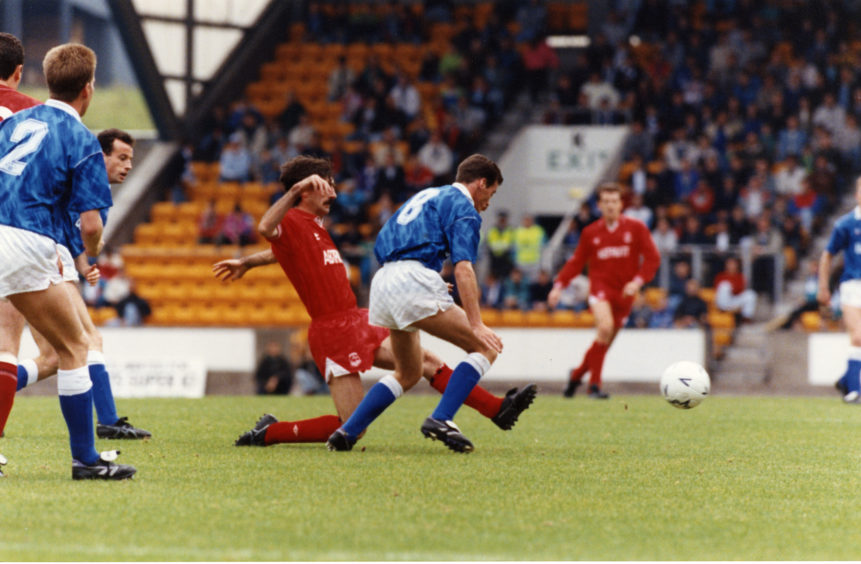 To add to Treanor's double, Roddy Grant also scored twice – Grant has described one of them, a run and long-range shot, as his best for Saints – and Maskrey got the fifth.
One of the right-back's goals was a penalty. No surprise there. Famously, he never missed one in his Perth career. Word of his dependability with a dead ball from 12 yards hadn't reached Mr Baltacha, mind you.
"Big Sergei was new, of course, and that was our first penalty of the season," said Treanor.
"He came running up, showing a bit of interest. I was like: 'No ,no, no Sergei……I take the penalties here. I don't care who you've played for!"
Before Treanor, Don McVicar had been Saints' man for penalties. Given how important his season-defining and era-defining spot-kick against Airdrie would turn out to be in the previous First Division campaign, there really should be a plaque in the toilets at Firhill to commemorate the circumstances of the McVicar to Treanor changing of the guard.
"Don was still on them when we were playing Partick Thistle in the season we got promoted," he said. "For whatever reason, he spoke to me at half-time and said that if we got a penalty: 'You take it'. It turned out that we did in the second-half, I scored, and we won 1-0.
"I don't know why he did it. I don't think he'd missed one. It was in the toilets at Firhill, of all places. I'd been taking them for Clydebank and I said to Don: 'You do know that if I score, you're not getting back on them'.
"The Airdrie one was obviously the most important one I ever scored. We needed to win that game to have a chance of going up and if I'd missed, you've got to think it would have been unlikely we would have beaten them that day."
And the other Treanor goal against Aberdeen?
"The one from 70 yards, you mean," he said. "It's 30 years so I've added a bit – maybe just the 60 yards!
"It was just outside the box, maybe about 20 yards. I didn't score many like that – I think there was one against Falkirk the following season from a bit further out. I can still picture Roddy laying the ball back to me. There was a big gap so I just hit it as hard as I could. It was a great feeling to see it go in. Most of my goals were penalties so to it was nice to score a real goal for a change."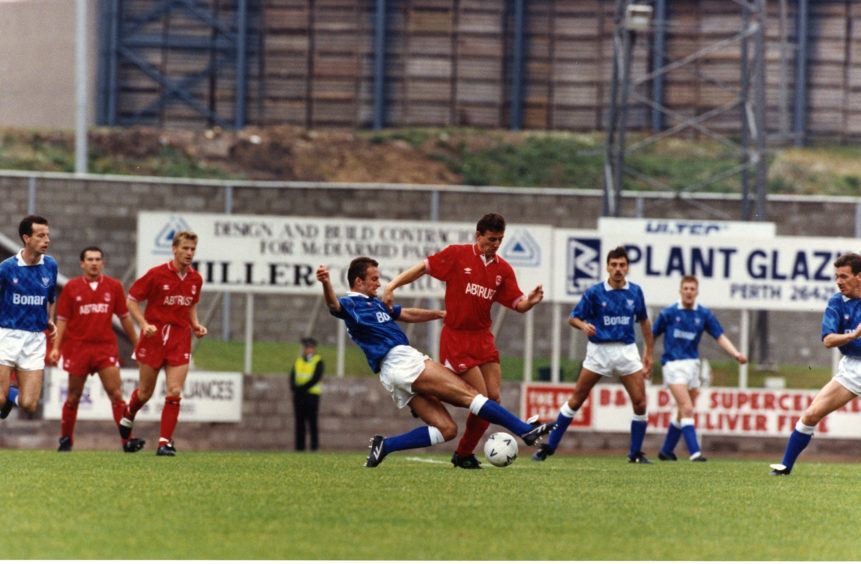 The last weekend of September produced the final-score for the ages. But the four weekends of October made sure this was no stand-alone freak occurrence. The Aberdeen win would turn out to be the opening result of arguably the most impressive five-match sequence of football St Johnstone has ever known.
A 0-0 draw was earned at Celtic Park, Hearts were beaten at Tynecastle, the points were shared with Rangers at McDiarmid in a game Saints dominated and then they beat Dundee United at Tannadice.
"We didn't lack belief but confidence was sky high after Aberdeen," said Treanor.
"I'd been in the Premier League before with Clydebank but we weren't half the team that this St Johnstone side was. We could play anyway the opposition wanted. Teams could try and fight us or play against us – either way we could beat them. Obviously we would rather get the ball down and play.
"Thinking back, how many teams would get promoted and keep playing with two wingers and a striker? It just didn't happen. I know it didn't when I was at Clydebank, where it was more about not getting beat.
"Alex Totten's system was 4-3-3 at a time when 4-4-2 was the norm. Maybe that took other teams by surprise.
"It was just a case of bringing on the next one. We'd have taken on anybody, anywhere, at any time. The more we got used to full-time training the fitter we got. Alex signed good players and good characters. You can't overlook that.
"It was a special group and we had some legendary nights out – don't ask me about them!"
He added: "Some days it feels like 60 years ago, others like yesterday. It is certainly one of the games that stands out. There are another couple, like the Airdrie game, of course. Some you don't remember at all.
"Most fans would put Airdrie and then Aberdeen in that order for their favourite game. It's probably the same for me. Those two are certainly at the top. But in pure footballing terms Aberdeen was a bigger result with them being as strong as they were, us just being promoted and not getting off to a good start. Every pundit that day would have predicted a comfortable Aberdeen win.
"Don't get me wrong, I enjoyed my years at Clydebank and elsewhere but that was a special time with special players. I was there for three-and-a-bit seasons but we did so much in that time. The fact that the achievements and the big games have endured, and that a lot of us are still in touch, makes us appreciate it even more. Fans look back on that period the same way as we do.
"You never get tired of reminiscing and talking about it. I'd talk about it all day and night."
There is another reason that one game against Aberdeen springs to mind quicker than virtually all the rest from a 16-year career.
"I stayed in Riddrie in those days," said Treanor. "We lived in a cul-de-sac and all my neighbours knew who I played for. When I drove up the street in the club minibus after dropping the other Glasgow boys off there were three or four of them out cheering and shouting.
"That didn't happen every week, trust me. If it means something down in Riddrie, where they are all Celtic fans, you know it's a big deal. There was certainly nobody to welcome me when we drew with Celtic in the next game!"
The good people of Riddrie clearly knew an important page of teletext when they saw one.
LONG READ: McDiarmid Park's greatest game — The 30th anniversary of St Johnstone 3 Airdrie 1