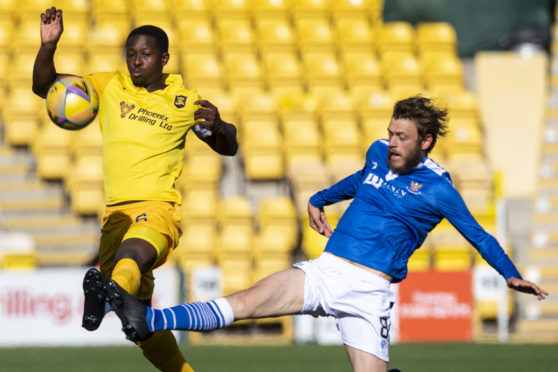 There will be introspection, of course.
But when the St Johnstone camp go about the business of picking apart what happened at Livingston and in the preceding two fixtures, a useful starting point would be looking at themselves as others are now seeing them.
In a relatively short space of time that has changed significantly.
Derek McInnes showed Saints the respect of packing his defence and setting up for a 0-0, Jack Ross couldn't find the right tactics and personnel to negate a combative and innovative Saints midfield and attack and Jim Goodwin and his St Mirren team were overwhelmed by what confronted them.
Contrast that with the subsequent trio of matches.
On each occasion the Perth men have been the panacea for a toiling side, and in particular a shaky defence.
Motherwell were bottom and winless when they faced Saints, Ross County were on a poor run of form and had just conceded five to Celtic, while Livingston, like the Steelmen, were in 12th place and letting in goals that were the antithesis of the reputation they had earned over previous campaigns.
It can be no coincidence that three backlines have emerged from games against Davidson's side with rediscovered solidity. You have to look at the common denominator and the questions they are (not) being asked.
This was Marvin Bartley with his touchline media debrief at the weekend but it could just as easily have been Allan Campbell in one of the suites of the Davie Cooper Stand at Fir Park or Ross Stewart in the Main Stand at McDiarmid.
"Before this game we spoke about the need to get better at defending," he said. "To go to Celtic Park, score two goals and still lose the game, we had to look at ourselves as defensive players. We got the clean sheet which was absolutely perfect."
At the moment, if a corner needs to be turned and reputations restored, a game against St Johnstone is the golden ticket.
The lack of a focal point and penalty box threat was as clear in West Lothian as it has been in pretty much each and every one of Saints' Premiership matches so far.
Whether that can be rectified in the transfer market remains to be seen. It's not for me to say this has to happen before the window closes – the long-term prosperity of the club should always come first and not having a clue when there will next be a paying customer walking through a turnstile makes signing players even more of a gamble than in normal times.
But in pure football terms this side is crying out for a genuine number nine who would bring out the many and varied qualities of the other attackers on the staff. It is beyond debate.
The fear when Saints were dominating games without scoring was that the lack of a cutting edge would eventually erode parts of the team that had previously been functioning very well. That appeared to be the case on Saturday. For the first time this season, I would say that the old 'heads went down' cliché could be applied.
Michael O'Halloran was at fault for the opener by being dispossessed in midfield but there was a collective weakness exposed for the second goal that followed within less than a minute.
Murray Davidson, who made his first start of the campaign against his old club, certainly doesn't believe the blame should be attached to the Saints forwards. It needs to be shared – among the players that is, not the coaches.
"It's nothing to do with the manager," said Davidson. "The manager and his staff have been brilliant since they came in. He can't put the ball in the net for us and he can't defend our own 18-yard box for us.
"If we give away goals like we have done as a team then we are not going to win games – we could have Sir Alex Ferguson as a manager.
"When you lose a goal you've got to try and stay in the game and as a team we weren't good enough for 10 to 15 minutes before half-time. So we went in with a mountain to climb and that was with us having the best chances in the first half.
"We knew coming here we would have to defend throw-ins and corners and I thought we did that for the first half-hour of the game. But we lose a goal. It's so, so important that you stay in the game and it's disappointing that we went in at half time 2-0 down without Livingston having to work too hard.
"It's not the defenders, the strikers, it's as a team we have to do better. Whether it's pressing more, being horrible, fouling someone.
"We've just said in the dressing room that the manager can't keep coming in saying we're doing this right or that right. It comes down to winning games.
"As a team we are doing things right on the training pitch and we are working away but we are giving away goals and we're not good enough in both boxes. We need to defend better as an 11 and we need to press more as an 11 and we need to attack the other box better too. If we're not as good as other teams in the two boxes then we are not going to win games.
"The manager has just said to us we have to roll our sleeves up because the only way we are going to get out of this and get that first goal is being more ugly, if that's what it takes. Any successful team does the ugly stuff well and we have go to get back to that.
"I don't think there's a lot missing. Apart from maybe the game at Ibrox, no team has outplayed us but we have to start winning games.
"I think that's eight out of the last games where we have lost the first goal and I've said for the past five years or so that the first goal is massive. It doesn't matter who you are playing because you can sit in. If we go 1-0 it's a massive thing and I don't think we've got the first goal apart from the St Mirren game. It's something we need to work on."
The familiarity of this sort of spell is some kind of comfort for Davidson. It's the unfamiliarity of the team's characteristics on Saturday that can't be allowed to have any sort of permanence.
"I've seen these runs so many times," he said. "I don't think we are far wrong but in the past I've heard opposition teams saying: ' You are rubbish but you win games'. I'd rather be standing here having been played off the park but won 1-0. So it's frustrating but we will go away and work.
"It could take a game where we get battered but win 1-0. I've been here where we've gone seven, eight, nine games without winning and then we suddenly can go on a winning run. It's still early in the season."
Saints had to sort their season out from rock bottom last year and there is a creeping probability that will have to be the case this time around as well.
With only one goal keeping them above St Mirren on goal difference, their next opponents are Celtic.
"I never look at league tables," said Davidson. "I just take it game by game and I am as disappointed as anyone else. It hurts we lost and it will hurt this weekend but we will go away and regroup."
The backhanded compliment of hearing opposition players mutter under their breath again about the Saints team that has denied them points would be music to their ears and can't come quickly enough.
LONG READ: St Johnstone 5-0 Aberdeen – historic scoreline that created Perth legends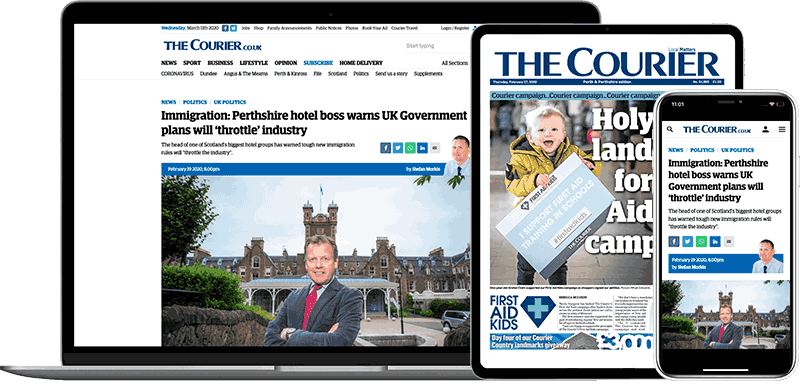 Help support quality local journalism … become a digital subscriber to The Courier
For as little as £5.99 a month you can access all of our content, including Premium articles.
Subscribe