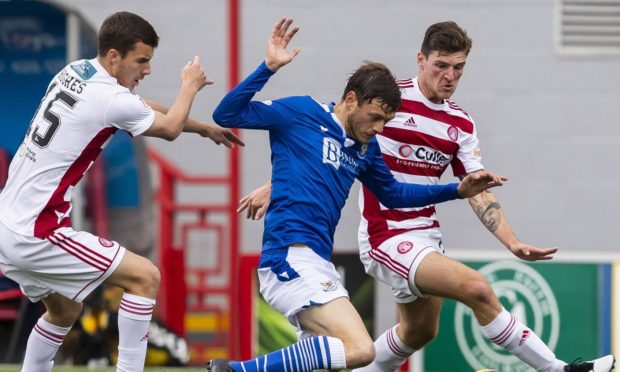 The Scottish Cup run of 2014 was the glorious exception but the rule over the last 11 years has invariably been that a St Johnstone side doesn't feel quite right with Murray Davidson not in it.
The bulk of that decade and a bit has seen the former Livingston man covering the hard yards between the two penalty boxes, flying into tackles that were often 40-60 in the opposition player's favour and charging beyond his side's forwards to offer a goal threat.
That was under Derek McInnes, Steve Lomas and Tommy Wright. Given his obvious athletic and combative assets, there wasn't really a decision to be made for any of that trio.
The way Callum Davidson sees the game – and the stage Davidson is at in his career – means it is now no longer a case of just asking him to go out and do his thing.
The one and only time the current Saints manager has used the 32-year-old in something approaching the marauding role of old was the one and only time he has started with a back four.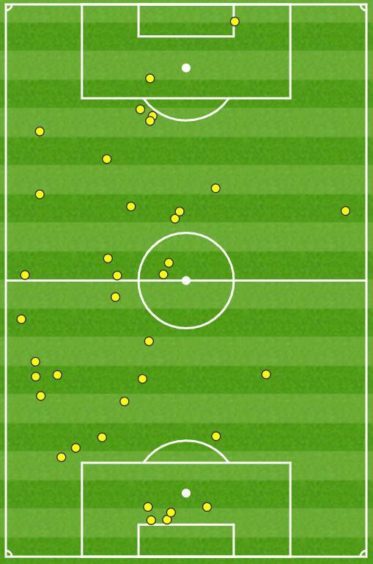 For that 2-0 defeat to Livingston there were three central midfielders – Davidson, Ali McCann and Liam Craig – with the youngster furthest forward, the veteran deepest and Davidson in between.
The team performance that day wasn't of the required standard to persuade the Perth boss to go with it on a regular basis and he has reverted to his favoured 5-2-3 formation.
It appears to have been a wise move.
Celtic at home was a relative triumph given the preceding results, the quality of the opposition and the comfort in which the vast majority of the game was played. And then Hamilton on Saturday was an unequivocal success.
There have been other factors at work in the revival but Davidson staying close to his centre-backs has been one of the main ones.
Dig and dynamism used to describe the ex-Scotland international. Now it is dig and discipline.
To allow the front three of David Wotherspoon, Craig Conway and Stevie May to perform to devastating effect and to allow McCann, then Craig Bryson, to link-up with them, somebody needed to protect the back five.
The Opta graphic of the average positions of the Saints players against Accies (below) reveals that the two team-mates who worked closest to each other were Davidson and the middle centre-back, Liam Gordon.
That Gordon himself was higher up the pitch than Jamie McCart and nearly as far forward as Jason Kerr is an eye-opener in itself, and evidence of how successfully Saints pushed up and squeezed the game. The proximity of Davidson to him was arguably the key to the victory.
That theory is backed up by the average position graphic of Saints' other stand-out performance of the campaign, the utterly dominant home victory against St Mirren.
On that occasion, Davidson was only fit enough for a late cameo off the bench and it was McCann who was tasked with the holding role, showing equally impressive diligence.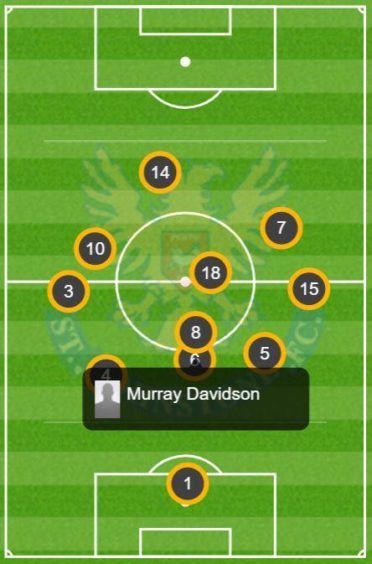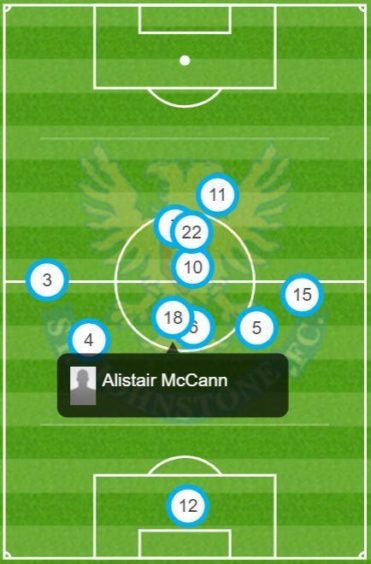 When you compare everything apart from the attacking three, the average positions of the Saints players in those two matches are eye-catching in their similarity.
Broaden it out to the rest of the league and it can be described as uniquely identifiable with them.
There have been 62 Premiership games played so far this season and by quite a margin the St Mirren and Accies matches for Saints are the two in which centre-back and central midfielder have been closest – for any side.
The Davidson statistics at the weekend reinforced the impression Callum Davidson had got at the time.
"I thought Murray was outstanding," said Davidson.
"I know that the forward players got the headlines and deservedly so for scoring five goals, but Murray was my man of the match on Saturday.
"He's built his fitness and strength back up.
"He won his battles in midfield, did the ugly things and allowed others to play football.
"He sacrificed his game a bit to sit in and make sure we were secure."
Of all the Saints players, Murray Davidson's successful tackle-count (three) was the highest and his possession gained numbers (eight) were joint-top with Craig Conway.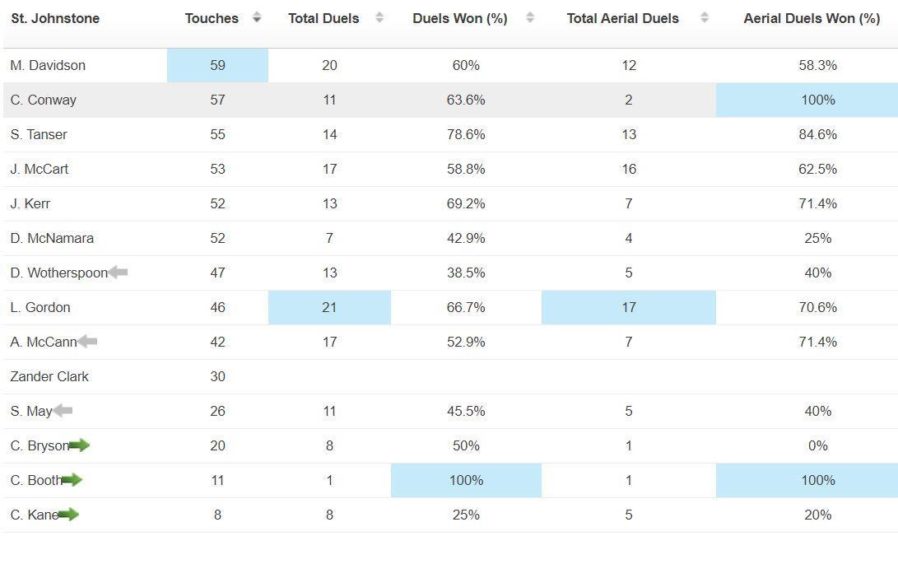 A further illustration of his dedication to the job the coaching staff had outlined for him was his 90-minute touch map.
He had more touches than any St Johnstone player that afternoon (59) but only three of them were in the final third of the pitch.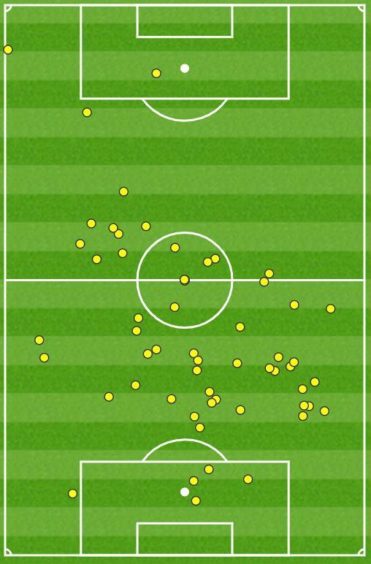 To put it into context, that grand total of three is one less than during a 12-minute substitute appearance against Ross County. In fact, it wouldn't be a surprise if for a full-game, that touch statistic in the attacking third for Davidson at Hamilton is an all-time career low.
One of those three touches was at a corner. When it comes to Davidson putting his stamp on a game in an attacking sense, unless Saints are throwing everything forward to chase a goal in the dying moments, it will more than likely now be made from set-pieces.
His importance from dead-ball delivery in defence and attack is as clear as it ever was.
"Murray can do both sides of the game," said Davidson. "In both boxes he's tremendous. We're starting to look dangerous when balls are going into the opposition box because Murray is such an asset. He's one of a rare breed of players who really attacks the ball and puts pressure on defenders.
"We're getting chances off the back of that."
McCann, meanwhile, was substituted for the first time this season when Bryson replaced him just after the hour mark. He had played every minute in the Premiership prior to that and his manager believes the knock-on effect when an international player, especially a 20-year-old international player, returns to his club should not be underestimated.
"When you go away with your country it's difficult when you come back," said Davidson.
"Both Ali and Danny (McNamara) are young lads. They've played every game for us and haven't had a break.
"They were away a long time (McNamara with the Republic of Ireland under-21s and McCann for Northern Ireland's Nations League and Euro play-off triple-header) and it's a lot to take in when it's your first full squad. We'll make sure Ali stays fresh, doesn't burn out and is playing at a high level every week."
When Davidson was sidelined at the start of the season with injury and the new-look style of the team was evolving away from a system that had been tailor-made for him for so many years, there were some who questioned where he would fit into the 2020 St Johnstone.
They should have known better.
Davidson may not be the box-to-box St Johnstone midfielder of years gone by but his value remains as precious as ever.