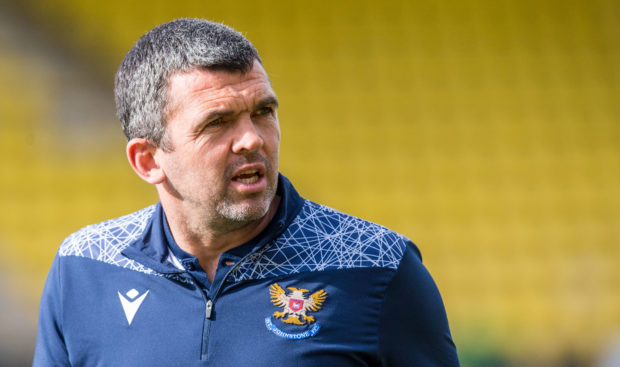 Rest will be the key word for the St Johnstone players over the next few days – all except Guy Melamed, that is.
The weekend gap in the Perth side's league schedule that has opened up as a result of Hibs' Scottish Cup semi-final will give the Israeli striker the chance to build up his fitness after being forced to quarantine for a fortnight on arriving in Scotland.
And the 27-year-old's intensive McDiarmid Park programme will include a squad bounce game before the real stuff returns against Kilmarnock a week on Friday.
"We need to make sure we get Guy up to speed this week," said Saints manager Callum Davidson. "It's important for Guy because he has missed a lot of football.
"Guy has great enthusiasm but most importantly he has to be up to speed. If he does that, he gives himself a better chance to be successful.
"We'll give him a few more runs so we know where he is. He will definitely get there.
"His training sessions will be monitored this week and we'll build it up. He will probably be in more often than the rest.
"He will have had three weeks of training with a game before Kilmarnock so he should be there or thereabouts.
"It's how quickly he can adjust to Scottish football because it is quite hectic. The signs are good from him so far."
Saints are on a decent run of form – three wins and a draw – so having a free Saturday at this stage of the season isn't advantageous. Davidson will make sure his squad does get some benefit from it, however.
"I would've liked to have continued the momentum in the league," he explained.
"We need to have a game situation and replicate some sort of the form from the weekend to continue the momentum.
"That is important so that the players are fit, strong and healthy.
INTERVIEW: Guy Melamed on sounding out Celtic stars before St Johnstone move, two-week quarantine in Perth hotel room and meeting Callum Hendry and Liam Gordon in Miami https://t.co/yUWih7BGxx pic.twitter.com/TWvnswlmr7

— The Courier (@thecouriersport) October 22, 2020
"We'll also have a few days off because I don't think we'll get much time after this until next year.
"They can rest up and come back into training later in the week."
Meanwhile, now that Davidson has reviewed the weekend draw with Dundee United, the dominance Saints enjoyed over their Tayside rivals was every bit as emphatic as he believed it to be on the day.
"I've watched it back and I still think exactly the same as I did after the game," said the Perth boss.
"You look at their front three and it has goals in it. But we dominated them and I don't know if they had a shot after 15 minutes.
"Defensively in terms of structure and discipline I thought the lads were terrific. I thought they worked extremely hard.
"It just came back to missing that final ball. We maybe put ourselves under too much pressure to deliver it.
"But I still think we had three or four really good chances to score. I'm really pleased with that.
"As long as the players are getting in the positions to cross from good areas, it's then about making the right decision.
"We had been in that position before and lost 1-0.  Getting over that little hurdle was a positive and we're now four games undefeated."
St Johnstone boss Callum Davidson urges David Wotherspoon to maintain clinical edge