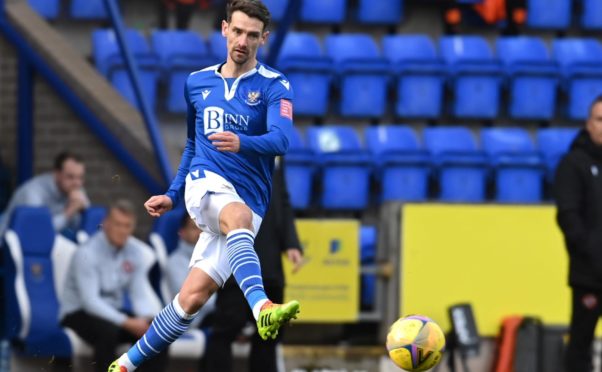 Callum Davidson has not been afraid to tackle weighty decisions head-on in his first few months as a football manager.
Tearing up a formation that had worked so well for his St Johnstone predecessor was the first of them, swiftly followed by seeking another option to Tommy Wright's pre-contract signing at right-back (and picking that new option in his first game in charge).
Then there was his identification of David Wotherspoon as predominantly part of an attacking trio rather than a midfielder; dropping Elliott Parish after the back-up keeper had largely been secure standing in for Zander Clark; favouring Scott Tanser over Callum Booth at left-back; cutting short Tanto Olaofe's loan spell; and clipping Murray Davidson's wings to evolve him from a box-to-box midfielder into a holding one.
And now to the latest judgment call and arguably the least predictable when 2020/21 got underway – benching a fit Ali McCann and potentially keeping him as a substitute for more than just one game.
McCann is Saints' sole full current international, their best player of last season, the one with the brightest future ahead of him and the highest worth in the transfer market.
But, while never less than a six out of 10, his star hasn't shone as brightly thus far under Davidson as it did in his first full Premiership campaign under Wright.
There is far more to McCann's repertoire than goals and assists but by this stage of the season to not have come close to scoring and only be part of a single Saints goal – a bread and butter pass to David Wotherspoon at Hamilton – will be a frustration.
Bryson, though patently at the other end of his career to the player the best part of 14 years his junior, is the nearest thing to a like for like replacement in the Saints squad and when the 20-year-old struggled to make an impact with the game in the balance at Hamilton, the veteran seized his chance.
Many people have short memories, focusing on injury troubles at Pittodrie rather than a decade and more of high-level consistency that preceded the short Aberdeen experience.
And it takes a very good footballer to be dropped into a frantic match like that, adapt to the tempo immediately and produce a hugely impressive 25 minutes of poise and composure when a contest the Perth side had dominated was threatening to spiral into chaos and dropped points. The former Scotland international's pass five minutes after he came on to release Stevie May in the build-up to the first Craig Conway goal was the best of the game and there were plenty of other clever moments to accompany it.
That Davidson kept Bryson in his team to face Dundee United should not have been the shock that some Saints fans perceived it to be.
He had earned his first league start and, in hindsight, McCann needed to be at the top of his game or near to it at Hamilton to delay that opportunity for a while longer.
The shock would now be if Bryson didn't play from the off against Kilmarnock a week on Friday.
Bryson's pass total of 66 against United was not only the highest of any Saints midfielder this season to date, the 62 he completed comfortably gave him the highest percentage (93.9%) for pass accuracy. That the percentage went up to 94.4% for passes completed in the opposition half made the former Derby County man's contribution even more impressive.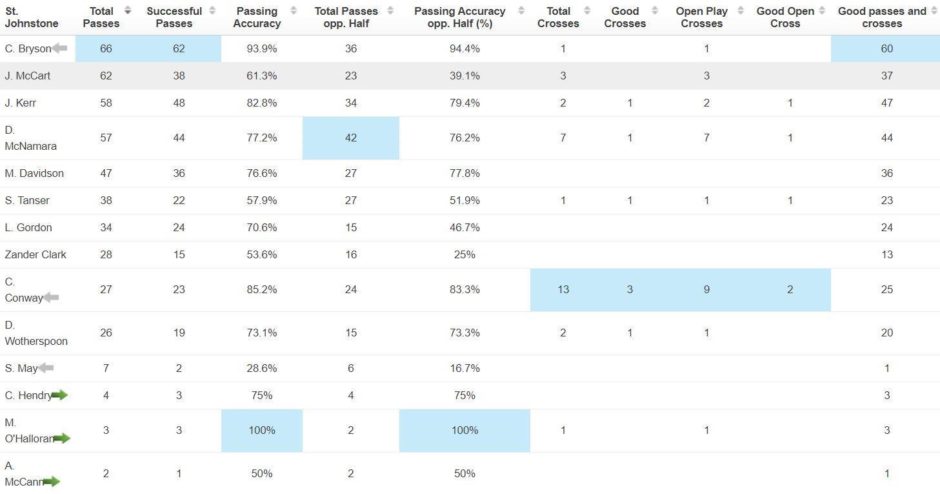 As long as the senior midfield quartet are all fit and available, it now looks like the battle for the two starting places is Murray Davidson v Liam Craig and Bryson v McCann.
For the Northern Ireland man, his likely departure for another international triple-header next month could realistically stretch his absence from the Saints starting line-up through to December.
Being selected for your country can be a double-edged sword, particularly when domestic football continues in the form of the Betfred Cup in your absence.
"Ali has been involved in international duties and I imagine he will be going away again," said Saints manager Davidson. "It has been a tough period in that sense.
"It was good to get Craig a game and for people to see him playing. I know what he can do.
"He has had a tough time with injuries but you could see on Saturday that his energy levels are tremendous. Craig can sit or he can play further up."
The partnership in the centre of the park was pivotal to the control Saints were able to exert over their Tayside rivals at the weekend, according to Davidson.
"I thought Murray complemented him (Bryson) brilliantly," the Perth boss added. "And he was probably one of the reasons Dundee United didn't have many attacks.
"He has altered his game slightly.  He loves to get forward but has the experience and discipline to play the role as he sees it.
"It's good to have that competition. Liam Craig is unfairly missing from the team because he has performed really well.
"I just need to make sure everyone stays fit and is raring to go. We have some big games coming up and the cups are important too."
When you look to identify the creative heartbeat of St Johnstone so far this season, the side's three centre-backs have to be given attention as well. Nobody could accuse Jason Kerr, Liam Gordon or Jamie McCart of being 'row Z' defenders, that's for sure.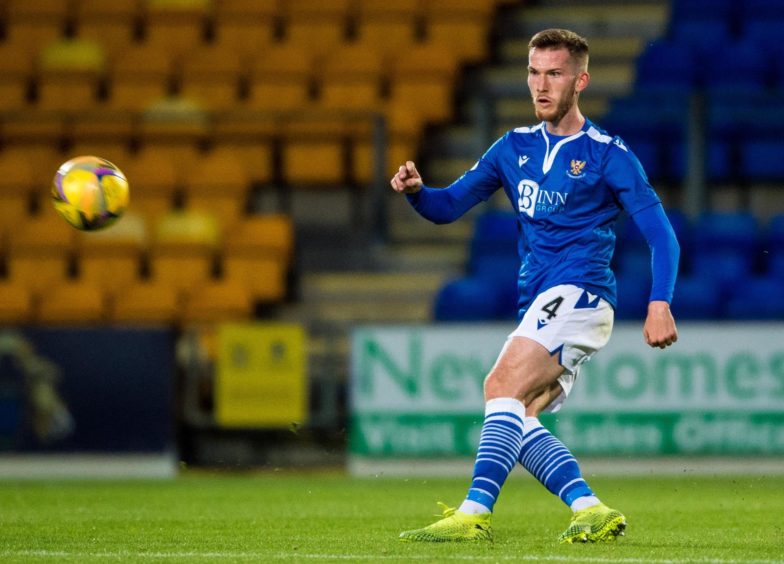 The latter, in particular, has passing numbers many a midfielder would be proud of and has topped the distribution charts for his team on four occasions in the Premiership (against Dundee United at Tannadice, Aberdeen, Motherwell and Ross County), making him the club leader in that category thus far.
His 67 at Motherwell beats Bryson's Saturday total by one.
The eye-catching passing graphic for the central defenders was in that same game, when they were numbers one, two and three for Saints.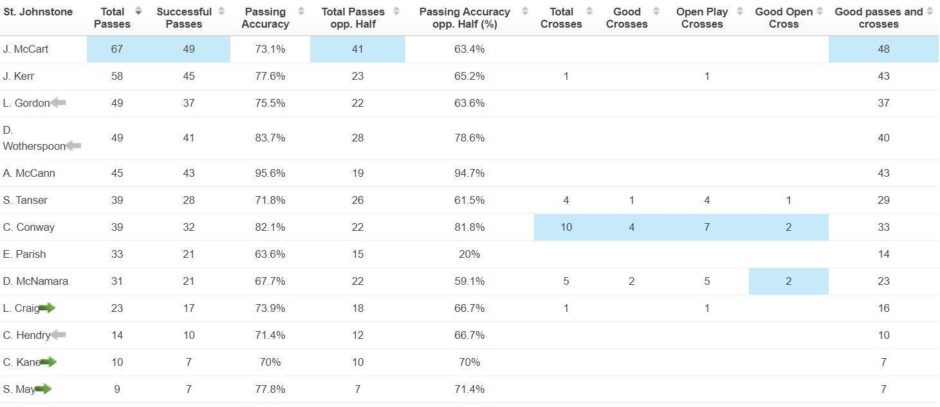 Managerial demands are being met collectively.
"I encourage them to pass the ball," said Davidson. "It's making sure we're doing it at the right time and when to go forward.
"It's still a work in progress and they are three young centre-halves. It's about their development and trying to get them to a higher level.
"I've been really pleased with them in the majority of games this season. We have conceded two or three goals in games we should have won. But when you move the ball across the back quickly, you open up space to play and create space for others.
"They are looking to do what I'm asking of them and hopefully enjoying it at the same time.
"I've enjoyed it so far. I'm hoping for more victories because performance levels have been good.
"Fingers crossed we can start picking up results we deserve.  From that, it will be a more enjoyable job for me."
ANALYSIS: Murray Davidson's St Johnstone role is evolving but his importance to the team remains the same