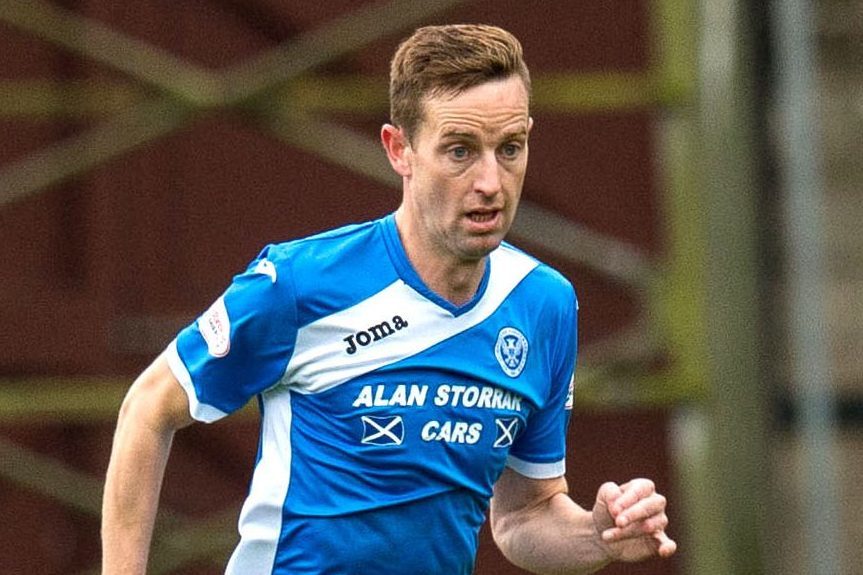 Steven MacLean will have over a fortnight to wait for his next game after St Johnstone play Motherwell this afternoon.
And the Perth striker, who will be kept out of action by an international break and then Hamilton's artificial pitch, wants to sign off with top six football secured.
There aren't many people who expect Saints to be caught by two teams in the five remaining pre-split fixtures, but MacLean is keen that the issue to put beyond mathematical doubt with a Fir Park victory.
"If we can get a good result on Saturday top six could be sorted," he said.
"It's a big game for us.
"You'd think a win would be enough to get us into the top six.
"We did it last season with 43. We're on 40 just now.
"Win on Saturday and we're there. That's all we're thinking about – three more points.
"You can't get ahead of yourself and lose concentration."
Last weekend saw Saints coming up against a Dundee side who were aiming to get within touching distance of them. Motherwell's motivation is even stronger, according to MacLean.
"If you look at the league table we should be going there and turning over Motherwell but we have to earn the right to play," the former Aberdeen, Sheffield Wednesday and Rangers man said.
"They're fighting for their lives and it can actually be harder playing the bottom teams.
"I'm not talking about individual players or specific clubs but, at this time of the year, players are playing for their futures. Relegation has an impact. There's a big knock-on effect
"It's not just players' careers. There could be staff cuts at clubs that go down as well.
"And, in football terms, look how long it's taking Hibs to get back up.
"Motherwell will be bang up for it so it's up to us to start like we did last week."
Saints are ready for a different script to the norm in encounters with Motherwell.
Stephen Robinson has tightened things up since taking over as caretaker boss from Mark McGhee and has a win and a late defeat in Aberdeen to his name.
MacLean said: "When we play Motherwell at Fir Park – and at McDiarmid – they always seem to be good, open games.
"Whether it will be the same on Saturday, I'm not sure. They're setting up a bit differently under the new guy.
"We're not too sure if they'll have a go at us and play 4-4-2.
"Whatever they do, we set the standard for our work-rate and attitude. That has to be a given every week. We know that.
"If we do that, hopefully it will be another three points."
Robinson was confirmed as the permanent manager this week and MacLean is unsure whether that will be a factor.
He said: "Will they get the bounce effect? Who knows.
"They've done better since he's taken over and they haven't shipped as many goals.
"We have to expect a reaction and be ready for it."
Graham Cummins didn't score in last Saturday's Tayside derby win but his performance was a big hit with his strike-partner.
And MacLean believes that could be a platform for a productive end to the season for the Irishman.
"Graham was excellent last week and he'll want to maintain that," he said.
"Most of the boys need confidence to do well and that will be the case for Graham.
"He has to take heart from that performance. If he keeps playing like that the goals will flow for him.
"Last week I think he bullied the two centre-halves. That's what he can do.
"When he does that it brings a lot to the team and helps me out a lot. It gives defenders something else to think about.
"Long may it continue.
"He's important for us and it's also important the young boys in the squad step up as well.
"I won't be playing at Hamilton in our next game but we have players who can step in and do the job."