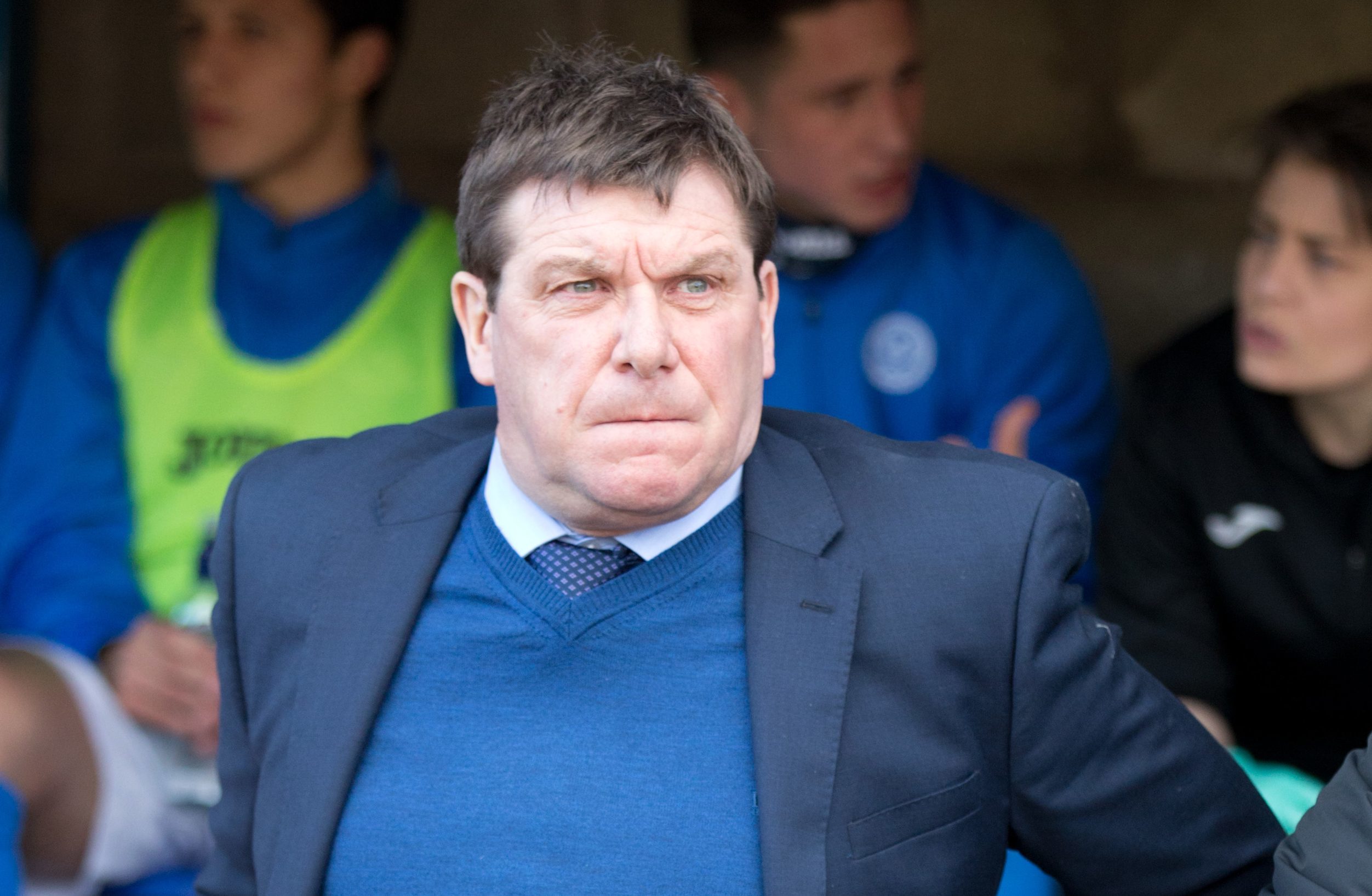 TOMMY Wright admits the weekend flare-up between Danny Swanson and Richard Foster took the shine off another top six success story.
But the St Johnstone manager trusts his players to blank the fall-out and an ongoing internal investigation to take a giant stride towards their next target with a win tonight against Hearts.
Unless Hibs retain their grip on the Scottish Cup, fourth place will provide a passport to the Europa League and Saints currently enjoy a two point advantage on Ian Cathro's stumbling Jambos.
With Swanson and Foster red carded and left in the dressing room, Wright's nine men held out until the final moments before losing 1-0 to Hamilton.
But they maintained their advantage on Hearts when the capital club crashed 5-0 to title winning Celtic on Sunday.
"It's too early to say this is the biggest game of our season," he insisted.
"If they win they are only a point ahead of us. If we win we create a gap of five. But Partick could still get fourth as well so there is a lot to play for.
"It's a great situation to be in, going for fourth. Saturday was disappointing but we have a great end to the season with a lot to play for at the right end of the table.
"There's many a team and many a supporter who will be looking over enviously at us and thinking 'how have they done that? How do they keep doing it?'.
"We've a lot to play for but it's not at the stage yet of the game being win or bust.
"Not many teams like coming here to McDiarmid Park. Hearts are not on a great run and we want to apply pressure on them.
"That's what we will try to do from the first whistle. The incident on Saturday disappointed me but I was also disappointed with our first half performance.
"We were back to what we were like a couple of weeks ago. It was lethargic, it wasn't full of energy and we lacked a bit of quality. But I don't expect that to be the case against Hearts."
Despite dropping all three points to Accies, Saints tied-up a sixth successive top six finish at the weekend.
"I tried to get the Press to concentrate on that on Saturday. But for some reason it was quite difficult," joked Wright.
"I went home and had a bottle of wine instead of a bottle of champagne. And when I woke up on Sunday I was chuffed to bits with what we have achieved this season.
"Critics maybe say it's a lack of ambition being happy with top six but it's bloody well not! It's bloody hard to get top six.
"I've been told that it's only Celtic that can better that run over the past six seasons.
"For us to do that is great, especially when you look at the clubs who haven't done it.
"Aberdeen look like they will be top six for a number of years now but they haven't done it. Hearts, the Dundee teams, Hibs – clubs who are massively bigger than us and they have not done it.
"It's a tremendous achievement for this club and I can't speak highly enough of the players.
"It's not a danger that we start to take it for granted. You have to believe me when I say we start each season wanting to get away from a relegation battle.
"We are not big enough as a club that we can take it for granted. We have to work hard every year to achieve what we achieve. And top six is an achievement.
"If we were not to get top four we would still have a great season. Other clubs have more pressure.
"If they weren't to get top four and European football then that would be a failure for them. But now we are here and we want to hold onto this position."
The Ulsterman insists his players will respond positively to the weekend setback – and the fall-out generated by the clash between teammates Swanson and Foster.
But Saints will have to find the form which saw off Motherwell and Dundee before the international break.
He said: "Hearts have a physicality about them, a lot of big players but they also have a lot of quality.
"They've a lot of internationals in their team. I've only seen them live a couple of times since bringing in nine players in January. It's a difficult time to bring players in.
"They've lacked consistency, even through 90 minutes of a game. But I am expecting a tough game.
"They will be looking at this game as one to try and get ahead of us. They've more quality but whether they are a better team over the season we will have to wait and see."
Wright is still without injured pair Chris Kane and Keith Watson, with skipper Steven Anderson undergoing a late fitness test on his ankle.
But striker Steven MacLean will return after being unable to play on an artificial surface and on-loan Preston North End full-back Clive Smith is in line to start.
"Ando hurt his ankle last Monday and he was facing up to six weeks out but he's a bit of a freak when it comes to injuries and he has an outside chance of making it.
"It would be handy but young Clive did well, making his debut at 19 in a game when his team has nine men. I've no problems. Clive will do fine. He is in my thoughts."
Wright also has a decision to make on whether keeper Allan Mannus or Zander Clark starts against Hearts.