Steven MacLean has laughed off Aberdeen jibes that the St Johnstone players would be more suited to rugby than football.
And the Saints striker doesn't think Warren Gatland will be making a late trip to McDiarmid Park this afternoon to check out any potential British and Irish Lions contenders ahead of his squad selection next week.
MacLean insisted that the on-pitch put-downs during a game at Pittodrie this season show that the Perth men have got into the Dons' heads, rather than the other way round.
"There have been issues going back a distance between the clubs I suppose but it is all good banter," said MacLean.
"We are old school and we embrace it. We are up for it.
"What was the reaction in the dressing room when we were called rugby players? We had a right good laugh.
"It didn't get under our skin. If anything by them calling us rugby players I think maybe it showed we had got under their skin.
"I know the Lions squad is being announced soon but I don't think any of us will make it.
"You look at the size of these guys and apart from big Zander Cark at second row we'd only have a few in with a chance at scrum half.
"Look, we know what we are. We aren't rugby players but we do work hard and teams don't like playing us. It's a compliment to us. We make it difficult for teams but we also know we have a bit of quality about us as well.
"We aren't going to let them roll over the top of us. We look to make things hard for opposition teams, in Perth or away from home. We have to make sure keep doing it."
Aberdeen v Saints has become one of the Premiership's fiercest head-to-heads, with a September League Cup quarter-final ending up with a dressing-room bust-up.
But MacLean believes the rivalry is a healthy one.
"There is real respect here for Aberdeen and their management team," he said. "I played with half of them. And deep down they probably respect us.
"I know what Del (Derek McInnes) and Doc (Tony Docherty) are like. Del has done a fantastic job and they have had a great season.
"We know they will be bang at it and he will have them up for it. We have to be ready because they deserve to finish second in the league this season. They have quality all over the pitch.
"Del has changed his team against us this season. I don't know if he will do it again for this game but he went with bigger, more physical players in the first game of the season. He maybe thought we had bullied them in the past.
"He has gone with pretty much the same team for the last 10 games so it will be interesting to see how they line up against us."
MacLean knows opportunities to play in Europe won't be there for him for too much longer, which makes him all the more determined to complete the job that has given Saints an excellent chance of finishing fourth this season.
"They are all big games coming up for us," he said. "But we are in a good position, we have a good record in the top six and we are looking forward to the run-in. You have to embrace it and go and put your stamp on it.
"I think there is pressure on every game. Sure we have made the top six but it comes from within. We want to do well as a squad. We will try to win every one of them.
"Last year I kind of wanted my holidays but this time round I'd love to get back into Europe because every year it is getting harder. Rangers are back and Hibs look as if they will come up. So it is tougher year on year to qualify.
"We need a favour from other teams if we finish fourth this season but it would be great to qualify for Europe and be playing quality teams and getting good trips for the fans. Europa League nights in Perth have been great, with big crowds coming in.
"When we won the cup I knew at my age there wouldn't be too many more chances for me and it is the same with Europe. You have to grasp the chances when they come along."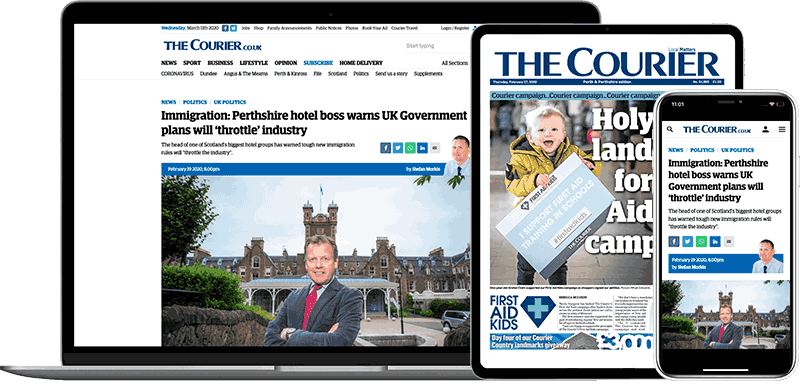 Help support quality local journalism … become a digital subscriber to The Courier
For as little as £5.99 a month you can access all of our content, including Premium articles.
Subscribe