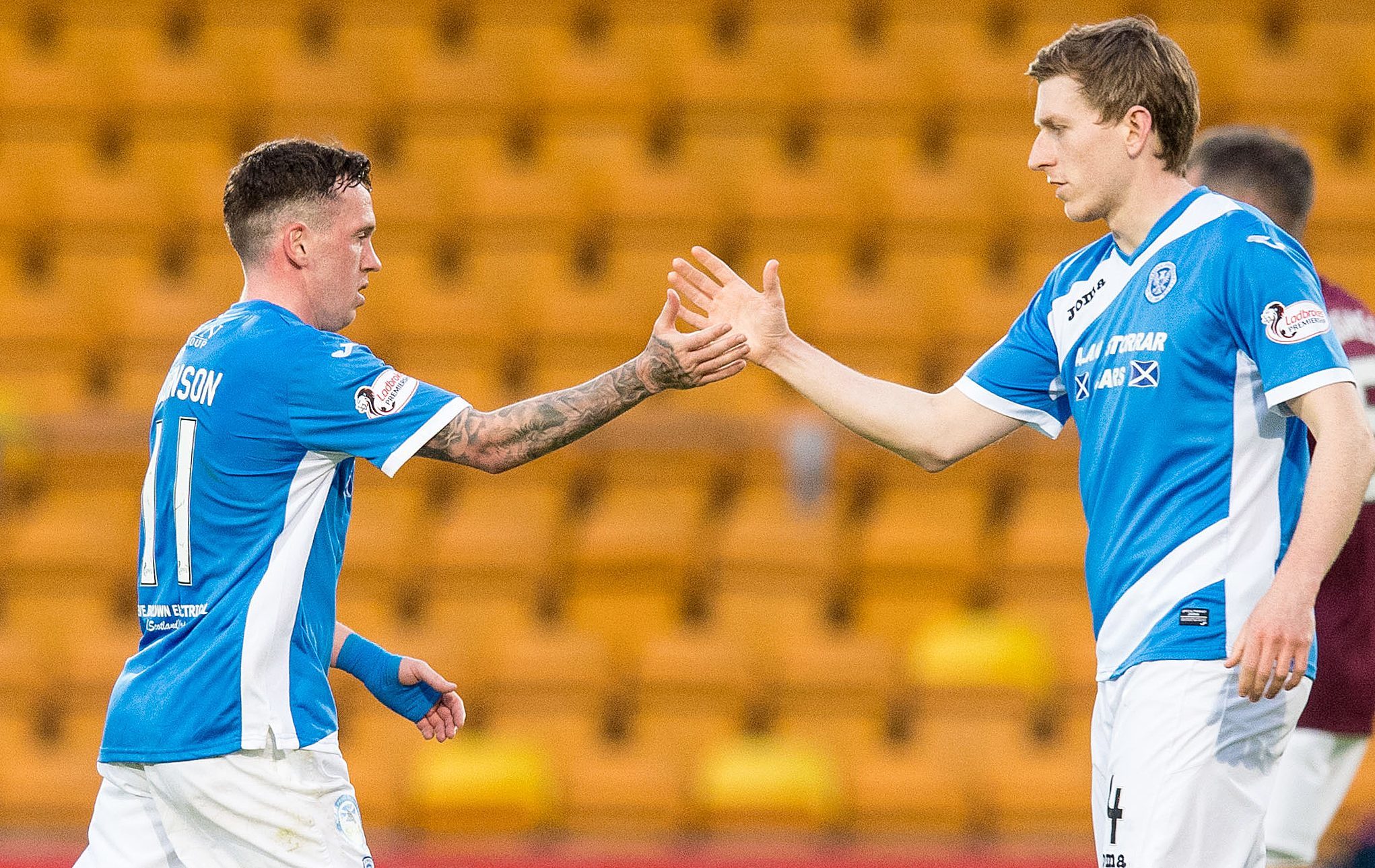 Only the pull of his boyhood club could have made Danny Swanson give up European football with St Johnstone, the Hibs-bound playmaker has admitted.
Speaking for the first time since he signed his pre-contract agreement with the newly-promoted Easter Road side, Swanson revealed there were tugs on the heartstring that he couldn't ignore – even if it meant cutting his ties with players and supporters he had formed a strong bond with.
Suspended for the last game of the season against Rangers on Sunday, the former Dundee United man said his goodbyes to the Perth fans as he was substituted in Wednesday night's 1-0 win over Hearts.
And the walk to the bench was one he won't forget.
"It was emotional and I wasn't expecting it," Swanson said. "I wasn't sure what to expect really. It's the first time it has happened like that.
"I was a bit sad in the changing room with the boys afterwards.
"The fans were great to be to be fair, considering I had already signed for another team. They stuck by me and I'm glad I helped them get into Europe.
"When I went back to Coventry I didn't feel the same. I was always looking forward to going back there. It's a bit different this time. I have been playing with the boys all season.
"It has been a big decision for me. I have really enjoyed my football here.
"It was only because it was Hibs. I did have other options and I was wanting to sign here. But once Hibs came for me I changed my mind, right away.
"I lost my friend Sean Woodburn on Hogmanay. He died at my dad's pub. It was a hard time. He was always saying 'come on, sign for Hibs.' That had a big part to play as well. I'm just glad I have the chance to do it for him.
"I'm really looking forward to playing for Hibs but I can't say anything negative about St Johnstone. I've loved it here.
"The gaffer, Callum and Eck have been brilliant with me, the boys as well. You won't find a better bunch.
"I have a great relationship with the gaffer but ever since I was a wee boy I have wanted to play for Hibs. That's never changed.
"I have turned them down a couple of times to try and play at the highest level in England but I always felt I was destined to end up there. Thankfully it has happened."
Tommy Wright has helped kickstart plenty of players' careers at McDiarmid Park over the last few years and Swanson definitely falls into that category.
He said: "I'll be honest, I didn't have the bottle to tell the gaffer at first. I was really nervous. We'd had a lot of chats about me staying but it never really materialised.
"In the end to be fair to St Johnstone they offered me a really good deal. Money-wise it was above and beyond what I expected.
"At the time I wouldn't say the gaffer was angry, he was a bit disappointed I didn't sign here. I had told him about other clubs' interest and who it was and I had turned them down to stay here. If it wasn't Hibs I'd still be here.
"But the gaffer has never changed and that is something I really respect him for. He has resurrected my career. He has let me go and play and enjoy myself. It has been a great season.
"I have been here twice but the gaffer has said he can't save me again. So I need this to work out.
"It was a big thing for me to leave on good terms. It couldn't have worked out any better. We've another game left but I am suspended and I'm looking forward to the summer and getting back to play for Hibs."
Even though Swanson once pulled on the maroon of Hearts, he wanted to nail it down once and for all which side of the Edinburgh divide he comes down on.
"I remember giving an interview when I was at Hearts," he recalled. "I had to try to get them onside so I was giving it out that I was a Hearts fan. On the record, I have never been a Hearts fan. Definitely not.
"My granny is a Hearts fan but the stuff about my dad being a fan wasn't true. People are still asking me if I'm a Hearts fan. No chance.
"Here's something. I texted Alan Stubbs before I signed for Hearts. I had phoned Tommy Wright before I signed for Hearts to try and get something sorted but it never happened.
"I was excited to sign for Hearts but I tried to get Hibs. Alan Stubbs said no. So I ended up going to Hearts and I played really well….not!
"I can't wait for the derbies next season. They will be nervous times but I'm looking forward to them.
"I have been to a lot of them and it's not been great for Hibs, the ones I used to go to."