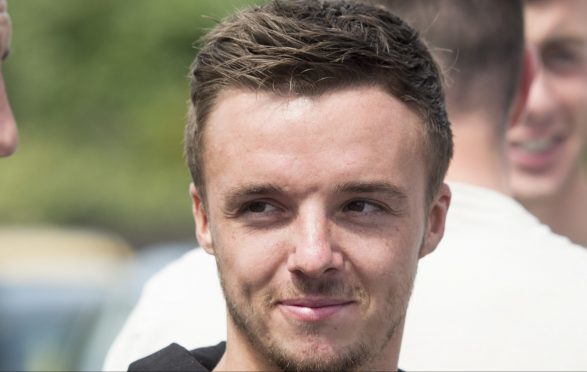 The prospect of European football was a big draw for Stefan Scougall when he decided to sign for St Johnstone.
And the new Perth playmaker is confident that lack of competitive game-time in the last six months won't be a problem in tonight's Europa League opener.
The former Sheffield United and Livingston man got a match-and-a-half of closed-doors action last week and he's now ready to make his Saints debut against FK Trakai.
The priority for Scougall and his McDiarmid team-mates is making sure this European campaign isn't a two-game one.
"It has been a good solid week," he said. "It's been great to get back on the training field and get games under my belt.
"I knew a couple of the boys from playing against them at Livingston. They are a good bunch and I can't wait for the season to start.
"I'm looking forward to the game. Coming back up to Scotland, one of the main attractions was the chance to play European football. Another factor was the chance to play regular football again.
"Europe will be a new experience for me and I can't wait to get out there.
"I don't know a lot about Trakai but we have had clips to look at in our own time.
"I watched a game they won 2-0 and they look a decent side.
"The closest I have had to European football is with Scotland under-21s. I played against Holland in a qualifier and Canada in a friendly.
"We are trying to progress as far as possible. I didn't come up here just for two qualifiers. I would like to get to the later stages when the big boys come in. It would be great to get a glamour tie and you never know what can happen in European football."
Scougall drifted out of the first team picture at Bramall Lane last season, suffering from a change in management. But it would be a mistake to write off his spell in Yorkshire as an unfulfilled one.
"It was quite a rollercoaster for me down south," he said. "I had three different managers while I was at Sheffield United.
"Under Nigel Clough I was playing almost every week so that was good. Then a new manager came in with new players and new ideas. I felt like a bit-part player and went out on loan.
"After Nigel Clough it didn't really work out for me. Going to England was a gamble but it was one I needed to take. It was good experience and you never know what will happen in the future.
"I would go back down again but I need to be playing football. That was my aim in signing here for two years.
"It has made me a better person and player. Hopefully that experience will help St Johnstone.
"I played in some big games, an FA Cup semi-final (against Hull) and a League Cup semi-final (Spurs). I had games against Championships teams as well so I have played in big matches before. And I am looking forward to games against Rangers and Celtic.
"I played over 100 games in England. I wasn't just floating about and playing under-23s. I feel I should have played more but sometimes your face doesn't fit.
"They were in the relegation zone when I went there at first and we got promoted.
"It is a big club. We were getting 20,000 fans and that was incredible for a team that had been in League One for six or seven years."
European football was one of the advantages St Johnstone had when it came to make your mind up time for Scougall, but Tommy Wright was a bigger one.
"I met the manager here towards the end of last season and he was probably the main factor in my decision to come back to Scotland," he said.
"It has been a long time since I have played a competitive game. It was back in January. But over the last week I have played and got over 120 minutes under my belt. It's about getting back match sharpness now."
Scougall is happy to take on the responsibility of opening up opposition defences for Saints but he doesn't see himself as a like for like replacement for Danny Swanson.
He said: "I think Danny and I are slightly different sorts of players and it is about me stamping my mark on the team. It is up to me. Hopefully I can contribute here.
"You always have something to prove. Personally I feel I have to prove to people wrong every day, in either training or games. I think I have done that over the years since becoming a professional footballer.
"A lot of coaches when I was younger said I wasn't big enough to play football.
"That was hard for me to take. But it was about how you came back from that sort of talk.
"Even when I was in England I had some people saying 'you're not big enough, you're not strong enough.'
"But my game is about getting on the ball, driving at players and trying to create things, not winning headers and tackles or pushing someone off the ball.
"I'm not saying all the best players in the world are small but technically they are probably superior. Hopefully I have that on my side compared to the bigger lads."