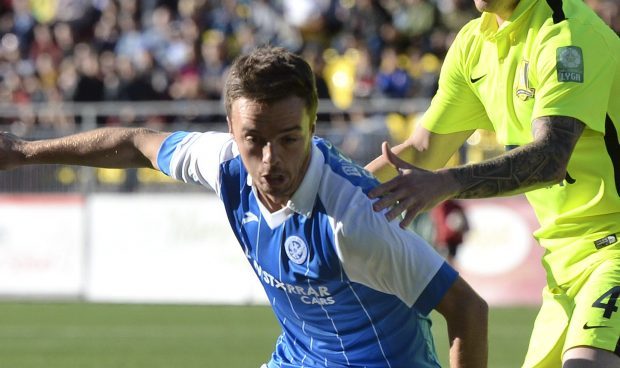 A much improved performance from St Johnstone wasn't enough to keep them in the Europa League.
Tommy Wright's men were better than in Perth and also better than their Lithuanian opponents. They were totally dominant.
But they couldn't get things right where it mattered most – in front of goal – with three Joe Shaughnessy headers that narrowly failed to find the net summing up their frustrations.
Playing against 10 men for over half an hour didn't prove to be a big advantage and when Saints were going all-in to chase the two late goals they needed to progress to the second qualifying round they were hit by an FK Trakai breakaway, finished off by Maksim Maksimov.
The Perth players were applauded off by 500 of their supporters who have made the trip to the Balkans but unfortunately it was in recognition of of their efforts and not a famous comeback victory.
There were five changes to the Saints team which started seven days ago. Brian Easton didn't fly out, while David Wotherspoon, Paul Paton, Graham Cummins and Steven MacLean were on the bench. In came Scott Tanser, Chris Millar, Stefan Scougall, Murray Davidson and Chris Kane.
In the hosts' line-up there was a place for ex-Hearts man Deividas Cesnauskis.
Murphy Dorley and Maksimov had impressive games at McDiarmid Park and they linked up in four minutes to cause an awkward moment for Saints.
The through-ball from Dorley didn't look to be too threatening but Ally Gilchrist and Zander Clark hesitated and Maksimov nipped in between them to get there first. However, the goalscorer last week wasn't able to take full advantage and the Perth side cleared.
Millar was next to put his team in a bit of unnecessary trouble with a headed back pass that didn't have enough on it. Mykhaylo Shyshka latched on to it but his attempted lob from a narrow angle was off target.
The nerves appeared to be contagious as seconds later the Lithuanian keeper, Ignas Plukas, was nearly caught in possession by Kane.
Blair Alston was fouled in a good attacking position for Saints down the right and from the free-kick Shaughnessy forced Plukas to tip his header over.
There was an even better chance for the Irishman from the corner that followed. He was unmarked at the back post and his downward header beat Plukas but struck Valdemar Borovskij on the line.
Saints were growing into this game nicely and on 25 minutes Kane out-muscled his centre-back marker to create a good chance for himself. Sadly, he didn't get a clean connection on his shot.
Trakai were lacking the composure of last week – largely due to the pressure Saints were putting them under across the pitch – and Kane was barged over by Justinas Janusevskij at the corner of the box. It had the look of a foul that would have been awarded outside of the area but a penalty wasn't given.
It was pretty much total territorial dominance from Saints as half-time approached and even on the rare occasions Trakai were able to get out of their own half the counter-attacks didn't carry the same menace as in Scotland.
Just before the break, Davidson was tripped by Arunas Klimavicius as he charged from midfield towards the box. Alston took the free-kick but sent it high over the bar.
Clark had barely been called upon to make a save in the first 45 but he did well to gather a low Alma Wakili shot seven minutes after the re-start. There were Trakai players poised to snap up a rebound had the keeper's handling not been up to scratch.
The Saints cause was aided on 57 minutes when Klimavicius was sent off for fouling Kane – his second yellow card.
Seconds later an inviting Richard Foster cross was met by Shaughnessy but the centre-back didn't get enough – if anything – on a glancing header.
Much of the pre-match talk had centred on whether or not MacLean would feature, and on the 63 minute he replaced Millar.
Saints may have been facing 10 men but their play was losing a bit of its earlier fluency.
The next near thing actually came at the other end. Maksimov did well to hold the ball up with little support around him and he worked space form himself before narrowly missing the far top corner with a curling left-foot finish.
With time running out Saints were loading the box at every opportunity and there was a goalmouth scramble from a Scougall corner. It was pin-ball in the danger area but it just wouldn't fall nicely for a Saints man and Trakai cleared.
Scougall was tiring by now and Wright made his second substitution, replacing his new signing with David Wotherspoon.
Maksimov is a fine prospect and he brought a long pass down on his thigh superbly before dragging his shot into the side-netting.
We were into now or never time for the visitors and Wright brought on Graham Cummins for Alston as a last throw of the dice.
On the 83rd minute Saints had a free-kick in a dangerous position by Wotherspoon's strike was a carbon copy of Alston's in the first half – too high.
Saints were always likely to be susceptible to an accurate counter and the last man they wanted on the end of one was Maksimov, who was clinical when he latched on to a long ball in 88 minutes to make the tie 3-1 over the two legs.
Saints certainly didn't deserve the sucker-punch but it meant defeat at home, away and on aggregate.
FK Trakai – Ignas, Modestas, Cesnauskis (Kruk 60), Maksimov (Traore 90), Dorley, Janusevskij, Wakili, Shyshka, Kilmavicius, Borovskij (Cyzas 81). Subs not used – Sheremeta, Masenzovas, Marazas, Mamaev.
St Johnstone – Clark, Foster, Shaughnessy, Gilchrist, Alston (Cummins 76) Tanser, Craig, Millar (Maclean 63), Scougall (Wotherspoon 73), Davidson, Kane. Subs not used – Mannus, Kerr, Paton, Thomson.
Referee – Stanislas Todorov (Bulgaria).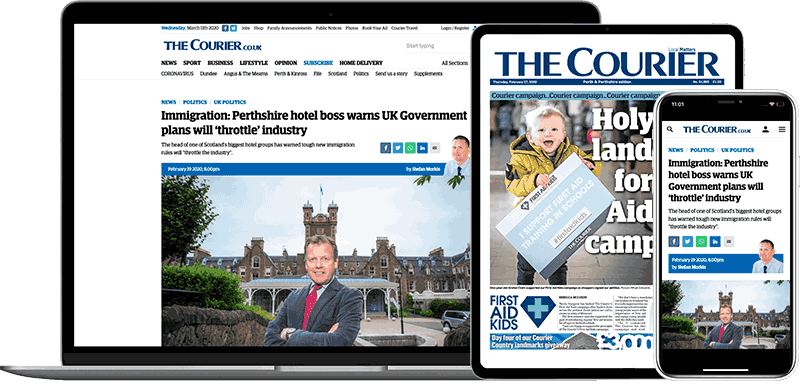 Help support quality local journalism … become a digital subscriber to The Courier
For as little as £5.99 a month you can access all of our content, including Premium articles.
Subscribe