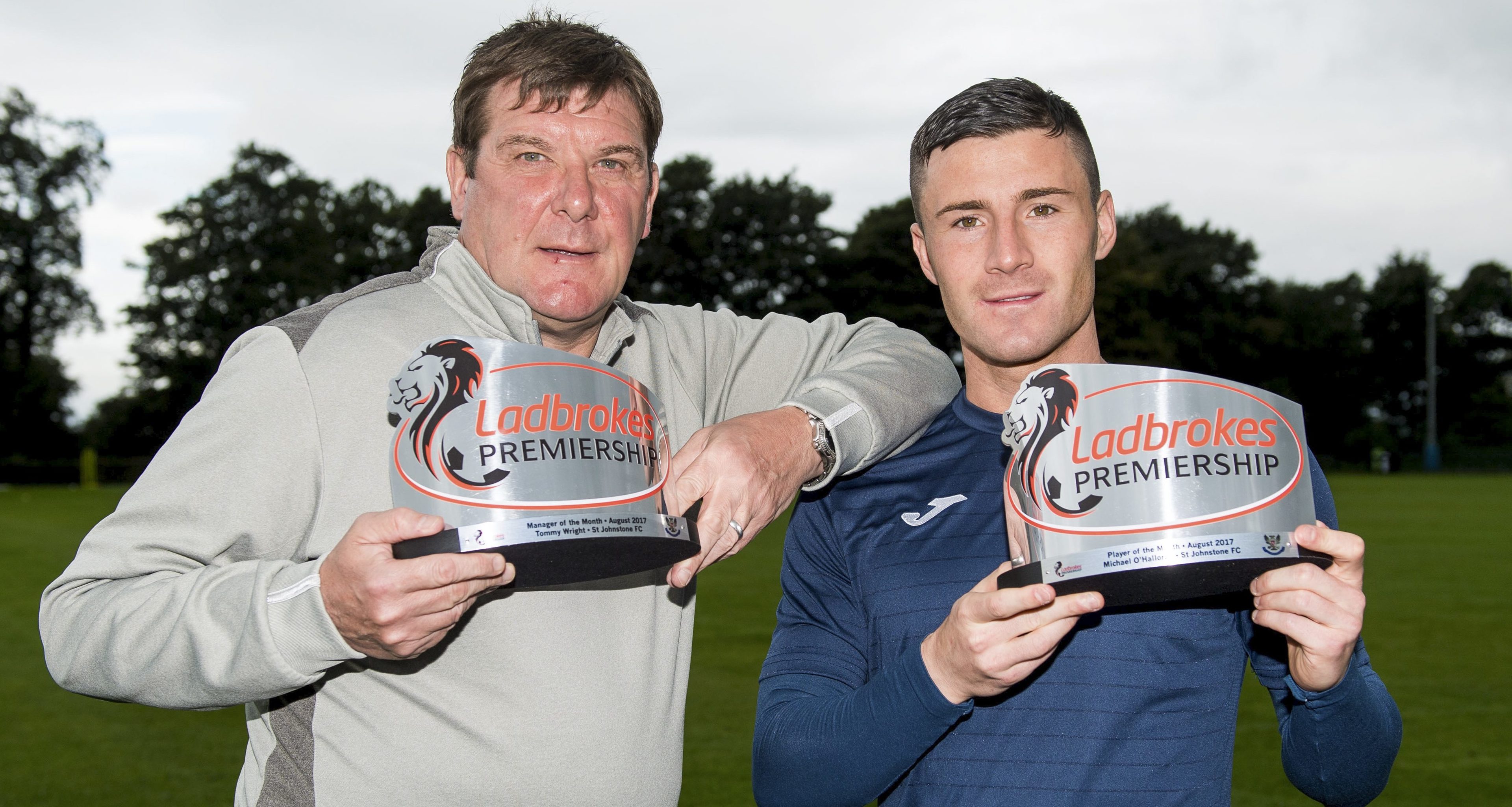 ST Johnstone's impressive start to the season was rubber stamped yesterday with an awards double for manager Tommy Wright and striker Michael O'Halloran.
The Perth duo picked up the Ladbrokes Premiership Manager and Player of the Month accolades after an undefeated start in the league, creating a new club top-flight record along the way.
Wright revealed he is hoping to extend four-goal O'Halloran's loan deal from Rangers beyond January and hasn't ruled out a surprise bid to make the 26-year-old attacker's return to McDiarmid more permanent.
It was previous Ibrox manager Mark Warburton who spent £500,000 on luring the former Bolton player 18 months ago, on a long-term deal.
But Portuguese successor Pedro Caixinha recently made it clear O'Halloran isn't part of his plans, saying: "He's not my type of player. He's not the type of player Rangers needs."
Long-time mentor Wright revealed Saints had inquired about buying the Perth fans' favourite with the Europa League campaign in mind but at that stage Rangers had been reluctant to sanction any sort of return to Perth.
"I would hope to be able to extend the loan but a lot of things can happen between now and then," said Wright.
"Our plan would be to extend it or maybe if I can get the chairman to release a few quid we might even buy him.
"We did ask about buying him before but that didn't happen. The loan was the next best option but let's hope we can hold on to him for some time.
"The worry is that his value increases but I've gone into it as a manager knowing that worst-case scenario I will have Michael until January.
"I've been planning for that. We've lost our leading scorers every season and that will happen because we're a smaller club.
"If Michael burns it up from now until January and someone pays half a million or whatever and we can't keep him then I'll be happy he did the job for me and moved on.
"Michael wanted to play in an environment where he knew he had to settle quickly to get his career back on track.
"Rangers, for a while, didn't want him coming to us and I can understand that because they paid us money for him.
"But I was just happy in the end we got him because Michael made it clear he wanted to come back to us.
"He's had a bad time so it was an easy choice for him to come to an environment where he's going to flourish again.
"It's great to see him with a little spring in his step and a lot happier.
"It has surprised me that Michael has scored so many goals in a short space of time but I know what he's capable of.
"He was determined to come back and do well. I knew I was getting a hungry player because he was at a low ebb due to not getting games.
"You could see from the minute he walked in the door that it lifted him because he knew he was going to play and play with a manager who trusted him.
"The dogs in the street knew I'd been after him since last January. He knows what I think of him and people out there know what he's done in this league before.
"I had no hesitation in wanting to get him back and I'm pleasantly surprised Michael has hit the ground running.
"I must say that despite not playing a lot he's come back a better player.
"He'll be disappointed he hasn't done well at Rangers because I genuinely thought he would have done really well.
"He knew he would be able to make a difference for us and the lads were delighted to get him back as well because he's such a nice lad and a success here first time around."
Wright is looking to build on the impressive opening to the season against Hibs this weekend.
He said: "It's a great start for us, particularly when you factor in we went to Parkhead and got a positive result.
"If we'd held on for 10 minutes more we might have picked up 12 points but I'm more than happy with the start we've made and the level of performance over the four games.
"We need more of the same, keep working hard and be difficult to beat but we've probably created more chances in the games and had more possession which is good.
"The team is evolving a bit so that's good but you need to put the work in and have the quality as well and we've shown that.
"The players deserve a lot of credit after the disappointment of Europe. We're in a good run of form but we need to go again."
Top six regular Wright saw his team tipped to fall away this season but he's heard it all before.
He added: "Since I've been here I've seen it asked if we can continue to achieve the success we've had and you can if you keep the main principle which is work hard together.
"We are a side that doesn't concede a lot of goals and when you have a good base you can go and play.
"I've tried to add that wee bit more quality in the summer with Stefan Scougall and Michael O'Halloran coming in to give us more quality at the top end."