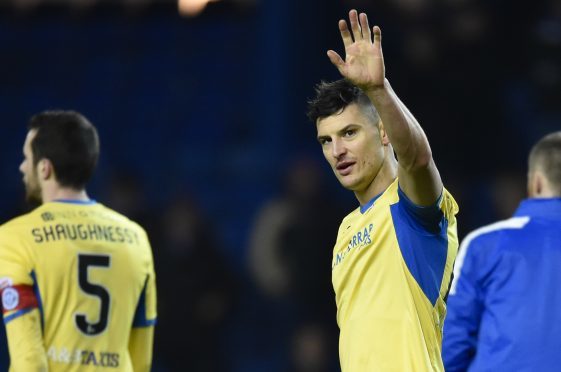 A "dreadful" first few months of the season left Graham Cummins "beyond low", the St Johnstone striker has revealed.
The trials and tribulations that began at the end of June when he missed a chance to level the scores in Saints' Europe League home leg against FK Trakai have made the Irishman's life a misery, he admitted.
But the torment of going 16 games without finding the net turned to elation when Cummins ended that run in spectacular fashion with the third goal in the 3-1 defeat of Rangers on Saturday.
Reflecting on the 2017/18 campaign pre-Ibrox, Cummins said: "This year has been the hardest time in my career, easily.
"As a striker when you are not scoring it makes you question everything about football and everything about yourself.
"It's not enjoyable. I haven't enjoyed it at all this season so far.
"I'm not deaf. I can hear the shouts from the crowd and it does get you down.
"It has been horrible, if I'm deadly honest."
The former Preston North End man added: "It didn't start well when I missed that chance against Trakai in Europe back in the summer and things just haven't clicked for me at all.
"I don't think my overall play has been bad but in my position you get judged on goals, that's what everyone looks at.
"I am more harsh on myself than anyone else can be. It's a confidence thing.
"I have been beyond low this season. It has been dreadful. You are only human and things affect you.
"I have been bringing it home. I've been miserable about the house and to the wife.
"I have been a very miserable man. I have been hard to live with.
"That's why it meant so much to me at Ibrox. It was just relief to get a goal.
"Scoring once doesn't mean it ends there, but on Saturday I was certainly the happiest I have been for a long time."
Cummins was a second half substitute for Saints on Saturday and, with Tommy Wright's men only one goal in front when he came on, his impact was a telling one.
"It was actually my second touch," he said. "The ball just came to me and I hit it – so luckily it went in.
"It meant a lot to me, especially as my whole family were there.
"My mum, dad, wife and brother Kevin were there – that's the first time he's seen me play.
"He's been over before when I was at Preston but every time he came I was either on the bench or in the stand.
"So Saturday was the first time he's come across and actually seen me on the pitch, which was really good for me.
"I think I might have to get him to come every week now!
"I actually tend to do well when my family come over. I seem to always play well.
"Scoring against Rangers meant a lot to them. My dad is in the Celtic supporters' club back home so his phone was getting plenty of messages on Saturday night.
"They were delighted to see me score and to see the team win, so it was a great weekend."
Cummins wasn't the only hero in yellow whose season hadn't gone to plan up until the weekend. Denny Johnstone got his first goal for the club after failing to have any real impact previously, while man of the match Chris Millar could have been moved on in the summer.
"I thought we played some excellent football," said Cummins.
"Chris Millar has come in and he deserves the plaudits he's been getting for his performance.
"He came in and really helped us keep the ball.
"He was demanding things from the people around him and I think you could see that.
"Midge argued with everyone in the team, he was giving it to everyone and I think that's something we have maybe missed.
"He put demands on everyone around him and that made each player demand more from themselves and others.
"We were comfortable. Even when they scored I always felt we would get back into it because we were playing well.
"I don't think anyone can say we didn't deserve it."
There was speculation in Ireland last week that Cummins would be returning home to Cork City in January but the 29-year-old said: "I don't know anything about it. It was news to me.
"I got a few messages about it last week because it was a story in Ireland."