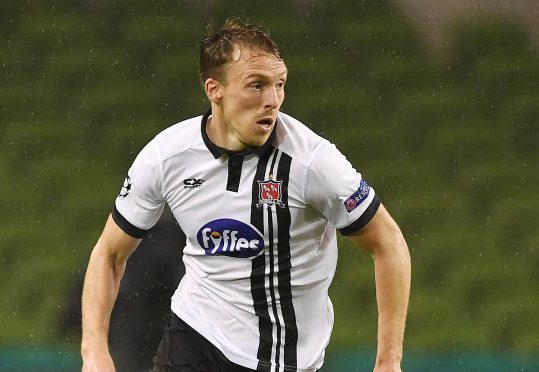 New St Johnstone signing David McMillan doesn't know much about Albion Rovers.
But he does know plenty about cup football.
And the former Dundalk striker is ready to make a Coatbridge debut at the beginning of what he hopes will be a long road to Hampden.
"I made three cup finals back in Ireland, winning one of them," said McMillan. "Whatever country you are in the cup is a tough competition to win. Everyone wants to do well.
"It is an exciting prospect being involved in the Scottish Cup. It would be a good one to get my first taste of Scottish football.
"As a Premiership team we should be expecting to do well in the competition.
"This is a trophy we can realistically win. I know the club won it a few years ago.
"That was a massive achievement for the players and for Tommy (Wright). With that comes European football as well."
McMillan's season with Dundalk ended a few weeks ago and Wright was insistent that his new recruit took a proper break at the end of it before arriving in Perth.
"I finished in early November after the Irish Cup final so it has been a question of trying to stay fit during my off season," he explained.
"The manager had told me to take a good break after I signed the pre-contract. That was good advice after a long season back home.
"I did take time off but I have been working hard on my fitness while the lads were away for 10 days. I wanted to make sure I was ready to go against Albion Rovers. And there are a lot of games coming up.
"I've been helped out with sessions from my brother Evan, who was an assistant manager for three years with UCD.
"I feel fit enough but it's about playing games now to get to the top level.
"We will have to see what the manger decides but Saturday would be a good opportunity to get minutes under my belt."
McMillan's understanding of the style of football Saints play will accelerate when he gets on the pitch in a competitive game, of course.
But his first impressions after a few days' training are encouraging.
"I have watched games on television since signing but there is no substitute for being out on the pitch," he said.
"It's interesting to see how the team plays and I have to get used to the other strikers and midfielders in particular in terms of their movement.
"At Dundalk we generally played 4-3-3 but judging by a game amongst ourselves the other day in terms of pressing opposition teams and working hard off the ball I think that's something that suits my game very well. Hopefully I can bed in quickly.
"I have to fly home to do the final interviews for my degree. That's on Wednesday morning then it's back here for training on Thursday.
"I won't know the results for a month or two but hopefully it goes well."