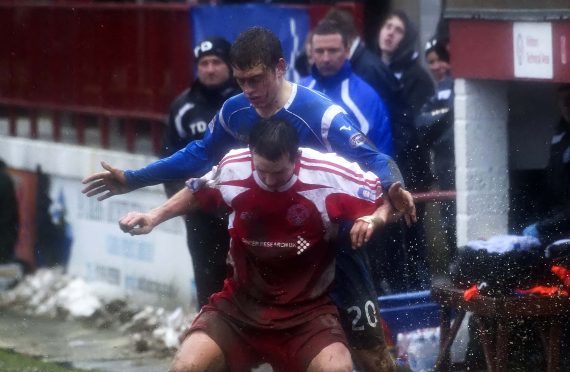 Cliftonhill will be new territory for Murray Davidson.
The St Johnstone midfielder can envisage what sort of afternoon is in store at one of Scottish football's throwback grounds.
But the memory of a cup quarter-final at Glebe Park in 2011 will stand him in good stead for the delights of a fourth round cup tie in Coatbridge.
"There are no snobs in our dressing-room so we are looking forward to it," said Davidson.
"I've never actually played at Cliftonhill before but we know what to expect.
"Given the weather we've had, none of the pitches will be great this weekend and I'd imagine Albion Rovers' won't be the best.
"But we have experience of that in the past and the Brechin game is the one that always springs to mind.
"It was incredible that day. How the game was on I'll never know because the mud was right up to your ankles.
"I doubt I will ever play on a pitch that bad ever again."
He added: "I always remember that game for a few reasons. The pitch is one of them but the second is that Craig Levein was there watching me for Scotland.
"He picked me in the squad to play Brazil after that, so I went from the mudbath at Glebe Park to sitting on the bench at the Emirates a week later.
"The Brechin game is one to look back on and have a laugh at now, but I remember Derek McInnes going mental at us for being a goal down at half-time.
"On the Monday he'd gone away to think about it and said he'd been a bit harsh because it was impossible to play on that pitch.
"Those are the games you just have to go back to basics. It's about attitude more than anything in these matches.
"Hopefully the pitch at Albion Rovers won't be anywhere near as bad as it was that day but with the weather lately there's every chance it will be heavy.
"We have to prepare right and be professional. We know what's needed to win games like this.
"You need to have the right attitude and be prepared to battle. Thankfully for us, we have loads of players who are willing and able to do that."
Davidson missed out on Saints' finest Scottish Cup hour through injury and the passing of time after the club's 2014 triumph hasn't diluted his desire to play in a final.
He said: "We want to go on a cup run this season and personally, I want to get to a final.
"I missed winning the cup in 2014 and that has made me even more determined to get back there.
"The gaffer and the lads were great in the build-up and made sure we were involved but I remember saying to Tam Scobbie when the game kicked off that I didn't want to be there.
"I didn't want to watch it because it was painful knowing that injury had cost us that chance.
"Afterwards, the celebrations were great and you enjoy it with the rest of the lads, but you never fully feel part of it.
"There was some talk afterwards about getting Scobbie and myself medals but I told the club I didn't want one and so did he.
"So I would love to get back to another final and get one myself, but there is a long, long way to go before that becomes a reality.
"We have to focus on Albion Rovers first."
By the time the next round is played Saints may have Danny Swanson in their team again.
Tommy Wright would be keen to bring back the Hibs man if Neil Lennon is willing to release him this month, and Davidson said the players would also be delighted if a deal went through.
"We would love for Swanny to come back because we know his quality," he said.
"It hasn't gone totally to plan for him at Hibs for whatever reasons.
"He gets on well with everyone here, he was a big figure in our dressing-room and he likes working with the gaffer and the staff.
"He was brilliant for us in the past and would add the extra bit of quality we have been missing.
"It will be up to him, Hibs and the manager to sort things out if it's going to happen.
"I'm sure if he does walk back through the dressing-room door the lads would give him a bit of stick for leaving and coming back again, but that's football.
"He knows 90% of the players here, he's played some of his best football at this club and everyone would welcome him back."