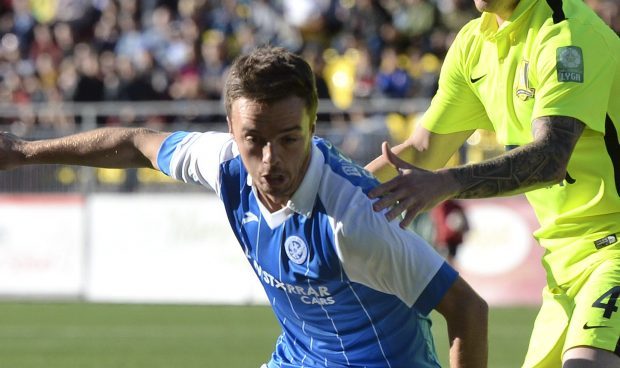 Tommy Wright has made no secret of the fact he is looking to bolster his attacking options out wide before January comes to an end.
But Stefan Scougall is hoping to prove to the St Johnstone manager that he already has his man for the middle.
The number 10 role has been the former Livingston and Sheffield United man's in the last few games before the winter break – a change from the early months when he was deployed on the flank.
And he would like it to be his when the season resumes against Partick Thistle this afternoon.
"I have always felt that playing centrally is my best position and that's where you get the best out of me," said Scougall.
"When you are out wide, there are times you don't get the ball for 10 minutes and you almost feel like the game passes you by.
"If I'm in the middle I feel more involved. I can get on the ball and try to make things happen.
"If you're not on the ball playing as a number 10, then you are always close to it and you can get yourself in the thick of things.
"It's a team game and of course if the manager wants me to play wide that's where I'll be.
"But personally I prefer playing in the middle and that's where I feel most comfortable.
"When I first went to England under Nigel Clough that's where I played and that's where I played my best football.
"There is plenty more to come from me. I think my best spell so far has been in the few games up to the break."
Four weeks without a game has taken Saints into close-season territory given the short turnaround for their Europa League qualifiers.
So their desire to get back playing again needs no emphasising.
"It feels like forever since we last had a game," Scougall admitted. "The break we have had in the winter is just as long as the boys had in the summer.
"We got eight or nine days off and I was able to get away for some sunshine, but it feels like we have been back for ages without playing.
"We can't wait to get playing again because it has been frustrating.
"The gaffer has organised a few games between ourselves but it's not the same. You want competitive football to start again."
The spotlight will continue to shine on Saints' poor home form until they can sort it out. Beating Thistle would be a decent start.
"We are at home this weekend and we need to get the home record going again," said Scougall.
"It hasn't been good enough in the first half of the season so we know we have to rectify it.
"It feels like we are starting the second half of the season again with a clean slate so we're looking to win more home matches.
"In the second half against Dundee in the last match I felt we were in control of the game but we just couldn't score.
"Partick have been unlucky with injuries this season but they are getting players back now.
"They are a good team who are capable of hurting you.
"They have had two matches so they will probably be a bit sharper, so how we start the game will be vital.
"We need to be really at it and impose ourselves on the game early because if we don't then they'll take advantage."
Saints will be without Brian Easton, Paul Paton, Murray Davidson and Richard Foster today and they would have been without Scougall in midweek had the Albion Rovers clash been postponed again.
"I wasn't well earlier in the week so I would have missed the game on Tuesday if it had been on," he explained.
"I was probably the only person here who was happy when it came through it was off again.
"I just had a bit of a stomach bug and that would have ruled me out, but I have been back training and will be fine for Partick.
"We could have a really hectic schedule in front of us, hopefully the game goes ahead on Monday and doesn't go to a replay.
"If it does it would defeat the purpose of a winter break because it would mean playing Saturday, Monday, Wednesday, Saturday, Tuesday and then Saturday again.
"That would be a crazy schedule but we have a good squad and we would just have to cope with it."