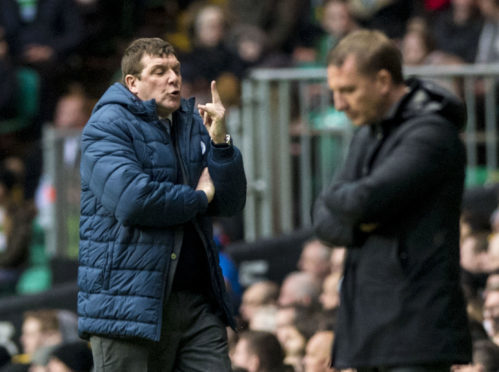 The St Johnstone players shouldn't look upon Brendan Rodgers' post-match words as an insult, according to Perth boss Tommy Wright.
They should look upon them as praise.
After Saints deservedly held out for their second Premiership draw of the season at Parkhead, the Celtic manager wondered out loud about how the team which has also triumphed at Ibrox could only win one of their previous eight games – a cup tie against League One Albion Rovers.
And Wright revealed that the Perth squad have also been "scratching their heads" about it.
"I have seen Brendan's comments and the players should take it as a compliment on their performance on Sunday," he said.
"We know we haven't been at that level in every game this season. It's a fact.
"I spoke to Brendan after the game and he had nothing but praise for my players and their performance.
"I don't think he's questioning their integrity. Nobody thinks there has been a lack of effort from my players.
"I don't think a single person who has seen them would say that.
"We have made mistakes, made bad decisions and haven't played as well as we can, but nobody has been cheating anyone.
"I read some people interpret what he said along those lines but I don't think that's what Brendan was getting at.
"He didn't say that. He stated a fact that our level of performance was so good and why can't we do that every week?
"We went to Ibrox, dominated the game and won and we have also done it in other matches.
"I have been scratching my head about it and the players have been scratching their heads about it too.
"We spoke ourselves before the game about how we've done it at Celtic Park in the past, how we went to Ibrox and won and how we beat Hibs at Easter Road.
"So he didn't really say anything we haven't discussed ourselves.
"The players themselves have talked about getting the right level of consistency."