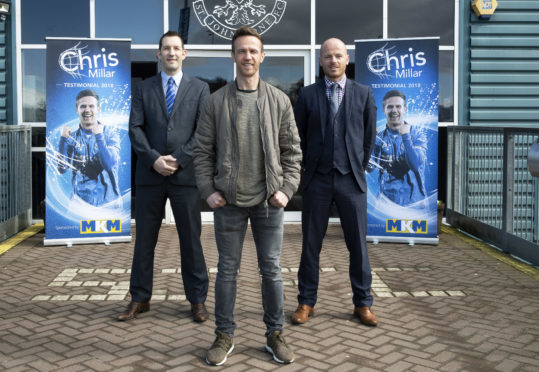 As he draped his medal around neck after neck like some Olympic dignitary, Chris Millar's place in the great St Johnstone story was guaranteed.
Not only had he starred in the midfield for Saints as they comfortably beat the more fancied Dundee United to lift the Scottish Cup that afternoon in 2014, he was also playing a blinder off the park.
Perhaps more than a little bit drunk on celebratory lager, Millar was in his element mixing with fans who, just hours earlier, had roared him and his teammates on to the club's first – and so far only – major honour at Celtic Park.
He made the supporters feel like winners just like him, with Millar's precious piece of metal the centrepiece of selfie after selfie.
Four years on from that famous May 14 party in Perth, Millar is being celebrated himself in his testimonial year.
There will be a match against as yet unknown opposition, an already sold-out special episode of BBC Radio Scotland's Off The Ball Live on April 20, a golf day at Auchterarder on June 1, and both a boxing dinner (September 1) and testimonial dinner (November 3) at the Salutation Hotel in Perth.
It is well deserved for a decade of service to St Johnstone during what, even he modestly admits, will go down as the greatest era in the club's history.
Millar said: "When you join a new club you don't think for a minute you'd be there for 10 years.
"With the way football is, especially nowadays, you can't take anything for granted but it's happened and I've loved it.
"There have been a lot of highs and some lows but overall it has been fantastic.
"Moving here was brilliant for me career-wise and when I finish I will look back and be proud that I was involved in the most successful period in the club's history.
"I don't think it will really sink in how successful we have been until we're all finished, to be honest.
"It won't be until you look back on it that I'll probably think 'we were a decent side' because when you're wrapped up in it you are always looking forward.
"The team who won the cup is broken up now. That's a natural thing because everyone ages and a lot of the lads are away.
"A few of us are still here and how successful our era will be determined to be will maybe depend on what happens in the next 10 years or so.
"But as things stand, in my time we have won a Scottish Cup, a First Division, been in the top six for six years in a row and played in Europe several times.
"That's decent in anyone's book and I'm sure I will look back on it in years to come with a lot of pride."
Millar, who has been known to enjoy a song or two, fondly remembers being the life and soul of the party when Saints kissed silver.
He recalled: "The night of the Scottish Cup win was incredible.
"I think half of Perth had my medal on that night in the town.
"It meant so much to the people of Perth so I didn't mind them passing it around to have their photos taken.
"Did I ever think I was going to lose it? No, because even though I'd had a fair bit to drink it was always in my eyeline.
"There was no way I was letting anyone take it too far away.
"But that's what it's all about.
"There were fans who had waited their whole lives for that day to happen and it came true.
"I have always had a great relationship with the supporters.
"I think they like the way I play the game. I try to get about the park and give everything.
"At the end of season events I've always tried to have a good time with them, especially when the karaoke is on the go.
"It's hard to put into words the joy we felt that day and right across the whole summer.
"We took it into the following season, too and personally I felt that was my best year as a player.
"It is four years ago now and it has gone in a flash."
Millar also loved testing himself against continental opposition, with the 1-0 win away to Rosenborg in Norway in the Europa League the stand-out achievement for him.
"The highlight in Europe, without doubt, was the Rosenborg game," he said.
"That was one of the best days of my career.
"A couple of years before we played them, they were in the quarter-finals of the Champions League.
"Getting that result really kicked that season off for us and we just took everything from there.
"It was incredible.
"As a kid I wanted to play in European ties and that day felt like we really achieved something.
"Obviously there were low points in Europe as well, losing to the likes of Minsk and Alashkert, but for a week or two when we beat Rosenborg the buzz around the club was incredible."
Things could have turned out differently for Millar had he grabbed an opportunity to head Down Under.
Millar said: "As a footballer you try to be ambitious and try new things, so opportunities come along now and again.
"The Australia thing was a possibility and it was something I looked at.
"I had a few former teammates there and they opened a few doors for me but in the end I wanted to stay here.
"It was the best decision I ever made because the next few years after that were the best of my career.
"We won the Scottish Cup and made it into Europe several times, so it was definitely the right call.
"If I had made the opposite decision I would have regretted it – no doubt about that.
"Even if I was sitting on a beach in Australia with the sun on my back, I would have been gutted to miss out on the Scottish Cup and all the other memories."
Meanwhile, Mark Longden, business development manager at MKM, is delighted to be backing Millar.
He said: "We are delighted to come on board by sponsoring Chris's testimonial year.
"He wrote himself into the St Johnstone history books when helping the team to the Scottish Cup in 2014.
"Having been with the club since their rise from the First Division to that day at Celtic Park and also into Europe several times, it's fitting he will be honoured by the club and the fans."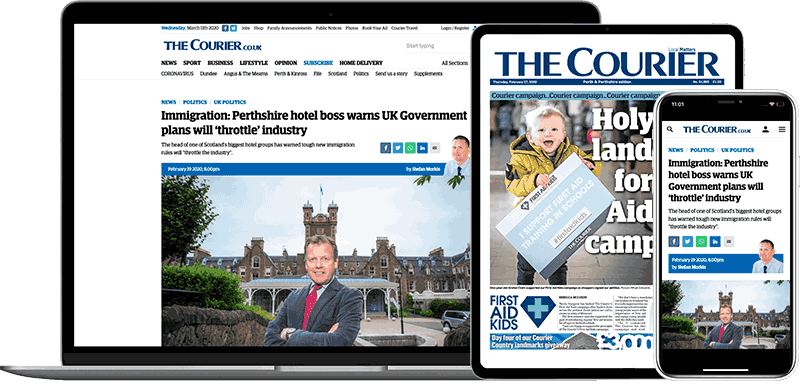 Help support quality local journalism … become a digital subscriber to The Courier
For as little as £5.99 a month you can access all of our content, including Premium articles.
Subscribe