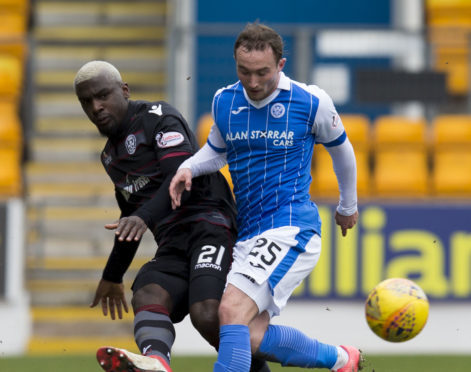 Chris Kane has joined the list of St Johnstone players whose season could be over.
The striker has had a hamstring injury scanned and if the results show that it is anything higher than a grade one tear, he won't be back before the end of the league campaign.
Blair Alston definitely won't play any post-split matches, while Stefan Scougall, Brian Easton and David McMillan are all trying to get back before the season is finished.
"We assessed the hamstring right after the game and didn't think it was too bad," said Wright.
"But he has had more discomfort over the weekend and we have had to get it scanned.
"Hopefully it is only a grade one, which would keep him out for two weeks. With the break this weekend that would come at a good time so we are keeping our fingers crossed for him.
"But anything worse than that and his season is over because we'd be looking at up to six weeks.
"That would be very disappointing but it almost typifies the bad luck we have had to contend with in terms of injuries this season."
Wright added: "I would never use injuries as an excuse for not getting top six but it really is quite remarkable that we have handled it all.
"There was one game at Kilmarnock when we had eight missing through injury and Steven MacLean couldn't play on astro.
"So the squad has done very well to cope and give us enough breathing space from the foot of the table going into the post-split games.
"We are treating this as an international break. If everything goes well and there are no setbacks we should see most if not all of the injured players back playing before the end of the season."
Meanwhile, Murray Davidson will be suspended for the first two games after the split.