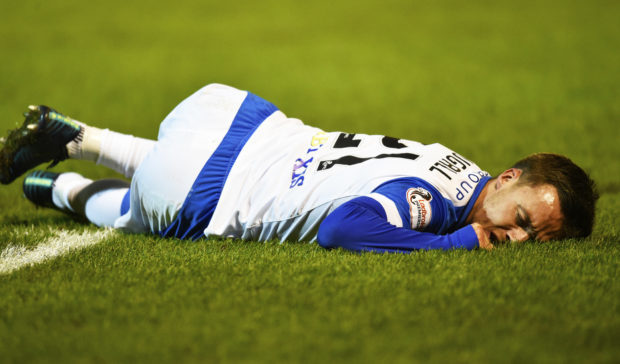 Stefan Scougall is nearing a St Johnstone comeback.
And the Perth playmaker has praised his Saints team-mates for making sure he won't be joining a relegation battle.
Scougall's ankle surgery at the start of February came at a bleak time for the McDiarmid Park club, with a six-game winless league run dragging them down the Premiership table.
But, despite the fact that the likes of Brian Easton, David McMillan and Richard Foster have also had long-term injuries since then, the former Livingston man will be coming back into a side that is all but certain to stay up.
"At the time I got the injury we were going through a tough spell," said Scougall.
"We were on a bad run after the break and already had a few boys out.
"It was great to see the boys come out the other side with some good results and hopefully most of us will get back on the pitch before the end of the season.
"A couple of us are getting close and Fozzy has already made it back after a bad tear.
"It would be a big boost before going away for the summer."
The pressure the Ross County, Partick Thistle, Dundee and Hamilton players will be feeling just now puts into perspective the season Saints have had, even though they missed out on their usual top six spot.
"I think we've done alright this season," said Scougall.
"We could have done better, especially at home, but there have been a lot of injuries to deal with.
"We have to look on it as a positive that we've stayed away from the relegation battle, and had a shout of getting into the top six, despite all those injuries.
"There's a big gap between ourselves and second bottom.
"Hopefully we can finish the season strongly and be ready to kick-on again next year."
Scougall has had a serious knee injury in the past and when he hit the turf at Fir Park, he feared the worst.
"At the time I was more concerned about my knee and so was the physio," said the ex-Sheffield United player.
"But in the dressing room it was assessed and it felt quite stable.
"I was getting a weird sensation near my ankle which I thought might have been a break.
"The news from the scan wasn't good but it was better than it could have been.
"The knee was scanned too and it was given the all clear. You instantly worry that it's a cruciate injury, which would have kept me out until about Christmas.
"The specialist said that the ankle could heal itself and I'd be back in six to eight weeks or it could be three or four months. He recommended an op and it turned out to be the correct decision because it ended up being worse than he had first thought.
"It was hard at the start because I was on crutches for about two weeks and there was a lot of pain. But there has been a big improvement in the last couple of weeks and I'm back on the grass running. Hopefully I'll be playing again soon."