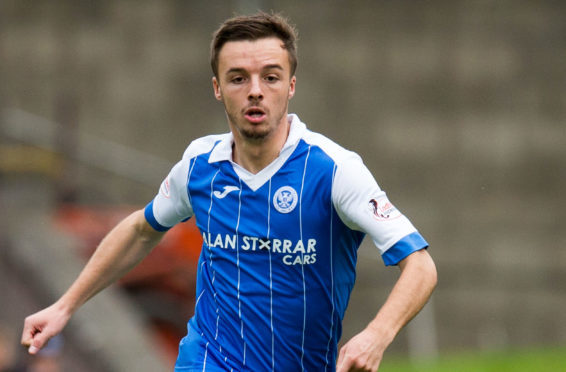 St Johnstone's Stefan Scougall insists he is determined to finish his injury-hit season with a flourish by helping Saints secure seventh spot in the Premiership table.
The 25-year-old midfielder made his long-awaited comeback following ankle surgery in February in the 77th minute of Saturday's derby against Dundee at Dens.
He was unable to prevent the Dark Blues winning the contest however the former Livingston and Sheffield United player admitted he was just delighted to be back on the pitch once more.
Scougall said: "It's been frustrating for me but I'm back ahead of schedule.
"I'm delighted to get back on the pitch and hopefully over the next four games I can get more minutes and end the season on a high.
"I felt good when I came on. I've done a lot of running recently but, in terms of match-fitness, I'm probably a little bit behind.
"I'm due to play for the under-20s so I will get some minutes under my belt there.
"Then I will look towards Saturday and hopefully I can get game time and take it from there.
"You don't want to be coming back from an injury late. By the time next season comes, it would have been four or five months since I had a game."
Scougall added: "To get back before the end of season was a big boost. Now I want to help the club get seventh.
"We will see what the summer brings in terms of recruitment and boys staying and going.
"We will look to start next season positively but first and foremost we need to finish this one well.
"We've got really good lads in the changing-room who are leaving the club and they will be a big miss. But this is still an exciting time.
"We need to wait and see who the management team bring in. The club has a clear direction in what way they want to go."
Scougall suffered his ankle injury against Motherwell and the subsequent surgery was the first time he'd gone under the knife.
He said: "I ruptured my knee ligament going back three years ago. I was out for about three months so roughly about the same time.
"But I've never had an operation before so that was new to me. I've come back from tougher things before. Injuries are part and parcel of the game unfortunately.
"If you are injured there can be some dark days, especially in the gym and getting treatment.
"Unfortunately, but luckily, there have been two or three of us injured. If one of us wasn't having a good day, one of the others would help push you through it.
"That is what your team-mates are there for."
Scougall felt his side should have secured at least a point from the game with Dundee however he admitted the two goals they conceded either side of Steven MacLean's equaliser typified why Saints have not finished in the top six this season.
He added: "It was a poor start but I felt after they scored that we dominated the first half. We were well on top without scoring.
"Over the piece I thought we deserved something from the game. It looked like we were going to take a point at the end.
"The two goals that we did concede probably sums up our season and why we didn't make the top six this season.
"I felt we were going to score at some point. We could have gone on to win the game but the goal we concede at the end is really soft."