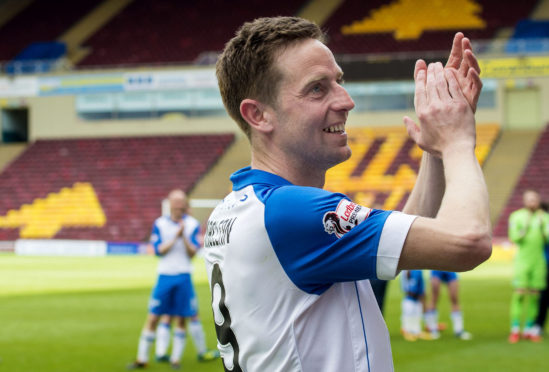 Scottish Cup winner, outstanding striker, fans' favourite, dressing room leader, on the pitch leader and now, writer of fairytale endings. All in all, it has been quite a St Johnstone career for Steven MacLean.
Son, daughter, wife, father, niece and sister were all at Fir Park to see him put the full-stop on his six years with the Perth club in remarkable style.
Au revoirs don't get much better than scoring a hat-trick, helping your team to a 5-1 win and then being applauded by the fans who have held him in highest regard and the manager and team-mates with whom he has forged the strongest bond.
"That was fantastic," said the man himself. "What a day.
"I would have been happy just to win the game and help the boys get to seventh in the table. We've set ourselves up with a chance to do that.
"But to score three in front of my dad, my two kids, my wife, my sister and my niece was amazing.
"And to do it in front of those fans and hear them at the end. They've been different class with me for six years. I've got to mention them. They get a bit of stick for not being a big support but the 3,000 or so hardcore that we've got are great.
"Hopefully they keep supporting the boys and I see them again. They can give me a bit of stick and I'll clap them afterwards!"
The stick bit won't happen.
MacLean will never be anything other than a returning hero anytime he plays at McDiarmid Park in Hearts colours.
Not known as an emotional sort, the 35-year-old admitted that on this occasion he "was close".
He said: "Hopefully I held it in and there's not a picture showing any different!
"This is probably the hardest it has been for me to leave a club. I could have taken a safe option but football is about risks. I've made plenty of mistakes in the past – that's for another day – but it's a challenge I'll look forward.
"I think today shows that I've still got a bit to offer.
"It is a good move for me and hopefully I can impose myself and get a game, first and foremost. I'll be going there to be first choice. If I can't, I'll be working to get a chance.
"Just now, though, I don't want to do St Johnstone a disservice. Today's about St Johnstone. I've had six great years here.
"Five of them have been with the gaffer, who has been fantastic for me. We're close and it was important I left with his blessing.
"I can't speak highly enough of him. I've got to give him a big mention. Callum (Davidson) as well.
"Everybody signed the match ball – the whole staff. That's what we are here – together. I chucked it to the gaffer first.
"I've got some proper good friends here that I'll have for life.
"I could go back over the six years and mention so many players. Ando, Midge, big Frazer, Cuptie, Murray. I could keep going.
"The Scottish Cup final was the best day – closely followed by Luzern away. It was for a lot of things – my goal, the win and the night out after!
"Hopefully the club can kick on and keep achieving big things."
Saturday's performance and result gives hope that Saints will indeed keep the good times coming next season. In a campaign of ups and downs this was a highpoint to sit alongside the wins at Ibrox, Easter Road and Dens.
MacLean's two first half goals sandwiched one from Steven Anderson. It was 10-minute blitz that Motherwell were never likely to recover from.
MacLean completed his hat-trick shortly after the re-start and a Gael Bigirimana header was followed by substitute David McMillan scoring his first goal for Saints.
Tommy Wright said: "In many ways it's the perfect send-off for him. He has got his hat-trick and David McMillan, who has had a torrid time since he signed, has come on and scored a wonderful goal as well.
"Players don't stay at clubs if they're not doing their job. He has given me everything and been a leader for me, and I'll miss him. But he knows that he goes with my good wishes because he doesn't owe me a thing, and the move to Hearts is just too big a move at his age to turn down.
"There is no ill feeling, I wish him well. But he knows time doesn't stand still, I will have to move on and hopefully we will do that."