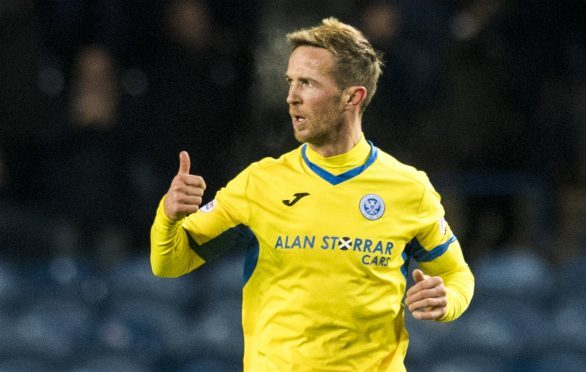 Steven MacLean has set the bar high as far as St Johnstone farewells are concerned.
Chris Millar has never been renowned for his goalscoring in his decade at McDiarmid Park so a hat-trick like the Hearts-bound striker's at Motherwell isn't going to happen.
However, there is every chance that the popular midfielder may outdo his fellow Scottish Cup-winning hero in the tears stakes after he has kicked his last ball for Saints against Ross County this afternoon.
"Everybody who knows me knows that I'm an emotional wee guy," he said.
"I obviously want to sign off in style and to thank the fans for all the support they've given me in the time I've been here.
"However many minutes I get on the pitch I want to help us get the win and hopefully finish in seventh place.
"My brothers are all coming up, and my two girls. My missus has just opened up a new salon so she can't make it unfortunately.
"I'm sure it will be a special day.
Millar added: "Macca's put me under a bit of pressure after his hat-trick the other week!
"It was great to see him finish like that. It was incredible. He's been a fantastic servant to the club and a massive part of the success we've had."
Alan Mannus will also be playing his last game for the club today.
"It will be good to share it with Alan because he's a special guy and has been a big friend," said Millar. "It's not just about me.
"Look at our success. We've been the same as any team that has done well – it's always built around a solid spine. That starts with the goalkeeper.
"He's been a rock. He's not the most vocal guy but he's got presence and his performances speak for themselves.
"Over the last couple of years we've become really close.
"Big Al has always had my back down the years.
"He probably should have got in the team earlier. Encks (Peter Enckelman) had a higher profile than Alan, who had come over from Ireland. But once he got his chance he showed what he was all about.
"Even this year, he's played very well again and I'm sure he could have done a job next year as well. Alan's got his reasons for moving on, though. He's got a family and wants to go back home and you have to respect that."
Mannus has been one of the quieter men in the Saints dressing room over the last few years but Millar revealed another side to the Northern Ireland international, who will be joining Shamrock Rovers.
"He's actually a bit of a prankster on a night out," he said.
"I like to enjoy all the festivities on our Christmas nights out and on one of them we were in a Subway and he ordered a massive chilli baguette with jalapenos. I didn't know what was in it. Al and Ando were watching me eating it.
"Because I was that drunk I've got half-way through it without flinching and then the next thing the sweats have started and the two of them were loving it."
Millar's focus will soon turn to securing a new contract elsewhere.
"I've had a couple of part-time offers that are tempting," he said. "But I want to stay full-time. I still feel I've got another year or two left in me.
"Whenever I've come in I feel I've played well and my fitness has been good.
"Everybody says play as long as you can as high as you can. Once you go down the levels you don't go back up. I'll know when it's time but it's not yet."
Matty Willock will miss today's game with a hamstring injury picked up at Hamilton on Tuesday night, while MacLean is suspended. Blair Alston, Denny Johnstone, Chris Kane and Brian Easton are all still sidelined.
Manager Tommy Wright said: "Macca is suspended for this one but Alan will start and Chris will be involved.
"There were more than 400 fans at Hamilton on Tuesday. I would like to think the supporters will turn out in strength for this one to show their appreciation and give them a good send off."