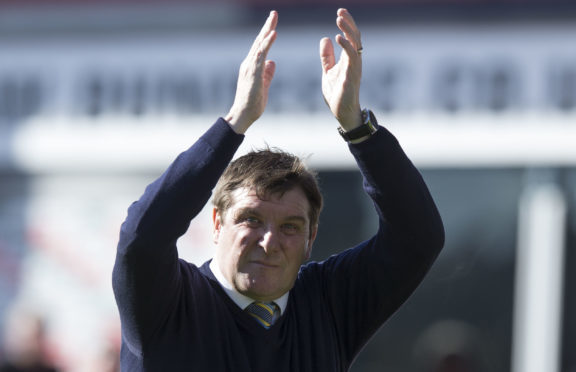 St Johnstone boss Tommy Wright is "taking stock" before dipping his feet back into the transfer market waters.
Winger Drey Wright has been recruited from Colchester United on a two-year deal.
Murray Davidson, Scott Tanser and Blair Alston have extended their contracts and the priority at McDiarmid Park at the moment is concluding talks with other current players.
"We are taking stock and I know the areas where we want to bring players in," said Wright.
"We have done well to get Drey and we are working on getting a few re-signed.
"Once we get those deals tidied up I am looking at another bringing in another keeper, a midfielder, someone for wide left and another striker.
"The most pressing issues are probably another striker and wide left."
Meanwhile, it might not have been a "great" season according to Wright but it has definitely been a "good" one.
"To finish eighth with the number of injuries we have had is good," he said.
"I will take a lot of satisfaction out of this season. I don't care what anyone else thinks, I know how difficult it has been and what we have had to deal with on and off the pitch.
"I am quite content and satisfied with the work we have done and it has been another good season here.
"I can't say it has been a great season when you compare it to the rest but for us to be 10 seasons now in the top flight and not be in any real danger is satisfying.
"It was a tough old season, probably my most difficult here for a multitude of reasons but I have the experience to deal with it all.
"The injury picked up by David McMillan on his debut summed up our season with the injuries and remember the loss of Brian Easton on the first day left us without a left back for Europe. Luckily we got Scott Tanser in.
"We always seem to finish well and that should give everyone a lot of confidence for next season."
He added: "I think a lot of people don't understand exactly what our remit is at the beginning of a league season.
"It's probably down to how successful we've been in the past but a lot of people think that our remit is to make the top six every year. It's not the case – our remit is to make sure we finish in 10th place first and foremost, to avoid getting dragged into that relegation playoff spot.
"Anything above that is a bonus and of course we wanted to finish in the top six but it didn't happen this year and looking at the season as a whole I can see why we didn't."
The new names who emerged last season give cause for optimism going into the summer, with Scotland under-21 centre-back Jason Kerr the biggest success story.
"We have had 11 under-25s in the recent squads and that might have gone unnoticed, but not by me," said Wright. "This has been a year of transition at the club.
"The age of the squad has come down and when youngsters have been called upon they have done well. That can only bode well for the future of the club.
"Jason has been the pick of them but Liam Gordon has come in and done well as have Ali McCann and Aaron Comrie.
"Zander Clark is young in goalkeeping terms with another 10 or 12 years in him. Callum Hendry is showing promise, Stefan Scougall is only 23 and so is Drey Wright. John Robertson has made his debut at 16 so we have had a lot of positives.
"Youngsters came in at difficult times for the team, when it wasn't at top form. They will benefit from the experience and get better.
"I have had criticism levelled at me since coming in that I don't play youngsters. But I have been consistent. If they are good enough they will play.
"The ones we have are good enough and that is down to the work of the staff like Alex Cleland.
"If I was sitting in that under-20/reserve team dressing room I'd be thinking I will get the chance if I do well enough.
"The finger can't be pointed at us that we don't give young players a chance. That certainly isn't the case."