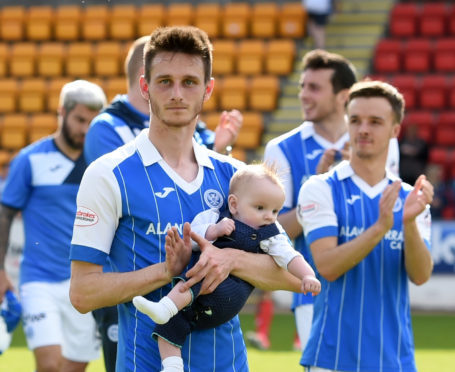 Scott Tanser is likely to be the only St Johnstone player who won't be stepping on the scales with trepidation on the first day of pre-season training.
That's because the Perth full-back is using the summer break to bulk up for the new campaign.
It will be six meals a day over the next few weeks for Tanser, who recently signed a new contract with the McDiarmid Park club.
"I need to get stronger and bulk up because this league can be pretty physical for a defender," said the Englishman.
"You don't want to overdo it, though, because as a full-back you need speed.
"But I have spoken to the fitness coach about it and he's come up with a plan for me.
"I see him four times a week to go to the gym and my calorie intake is going to be ridiculous.
"He's got me on a special diet, total protein and six meals a day.
"So I'm going to be throwing chicken, beef and all sorts of stuff down my neck soon.
"It's just as well I'm not a vegetarian!
"I like all that stuff anyway, but wouldn't normally eat as much meat as that.
"It's all about helping me bulk up and giving me the energy to do the fitness work I have to do."
Tanser added: "The lads all get weighed when they get back in for pre-season and the coaches are usually looking for people who have put weight on.
"I think I'll be in trouble if I haven't!
"I'm happy to do it, though, because it's something I think I need to do if I'm going to become a better player."
Tanser was thrown in at the deep end last summer after a short trial spell quickly led to European football.
"When I came here I didn't expect to play as much as I did but Brian Easton got injured and that gave me my chance," he recalled.
"The whole thing coming here has been great. The move came out of the blue – I got a call on a Saturday, drove up on a Sunday and by the following week I was signed.
"I didn't really know what to expect. I knew it would be a better standard than where I had been playing.
"I thought I would have to be patient but I got my chance and haven't looked back.
"There is plenty more still to come from me as well. I have to work on my weaknesses.
"I am delighted to have signed again and glad everything is sorted for next season."
Tanser believes the Steven Gerrard effect will put Scottish football in a brighter spotlight next season.
"I have spoken to a few pals down south and they are all really interested in what's going to happen with Steven Gerrard," he said.
"There is definitely a fascination to see how he's going to get on because he's not just a massive name in England, he's a global star.
"I think that can only be a good thing for the league. It will increase the exposure and the profile of the SPFL.
"It's exciting times. There are loads of good players and good teams in this league and people are starting to realise that.
"I think the more people watch Scottish football the more they will realise how competitive it is."