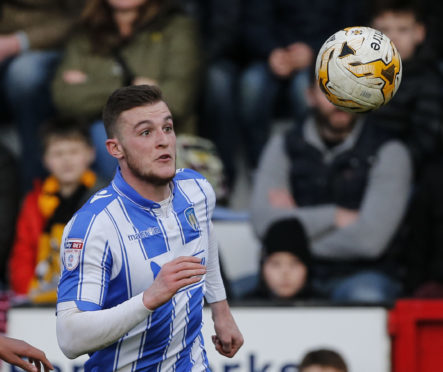 Drey Wright had his heart set on a move to St Johnstone – even if it meant costing his old club a potential transfer windfall.
Had the 23-year-old stayed in England after deciding his time was up with Colchester United, the English League Two side would have expected to bank a significant six-figure sum this summer.
And Wright admitted that Colchester weren't slow in letting him know it.
"I was made aware of that from their end," he said. "Quite a few times.
"I don't think they were too happy but that's one of those things. It wasn't about me going on a free, it was about the opportunity.
"I started there at 17. They stood by me when I was injured and I've been a first team regular for the last two years.
"There could have been other options if I'd held out longer but once I knew of the interest here, I wanted to come."
Wright added: "I'd heard there was a bit of interest from St Johnstone in January. It was around March when Tommy got in contact and things moved quite quickly after that.
"After I'd met him and come up here I ended up signing the deal soon after.
"I've got friends who still don't know where they're going to be playing next season so it was nice to get peace of mind with everything getting sorted early.
"It's a fresh challenge. I'm excited to make a change. I've only ever been at the one club.
"I'm really looking forward to playing in some big games. From speaking to the manager and chairman, I know that they are really ambitious and not too happy with how things went last year because of the success the club had before.
"They're looking to get that back and I want to be a part of it.
"The manager explained to me that my profile will grow through playing up here.
"Hopefully that will benefit me in the future but I'm not thinking too far ahead. I just want to get going as a St Johnstone player and do well for my new club."
Fellow Colchester players Denny Johnstone and Craig Slater had loan spells at Saints and Dundee United last season.
"I meant to get in contact with Denny because he was playing here last season obviously," said Wright. "But when I came up to watch the last game of the season here I didn't see him in the end.
"My mind was made up anyway.
"I spoke to Craig and he said 'welcome to the Promised Land!'"
Wright's father Jermaine played for Ipswich Town and Southampton and the Perth new boy knows he has a long way still to go to reach those career heights.
"He's played at a higher level than me," he said. "Which he always likes to remind me of!
"It's a nice incentive to try and do as well as he did. If I can get near it that will be a bonus.
"He's been brilliant for me.
"He's just told me to embrace the challenge and the opportunity.
"Dad's been on the phone constantly. I wouldn't say I rely on his advice but it's certainly good to have.
"I've not set any personal goals. I just want to enjoy my football and help the team."
Wright can play across the frontline and further back but he his clear in his own mind where his first choice position is.
"I think you'll see the best out of me as a right winger," he said.
"I've played a number of positions – especially last season. I've played wing-backs both sides, up front and attacking midfield.
"It helps that I'm comfortable in all those positions. It gives me a bit of versatility. But an out and out right winger is probably my best position."