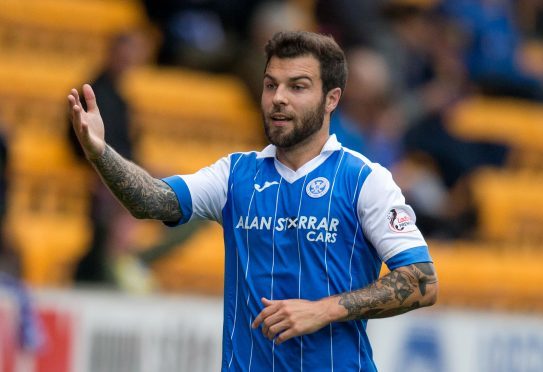 A summer without European football may prove to be a blessing in disguise for St Johnstone in the long-term, according to Richard Foster.
And in the short-term, it made the Perth defender's wedding plans a bit simpler.
Foster tied the knot in Las Vegas with pop star Amy McDonald recently – and he had a good excuse for putting his close-season fitness programme on hold for a couple of days.
"We had to book the wedding well in advance so we had to think about potential clashes with my football commitments," said Foster.
"We tried to time it two weeks after the season had finished. We made sure it was after the Scottish Cup final and before any European qualifiers, just in case St Johnstone were involved.
"It wouldn't have been ideal having to come back a couple of days after the wedding but we could have squeezed it in if it had been necessary.
"We were all given a summer programme to follow and the idea was to have two weeks off and then four weeks breaking yourself in gently.
"But it was due to start on May 28 and I didn't get back from honeymoon until the 31st. So I just ignored the first few days!
"There's no way I was saying sorry to Amy for being late to the reception because I was in the gym.
"It was a just a guide for us and this is my 18th pre-season. So if I don't know how to get myself ready by now I'm in the wrong game."
Foster revealed that his new bride is a good influence when it comes to keeping himself ticking over between seasons – so there was no danger of him slacking off.
"To be fair Amy is super fit and loves going to the gym," the former Aberdeen and Rangers man explained. "She loves getting in there and lifting weights.
"There are times when I can't really get motivated but she says she's going. So I think I'd better get in there if Amy is doing it. That makes it easier for me.
"In terms of motivation and discipline she is probably better than me, especially in the close season.
"Even on beach holidays we tend to get up early and go to the gym. You don't feel as guilty about relaxing later on because you have already done your work. So Amy is a good influence."
Recharging the batteries is just what the Saints players needed after several European campaigns in recent years.
"I'm sure we will feel the benefit of having a summer break," said Foster. "If you look at last season we ended up having only 15 days off because of the Europa League qualifiers.
"Over the course of the season not having that freshness probably cost us a top six spot.
"There were other issues, I know, but after starting the season well we suffered a pretty dramatic drop-off.
"You don't know if it was down to the demands of pre-season but I certainly think it was a factor. We don't have the biggest of squads and we suffered a lot of injuries.
"Some of the lads had a few European games to handle in recent years and I had a flavour of it myself with Rangers.
"So it has been nice to get a good break and everyone has come back fresh. I hope it will benefit us and the lads look ready to hit the ground running.
"You need the break mentally as much as physically. It's good to get away from football for a few weeks to completely switch off and relax."
Saints have flown out to Austria for a training camp, with two bounce games lined up for the trip.
"Pre-season never gets any easier," said Foster. "No matter how many times you experience it.
"You'd think you'd get better at them but they are always tough.
"Things have changed and there's more science to it now. I was never under any manager who made you run until you were sick. That was before my time.
"But it was about getting distance in your legs. Nowadays it's more about your heart rate. You can be running a shorter distance at a much higher speed and you feel you can't breathe.
"It has evolved more and they realise it's about changing the pace rather than just covering long distances. It is still a horrible feeling. But recovery is important.
"We were doing 90 yards runs with stops this week and I was telling guys like Stefan Scougall this is how it feels to be a full-back, overlapping wide and then having to run straight back when you don't get the ball.
"I told him 'welcome to my world!' I actually quite enjoy those runs because I have to make them all the time."