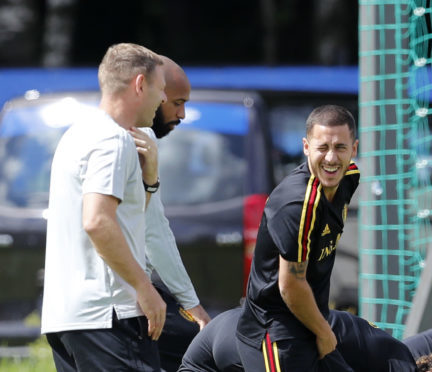 Plenty of St Johnstone old boys have made their mark in coaching in recent times.
It is not that long ago that Owen Coyle was turning down the Celtic manager's job and being name-checked as a potential successor to Arsene Wenger at Arsenal.
Derek McInnes is Aberdeen's best boss since Sir Alex Ferguson and is sure to get a second go in England, while there's an argument to say that the man still in post at McDiarmid Park, Tommy Wright, has out-performed the pair of them with his historic Scottish Cup triumph and Premiership consistency.
Number twos haven't done too badly either. Callum Davidson and Tony Docherty were both recruited into the Scotland set-up by Gordon Strachan.
And trophy after trophy as a Chelsea youth coach has seen former midfielder Jody Morris get the job as Frank Lampard's assistant at Derby County.
Has there ever been an ex-Saint with a realistic chance of winning the World Cup, though?
Graeme Jones cost the Perth club £100,000 back in 1999. He arrived at McDiarmid Park after a prolific three-season spell at Wigan Athletic which included 31 goals (and four hat-tricks) in one of them.
The Wigan years would prove to be life-changing for Jones. Not for earning him a move to Perth – injuries restricted him to just 41 appearances and seven goals in three years. It was the friendship he struck up with Latics team-mate Roberto Martinez that would start him down the road to possible World Cup glory.
After being paired together for stretching exercises, former postman Jones and Real Zaragoza academy graduate Martinez grew to become football best mates and a managerial double act that masterminded Wigan's FA Cup win against Manchester City when they rejoined the Lancashire club after their playing careers were over.
They couldn't bring the good times back to Everton but now in charge of the Belgian national team, their substitutions turned what was looking like a calamitous exit in the last 16 to Japan into the first World Cup comeback from two goals behind in the knock-out stages since 1970.
Now tournament favourites Brazil await in the last eight.
Those who have worked under Martinez and Jones describe the Catalan as the studious tactician and the Tynesider as the people person who can deliver the good cop and bad cop routine with equal effect.
Commanding dressing room respect packed with stars of the calibre of Kevin de Bruyne, Eden Hazard and Romelu Lukaku, the 48-year-old has disproved the 'show us your medals' theory which is supposed to hold back ex-players of his 'journeyman' ilk.
One of the game's good guys, Jones retains an affection for Saints. Unable to attend the cup final in 2014 (and, he joked, unwelcome to Geoff Brown because of the number of injuries he had at Saints), he said: "I was buzzing when Stevie May scored those two goals against Aberdeen in the semi-final.
"I really enjoyed my time in Perth. It's just a shame that injuries killed me. I think we had two decent finishes in the table.
"There are lots of good memories. I scored on my debut live on Sky up at Aberdeen and got goal of the season when I finished off a flowing move and put the ball past Andy Goram. Like I say, there were lots of good times and there are a few boys who I still keep in touch with."
One of his team-mates at McDiarmid, Danny Griffin, confirmed that the admiration goes both ways.
"I'm so pleased for him," said the former Northern Ireland international.
"It's been terrific to see how far he's gone in coaching.
"I remember one day when we trained inside at Norwich Union because the weather was really bad. One team was at one end of the hall and one was at the other end.
"We were doing one v ones and Sandy Clark had given us numbers. I had Jonesy coming in to tackle me, the two of us met the ball together and it burst!
"What a guy. As a player he was big and strong and knew where the goal was. As a coach he has worked hard and all of a sudden he's at a World Cup, and Belgium have got a chance to win it.
"Thierry Henry is under him! That's the scary thing. 'You go and put the bibs out, Thierry!'
"Coaching is about getting your message across and respecting people. It's not about 'look at me, look what I've done'. If you do things the right way and people listen to you, you're doing your job and you can go on to bigger and better things."
Things really wouldn't get much bigger and better than the team Jones coaches beating Brazil and then becoming champions of the world.