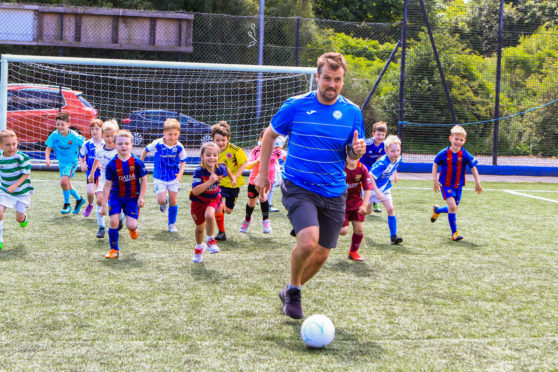 That Danny Griffin can't instantly recall how many times he played against Germany for Northern Ireland speaks volumes about the height his career reached and the down-to-earth nature of the man.
So too the fact that a few nights ago when he dug out one of the famous white shirts he swapped at the end of a game against the four-times world champions for a kick-about with pals, he didn't know on whose back it had originally hung.
If you wanted to find the antithesis of the modern-day footballer with tunnel vision for a life-changing transfer on the back of an inflated profile, Griffin is it.
How many 17-year-olds would turn down such a move when the world and his wife were shouting, 'take it, take it'? Premier League-bound Derby County, with their £1 million, were the suitors in 1996 but it was at First Division St Johnstone that the Belfast boy chose to stay.
"It's the first question people ask," said Griffin. "But it's not something I ever think about. It never bothered me then and it doesn't now. I've got no regrets about my career – I wouldn't change anything.
"It was my decision and nobody was going to make it for me.
"The way I looked at it, I had the best coaching staff here at St Johnstone – Paul Sturrock and John Blackley. And I was playing alongside really good experienced pros at the back like Jim Weir, John McQuillan and Alan Kernaghan. I was being shown how to do things the right way.
"I was 17 and hadn't even had a full season in the first team. I'd just made my debut for my country against Germany.
"It comes down to what you want out of the game. I weighed up the pluses and the minuses and it wasn't the right move for me at that time. I still think the same. I could have sat in the reserves at Derby and my career could have finished.
"I stayed at Saints, worked hard and had a career for 18 years, playing for my country 29 times. And the club ended up getting 600 grand from Dundee United.
"Here was my happiest time – by far. I made my debut here, scored my first goal here, got my first cap from here. This was my platform. When they won the Scottish Cup in 2014 I had my own Saints top on."
Ah yes, football tops. Back to that Germany one.
"I play on a Monday night with some Saints fans," he explains. "You have to wear either a white strip or a dark strip. I climbed into my mother-in-law's loft and went into the box of all my strips that she's kept to pull out a white strip the other night.
"The first one that came out was a Germany one. It was a long-sleeved one, which wasn't ideal in this weather.
"We played them three or four times. Shirts didn't have names on the back then so I couldn't tell you who the big left-winger was for that game.
"I do know who I was up against for my first cap, mind you. You don't forget that one. It was Stefan Kuntz. It's framed on my wee man's bedroom wall.
"Making my debut against Germany after they had just won Euro 96 was great. George O'Boyle scored in a 1-1 draw and they missed two penalties. They must have been feeling sorry for us.
"Another one on the wall is Del Piero's. We lost to Italy 2-0 in a friendly and the gaffer (Tommy Wright) played in that game. He won't be happy I mentioned that. We played them in Sicily. The first half they had Casiraghi and Zola up front and then they brought on Del Piero and Ravanelli."
As Saints in the Community club and community development Officer, Griffin has a busy summer ahead, with youngsters signing up for the various camps and courses on offer at McDiarmid Park and across Perthshire.
If any stars-in-the-making want to learn about Griffin's path to professional football, they'll hear about the only Catholic lad in a Protestant boys' team in the middle of Belfast's Shankill Road.
"I started off at a boys club called Wolfhill in north Belfast," he recalled.
"I used to get up on a Saturday morning, walk down the road, get on a mini-bus to a game, come back and keep kicking a ball until it was night time.
"One of the boys was mucking about one day and the coach at the time decided he'd had enough and that was it finished.
"Luckily for me, I was already training on a Wednesday night at the Man United school of excellence. My dad explained to one of the other lad's dads what had happened and before I knew it I was at St Andrews Boys Club in the middle of the Shankill Road.
"I never batted an eyelid knowing I was a Catholic going into a Protestant area at a time when the trouble was really bad. I just wanted to play football. It never bothered me. I was welcomed.
"Don't get me wrong, you knew what was happening at the time but was I nervous going into a protestant area knowing anything could happen? No, I wasn't. I was going to play football with my pals. Everybody knew who I was and where I was from.
"The guy who was in charge became the chief scout in Belfast for Rangers and I ended up being there. I used to go across when I was off school. That's where I met Alistair (Stevenson), who then went to Saints.
"I left school six months early to come across to Perth at 15. It was always my dream to be a footballer and I lived it here."
Home sickness quickly passed and Griffin was thrown into a man's football world.
"For a 15-year-old to play in the old Reserve League East against experienced pros really helped me," he said. "Guys like John McGlashan at Arbroath, Paul Tosh at Forfar. You grow up quickly.
"After I broke into the first team and had spare time I used to come down and watch Atholl's (community coach Atholl Henderson's) sessions and encourage the kids along.
"It was getting me out of digs because I was in on my own at time. I wasn't thinking at that age about being a coach but, looking back, maybe that did sow a seed."
For a lot of ex-footballers, community football is viewed as an opportunity to get back into the professional side of the game. Griffin hasn't ruled that out but his current role has the feel of a vocation rather than a stepping-stone.
"I've been here coming up for five years now," he said.
"After I retired at Arbroath I was helping out part-time whenever I was needed. The opportunity came along to work full-time and I've absolutely loved it. Long may it continue.
"I love coaching the kids and passing on my experience. Hopefully one day there will be a new star coming though from the community set-up on to the Saints set-up.
"First and foremost we want to see kids with a smile on their face, enjoying football. I had no idea I'd end up being a professional footballer when I was kicking a ball against a wall, kidding on I was John Barnes.
"If they enjoy it, work hard and come through to play for Saints, I'll be very happy.
"I've tried it (elite level coaching) with the under-17s here.
"Yes, I'd love to give it a go. But the way management and coaching works, you could be in a job six months and I'm kind of hoping the job I'm doing just now, I'll be in it until I'm struggling to walk.
"I join in with the kids and I'm five-years-old again. If they nutmeg me and go away buzzing, that puts a smile on my face as well."
* For details about children's coaching in the school holidays visit the website www.saintsinthecommunity.co.uk