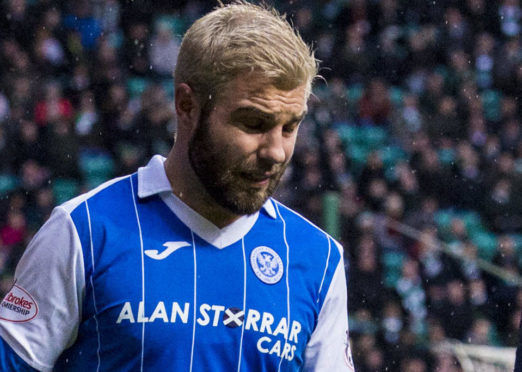 St Johnstone's Richard Foster has urged the younger players at the club to find their voices during games.
The full-back admits it is good to talk while on the pitch and firmly believes that verbal communication is a key element to footballing success.
And it is a lesson the 33-year-old former Rangers and Aberdeen defender is determined to pass on to his team-mates.
He said: "It's something I like to think I bring to the team. I am quite vocal on the pitch and talk a lot.
"Hopefully that adds to the organisation of the back four.
"Some of the boys have played a few games but they are still quite young.
"Being vocal is something they maybe need to bring to their game.
"It us up to us older, more experienced players in the squad to help them develop that. It's a responsibility we have.
"The onus is on us to help them and talk to them when they need it, to try to bring them out of their shell a bit more.
"Certainly Liam Gordon is maybe the best of the younger ones at being more vocal.
"There are times in a match when you just can't look to see where everyone is on the pitch but if you hear a voice you know where he is.
"So talking is a massive part of the game and it certainly helps me get though matches.
"Hopefully the younger ones can learn and start using their voices a bit more."
Foster is hoping to do more of his talking on the pitch again after being suspended for the opening game of the Premiership campaign last Saturday at Kilmarnock.
Tommy Wright's side lost 2-0 and now face a Hibs outfit who have started the season in impressive fashion on Sunday at McDiarmid.
However, Foster believes the way the Edinburgh side play should suit Saints and their ability to counter-attack.
Foster said: "I found out at the end of last season that I would miss the first game of this one.
"It was good for me that we had the Betfred Cup ties as when you come back for pre-season you want something to look forward to.
"I felt strong and fit in those matches. With all respect, there wasn't a lot to do defensively but what I did have to do, I felt I did it quite well.
"But missing the first league game is always a disappointment.
"It was also a disappointing start to the season for us on Saturday but hopefully we can pick up next week."
Foster added: "Hibs have started really well again.
"They have had good results in their European ties, scoring a lot of goals.
"So I would imagine if I was to play on Sunday, there will a tad more defending than I have done previously.
"That's not just me though, that's the whole team.
"But I think we are better off when teams come out and try to play against us as we can hit them on the break.
"That's what we are geared towards and are set up for.
"I am back in contention so hopefully I can get a start."