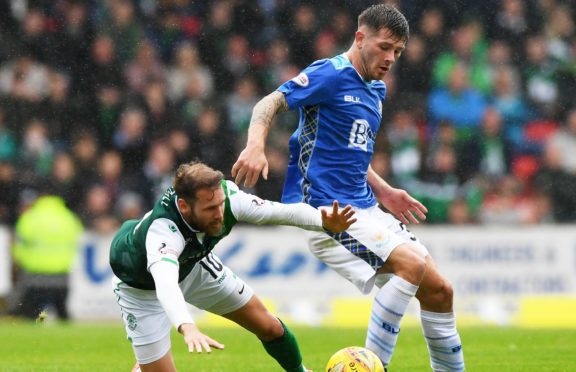 Matty Kennedy is determined to avoid being subjected to Betfred Cup tormenting from 'uncle' Gary Harkins.
The veteran midfielder was a mentor to the St Johnstone winger when he made his breakthrough at Kilmarnock as a teenager.
The pair still keep in touch after their careers went in different directions but this afternoon's last-16 cup clash at Palmerston will be the first time they have come up against each other.
And coming off second best does not bear thinking about for Kennedy.
"Gary often jokes I'm his nephew because I've known him since I was about 15 and he looked after me a lot when I was at Kilmarnock," said the 23-year-old.
"He is a bit mad but I got on really well with him.
"We used to go for coffees together and he would give me loads of advice when I was coming through at Rugby Park.
"He likes a wind-up so he will be in my ear during the game this weekend and he won't let me hear the end of it if Queen of the South win.
"We have got to win anyway because we want to get going on a good cup run.
"But from a personal point of view we must win because he'll torment me if we don't.
"It will be good to catch up with him – and hopefully I'll be the one on the phone to him on Saturday night."
Harkins may be 33 and nearer the end of his career than the beginning but he is definitely a man the Saints players will have to keep a close eye on.
"Gary is far from finished yet and will be a real danger to us," said Kennedy.
"I would say he's probably the most naturally gifted player I've played with. Some of the things he used to do in training were outrageous.
"Even when I went to Everton, there were not players there with the natural ability that he has.
"He's obviously played the vast majority of his career in Scotland but there's no doubt he could have played at the top level if someone had given him the chance.
"Queens are lucky to have him. He's got great quality on the ball.
"With Stephen Dobbie there they have two very good players who have done it over a long period of time."
When Kilmarnock won the League Cup in 2012, Kennedy just missed out on a place in the match day squad.
He recalled: "I was at Killie when they won the League Cup but didn't play.
"I started the game before the final but that week the manager pulled me and said he was going to go with experience.
"I don't know if I played the week before because he was resting boys but there is always a part of you thinking you might be involved.
"It was great to be around the team at that time and hopefully we can make progress this year so I will get a chance of playing in a big game like that."