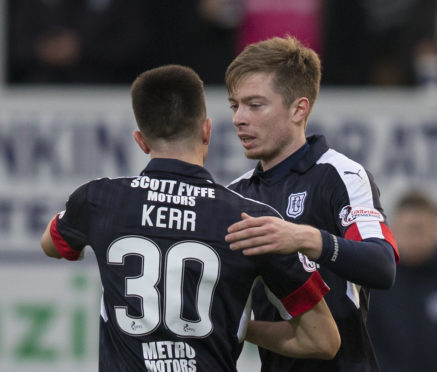 'In the long run we're all dead', said the economist John Maynard Keynes.
Dundee FC seem to have embraced that thinking with the signing of 38-year-old Kenny Miller, and the sale of Craig Wighton, 17 years his junior.
Time will tell if the need for instant gratification and goals from the former Scotland striker is wise, but I have sympathy for Neil McCann in this matter.
Hearts have paid around a quarter of a million pounds for a player who is Dundee mad, and who has lovely touch, balance, and movement, but who has not hit the heights hoped for yet.
Injury and being played in a position which doesn't suit him have a large part to play in that.
In football though, players tend to have to suit the manager, not the other way about.
This could be a win-win situation.
I think Wighton will flourish under a strong coaching set up at Tynecastle, much as John Souttar has done, after his move there from Dundee United.
The move is beneficial for the player who has great unrealised potential.
Miller meantime, has plenty of life in his legs yet, and as importantly, has fully sparking brain cells, which Dundee are desperately in need of in the front line.
I saw him lead the Livingston attack two weeks ago, before his sudden departure as player manager, and he was sharp, savvy, and switched on.
Many players have played well into their late 30s.
Paolo Maldini won his fifth European Cup at the age of 39, and played for another two years after that.
Ryan Giggs played at Man United until the age of 39, and Francesco Totti didn't hang the boots up at Roma until he was 40.
McCann knows that managers don't indefinitely survive a run of poor results. The signing of Miller who has kept himself in top condition and is a proven goal scorer, is a calculated gamble.
Without a point and bottom of the table, the Dens boss is in a game of high stakes: this throw of the dice could become either his last, or emerge as a very shrewd wager.
There is also another element to this deal though, and that is the difficulty of local players breaking into and staying in their teams in a modern global football world.
Cammy Kerr and Craig Wighton are the two most successful products of the Dens youth set up in recent times, but few others have made it.
Increasingly that is the scenario at other clubs.
Falkirk have scrapped their youth set up completely, and will concentrate on trying to unearth talent which has failed to make it elsewhere.
When Dundee United won the league under Jim McLean, around nine of the players were from the Dundee area. The rest were all Scottish.
The youth system then was a fertile breeding ground for the future generations at Tannadice.
Now both Dundee teams and other big outfits in Scotland are full of players from all quarters of the globe.
It looks to me like the days of cheering on a local hero are numbered.