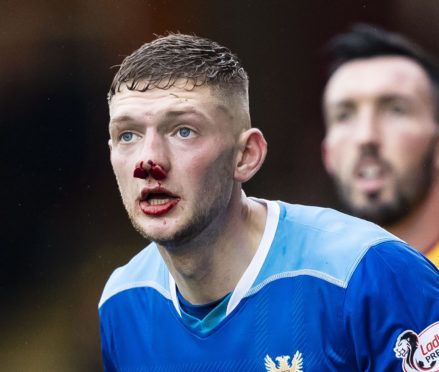 St Johnstone have emerged from their "bruising" weekend win against Motherwell relatively unscathed, manager Tommy Wright has reported.
Both Liam Gordon and Joe Shaughnessy needed treatment for head injuries at Fir Park but David McMillan appears to be the only injury doubt for this Saturday's game against St Mirren.
"We don't think Liam has a broken nose but the problem during and after the game was getting the bleeding stopped," said Wright.
"I don't want to make too much of the challenge but when you lead with your arm you leave yourself open to that kind of thing happening.
"David McMillan is a doubt for the weekend because he has taken a knock to his thigh, we will wait and see with him though.
"Joe has had stitches but he will be fine."
Matching the physicality of Motherwell's game pleased Wright greatly.
"The performance on Saturday was exactly the kind of one we wanted to see and psychologically it was important to win again," he said.
"It was a bruising game but the players deserve credit for the way they came through it and bouncing back from the Celtic defeat.
"We didn't talk too much about it beforehand because I know the players better than anyone and I knew they would bounce back.
"But to do it in a game where they had to battle and grind it out was good for them.
"We had worked on what Motherwell do. That's why we played three centre-backs to combat them getting the ball into the box.
"So we knew what we had to do, it was a day for doing the basics well and that's what we did.
"I was pleased for them because they took a lot of criticism. In this day and age the level of it is beyond belief at times.
"But they took it and they battled their way through it."
Wright also took satisfaction from the fact that when time was running out, Saints didn't just settle for a draw.
"I think the win was what we deserved because we made positive substitutions," Wright added.
"We could have taken off Drey and brought on a more defensive player but we didn't. We had a go and we got our reward.
"Matty Kennedy coming on late on gave us the impetus to go on and control the game in the latter stages.
"It was a disciplined, controlled performance that won us the three points.
"It wasn't pretty at times but we played well when the game opened up but to do that you had to win the battle first.
"We had big performances – Liam Gordon was excellent and I thought Scott Tanser bounced back brilliantly."
Attention now turns to the battle of the Saints at McDiarmid Park.
Wright said: "We need to build on it now, we took those four defeats but two of them were from very good performances by Celtic and Rangers.
"In the Hearts game we created a lot of chances and should have scored more than the one goal we did get.
"But it was the manner of the defeats against the Old Firm that led some people to think we had a crisis on our hands.
"Nobody here ever thought that, we have the experience in the team and within the staff to know it would turn again."