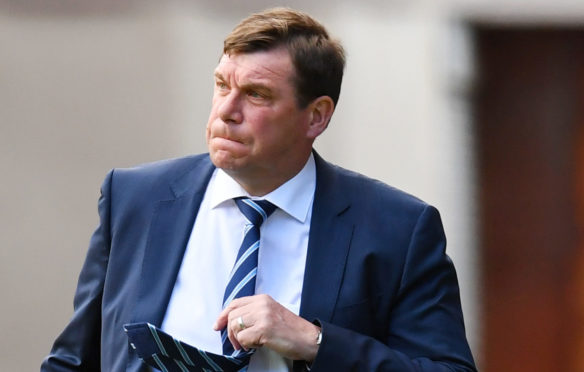 There was never any chance Tommy Wright would panic after losing four games in a row.
The St Johnstone manager had seen it all before in a successful career in Scotland and Northern Ireland.
His belief in a younger squad never wavered despite losses to Celtic (twice), Rangers and Hearts.
And his rejuvenated Saints are now chasing a fifth successive win, and clean sheet, against Hamilton Accies tomorrow on home turf.
"With four wins after the Celtic defeat we have come up with the perfect response," said Wright
"The players have responded magnificently. They have played well individually and as a team, looking solid with clean sheets and carrying a real goal threat.
"But the danger would be getting carried away with it all.
"We go into Saturday's game giving Hamilton total respect. There's never much between us and we have to make sure we are right again."
Wright confirmed a frank exchange of views had followed the 6-0 loss to Celtic last month.
"I said a few things after the Celtic game, with a reminder of the good things we had done in that bad four game run," he explained.
"When I left they had words with each other, which is important.
"Players in a dressing room sometimes have to say things to each other that maybe a manager shouldn't. I felt that was one of those times.
"We have had these sort of meetings before in my time here when there is negativity after a run of defeats.
"We have had bad runs before, longer ones. This was down to losing 6-0. Luckily I haven't had too many big defeats.
"It's always important to pick out the positives and analyse it without going overboard.
"Negative people might say Celtic took their foot off the gas that day but it was a positive that we only conceded one goal while down to 10 men.
"We were almost drawing a line in the sand with that meeting because I knew the capabilities of this squad of players.
"We are all working hard together, staff and players, and we have turned it around.
"I have suffered bad runs in Ireland and in Scotland.
"But I have over 500 games under my belt now and have experienced staff and some experienced players here.
"While other people might panic we don't.
"I have a belief in my players. I have always put trust in the players I have worked with.
"I have taken over a club in the Irish league that was bottom of the table without a win in 10.
"But when a manager takes over at any club they are maybe not your signings but they are your players."
Wright is delighted that his younger players, in particular, have passed recent character tests with flying colours.
"We have brought down the age with this squad and that was key over the summer when I sat down with the chairman (Steve Brown)," he said.
"I think we drew with Celtic last year with the oldest average age of any team in the UK at 31 or 32.
"Now it is down to 26 in the team and 24 or 25 in terms of the squad.
"We have had to evolve the squad and we have recruited well in the last window.
"There is a younger group with a vibrancy about them and a willingness to work hard and improve."
Striker Tony Watt is expected to recover from a tight hamstring and sickness victim Murray Davidson has resumed training.
Keeper Zander Clark is chasing a fifth shut-out against Accies, who have won just once in the last 12 contests with Saints.
And while he wasn't named in Alex McLeish's latest Scotland squad for Nations League matches with Albania and Israel, Wright suspects Clark's form won't have gone unnoticed.
"Let's hope we are not tempting fate but Zander has been superb," he said.
"He surely must be on the Scotland radar along with Jason Kerr.
"They are young players doing well in the top league in the country and doing their jobs to a high level."