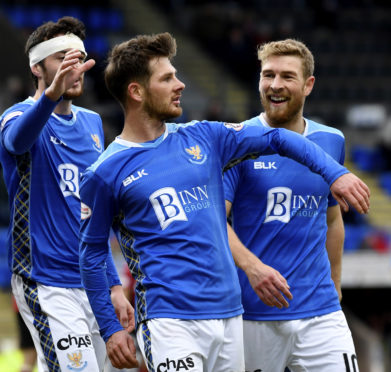 When he last played Kilmarnock, Matty Kennedy was left questioning whether he was good enough to be a professional footballer.
But as he prepares to face his old club again at McDiarmid Park this weekend, the St Johnstone forward is brimming with confidence.
Three goals in the last four games for the winger converted to a striker have played a big part in a stunning run of five Premiership wins for the Perth side.
It is certainly a big step forward for Kennedy – and his team – from their bitterly disappointing opening day defeat at Rugby Park.
"We're a totally different team now," he reflected.
"Back then we had a lot of new players in the team and it takes time to bond.
"I'd only been here a couple of weeks. I played against Forfar in the Betfred Cup but that was all.
"So for me personally, I was miles off match fitness.
"I'd never missed a pre-season before. Doing your own running is nothing like what you get in games.
"I went to Australia for four weeks in the summer. I was blasting my training through the week on a programme from Cardiff that I stuck to.
"I'd thought that I had done enough but obviously I hadn't.
"I could get up and down the park at Kilmarnock but I wasn't sharp at all.
"I remember sitting in the changing room thinking: 'How am I a footballer? How have I actually made it to be a footballer? I should not be playing football, I'm that bad.'
"That's how you feel after a defeat like that.
"The gaffer was telling us we weren't good enough and I'm just thinking: 'I'm so bad at football.'
"You have ups and downs. Now we all feel as if we'll beat anyone."
Kennedy was recruited as a winger but Saints are reaping the rewards of Tommy Wright's recent decision to move him in-field.
"I'd never played there before," said the former Everton man.
"I actually started out as a defender when I was wee but then I was always a winger.
"I'm enjoying the new role and it's always good to put the ball in the back of the net, especially when we're winning.
"It's a new challenge. I like to run at players but when you're through the middle it's more one and two touch and knock it off. Playing in a higher position looks as if it's suiting me.
"The manager must have liked what I did when I came off the bench against Motherwell for the last half an hour or so.
"We won that game and then I started up front against St Mirren and have stayed there since."
Kennedy has been finding the net more regularly than Tony Watt in the last few weeks but that doesn't tell the whole story.
"Tony's been brilliant," said Kennedy. "I really rate him as a player and as a guy.
"He's only a year older than me but he's been playing as a striker all his days.
"He tells me where to run – probably because he doesn't want to, mind you!
"He works really hard for the team. He hasn't scored for the last few games but he's still been an important player for us.
"He set me up last weekend and he had the shot at Livingston that I tapped in.
"He's scored the most goals, has a few assists and has been working really hard.
"He's still happy and enjoying himself because we're winning.
"But I've scored more than him in the league so I'll be getting on to him about that!"
Saints have certainly proved that they are no one man band.
"It's a positive that we've won all these games without Tony scoring," said Kennedy.
"He's obviously going to start scoring again, which can only add to what we're doing just now.
"We're playing very well and in a good position in the table. If we'd nicked another win it would be an unbelievable position."