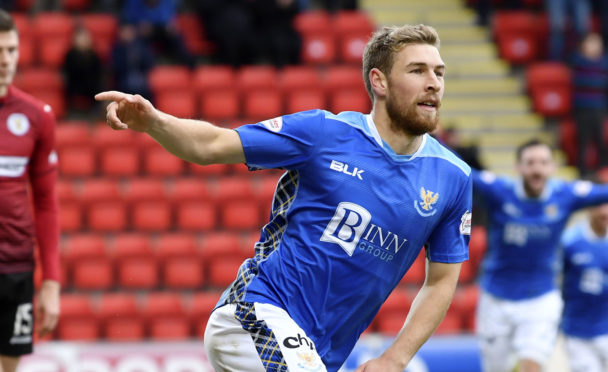 Tommy Wright has often talked up the strength in depth his St Johnstone squad has this season.
And now that one of the team's star men has been ruled out for the rest of the Premiership campaign with a serious injury, this is the time to show it.
Whoever gets the task of playing wide right against Hearts tonight will ready to seize his opportunity, according to midfielder David Wotherspoon.
"We have lost Drey and he gives us pace and directness," said the former Hibs man.
"But we talk about the strength in depth of the squad and how good it is. We have players to step in.
"Boys have been waiting for their chance."
The form curve of Hearts and Saints couldn't be more different, with the Perth side the one which wants to continue the trend and Hearts the one looking to buck it.
"Hearts are in a slightly different situation from the last time we played them and the roles are reversed I suppose because we have been doing well," said Wotherspoon. "But we are taking nothing for granted.
"We have enough about us to get a result.
"It took one result to kick start us. The Celtic game was a learning curve and we knew we had to do things better.
"The next game was at Motherwell and a late winner got us going. That got us started on this run and we have to keep it going.
"We have to make home games count.
"Going fourth is a massive incentive for us but so is keeping our run going."
Wright yesterday received the Ladbrokes Premiership manager of the month award for November, which came as no surprise to Wotherspoon.
"It is well deserved," he said. "The manager is doing a great job, as always.
"The boys see what he is all about and fight for everything.
"He has the experience of runs in the past when things weren't going our way but he knew we could bounce back.
"It's about keeping it going now.
"But he also handles the team and the squad well.
"Players want to play every game and they are gutted if they miss out. But he sees the bigger picture.
"Sometimes it is good for the team to have a fresh air of legs when the games come thick and fast.
"We have to be in it together. It's not just about the players who start out on the pitch."
Wotherspoon was disappointed to not see any action for Canada on a recent international break.
"I do feel part of the national set-up but it was frustrating not getting a game," he admitted.
"I am desperate to play and I have only had the one chance so far.
"Our next game isn't until March so I just have to keep working away and apply myself here first and foremost.
"I was training in St Kitts. It was a 24-hour trek to get there but it was brilliant.
"I'm not one for lying in the sun because I just burn so I was resting-up after sessions.
"The pitch was a bit bobbly but the boys got the job done and the win we needed.
"It was good for me because we have a tough run of fixtures coming up."