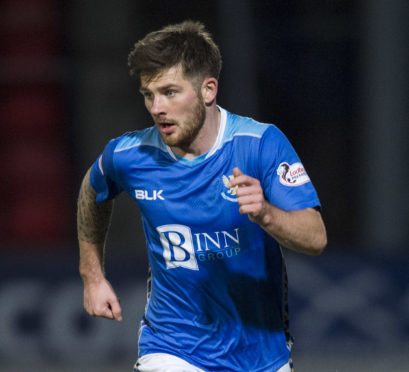 St Johnstone will be a team with a "point to prove" when they come up against Rangers on Sunday, according to forward Matty Kennedy.
The former Kilmarnock and Everton man believes that the 5-1 defeat at Ibrox back in September wasn't an accurate reflection of Saints' capabilities.
And results in the last two months would back that theory up.
"I think we're a totally different team now compared to when we first played them," said Kennedy. "This will be a good test for us.
"We're a better team now and we've shown that we can beat top teams, like we did against Aberdeen.
"We've got a point to prove. We'll be the underdogs but I think we can do some damage.
"We went to Ibrox and were nowhere near it and, as I said, we're a totally different team now.
"We need to go out there and prove to people what we've been training on and how good we are. Hopefully we can do that."
He added: "I think all of the boys realised that we needed to do better after the Rangers defeat and then the Celtic game (which ended in an even heavier loss).
"Everyone has been working hard in training.
"It maybe took time for us to gel because there were a lot of new faces and I was obviously one of them.
"It takes a while to gel and you don't know how other people play. But we're together now."
Rangers boss Steven Gerrard was still at Liverpool when Kennedy was an Everton player, though they never shared a pitch together.
"I didn't meet him when I was down south," he said.
"I played under-21 or under-23s against Liverpool when I was at Everton and I noticed him in the background watching the game.
"All of the Liverpool fans see Steven Gerrard as a legend and you can hear all of the Rangers fans raving about him. I'm sure he's doing well."
Kennedy became the fourth Saints player to miss a penalty this season when his spot-kick was saved in the Motherwell match.
It hasn't affected him, though, and it won't stop him putting his hand up to take the next one the team are awarded.
"It was a good penalty and I've hit it right in the corner with pace," he said. "It's a good save at the end of the day and it happens.
"I've hit it perfect and I think it was actually better than my first penalty (against Hearts), which I scored.
"I'll still put myself forward for the penalties because I'm a confident person.
"I feel if I get the penalty again there will be no nerves and I'll score the goal.
"But all of the boys will be trying to hit it if they've not had one yet."
Kennedy has played in various positions across the Saints attack and he is happy for manager Tommy Wright to make use of his versatility.
"I've enjoyed the last few games and I'll play wherever the gaffer wants me to play," he said. "If I'm in the team then I'm happy.
"Ideally I want to play striker because I think I did well there. But if I need to play on the wing, then I need to play on the wing."