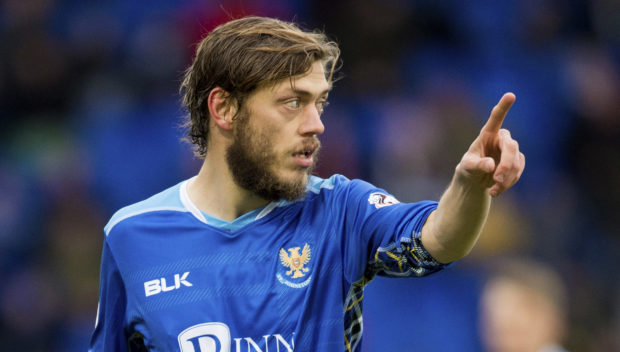 It will be performances and results that will motivate the St Johnstone players in their two last games before the January break, not their league position, according to Murray Davidson.
Even an eight-game unbeaten run didn't keep the Perth men in the top six for long, and back to back defeats against Motherwell and Rangers have seen them drop to eighth.
The top six is still within touching distance, though.
And matches against the Premiership's bottom two sides – St Mirren today and Dundee on Saturday – present an opportunity to take Saints back to the high side of the table.
But Davidson believes that league placings have not yet become significant in the most congested top eight that he can remember.
"It's pretty crazy that we have had the run we've had lately and are only in eighth place," said the former Livingston man.
"It's so tight. The league is packed and everyone around us is pulling off good results.
"Usually by this stage there are a few gaps in the league but this year there really is nothing between so many of the teams.
"In the end, where you are at the end of the season is what really matters.
"Getting back into the top six before the break would be nice but May is the real focus because we want to be in there at the end.
"We don't want to go into the break on the back of poor results so two wins would be ideal, but it's not going to be easy.
"Both games are away from home and both teams are fighting for their lives, so we will have to match them."
Saints feel as if they should have at least one more point on the board after coming so close to drawing with Rangers on Sunday.
"The Rangers game was a chance missed," said Davidson. "We played really well and the game plan was spot on.
"We had the balance between being hard to beat and being a threat right so it's frustrating to leave with nothing.
"But we go again now. The St Mirren game is a big one for us because we want to get back on track after two defeats.
"They went to Motherwell and won last weekend so they will take plenty of confidence from that.
"Every game is difficult in this league. We know people from outside will look at it and think we should be getting the three points.
"But this league has shown time and again that when teams are expected to win they often don't.
"So nobody here is taking anything for granted. St Mirren have some good players and they will be desperate to build momentum before the break."
The Saints players couldn't have put more effort into the Rangers contest and their opponents today have had an extra day's rest. But Davidson insisted that fatigue won't be a factor in Paisley.
"I don't believe in letting yourself feel tired," he said.
"I have never played a game where it comes into the last 20 minutes and you think about having played a few days earlier.
"Everyone has bumps are bruises at this time of the season but when you go onto the pitch and a game starts then the adrenaline will get you through.
"This is a busy time of the year but it's enjoyable having so many games come thick and fast.
"There is a break coming up and there will be time to rest then – but we have to put the hard work in before that."