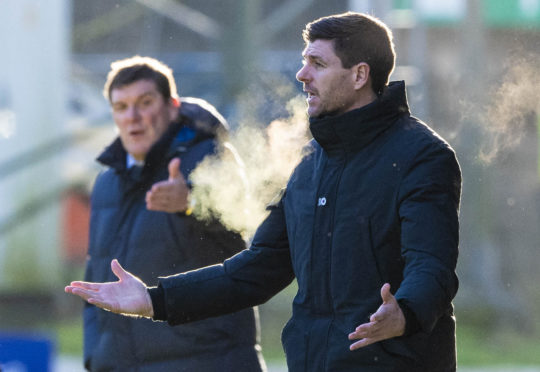 St Johnstone manager Tommy Wright does not believe Steven Gerrard was disrespecting his team.
He thinks the Rangers boss was complimenting them.
BBC pundit Michael Stewart claimed there was no need for Gerrard to say his side "shouldn't have to work that hard to win at places like this" after Sunday's 2-1 victory for the visitors.
But Wright is happy to give the rookie Ibrox manager the benefit of the doubt.
"You can look at it two ways and say it is disrespectful or you can say it is a compliment to us and the way we played and how difficult we made it for his team," he said.
"Nowadays people want to pick over the bones of every comment.
"But I don't have a problem with it. I take it as a massive compliment that a manager of Rangers said his team had to work so hard to win the game. End of story.
"Steven has always been very open and we have had good chats before and after games.
"There was maybe an element of frustration right after the game.
"But he will have known how successful this club has been in recent years, winning a trophy and qualifying for Europe time after time."
Wright is hoping that his side can replicate the performance they produced to run Rangers so close on Sunday when they face St Mirren today and then Dundee at the weekend.
"We had opportunities to win the Rangers game and unfortunately didn't take them," he reflected.
"Then a £10 million striker made the difference.
"We've gone through the two goals and there were a lot of little things we could have done better.
"Maybe against the lesser teams we wouldn't have got punished but the top teams do punish you.
"They were only little errors but they accumulate against the good teams.
"We have to learn from it.
"I never like losing and the players don't like losing. But there's a way to lose and we went down giving everything that we had.
"We've lost a game but I can still take positives out of it and if we maintain that performance level we'll pick up points in these next two games.
"St Mirren are desperate for the points and after their win on Saturday they'll think this is a game they can target to get all three points. We know that they are fighting for their lives.
"But I'm only concerned with our performance."
Meanwhile, Gerrard said: "I think we've showed many times over the season that we've got character and guts.
"But we've also showed at times that we've turned up at places thinking we've got a divine right to beat the opposition.
"We weren't the real Rangers team that I've seen so many occasions and I said that after the game.
"Some of my quotes were taken out of context. I didn't mean to be disrespectful to St Johnstone or Tommy Wright. Tommy went out of his way to welcome me here.
"He's someone I've got the utmost respect for. St Johnstone as well as all the other teams and managers in the league. So some of my quotes were misunderstood or taken the wrong way, so I apologise for that."