St Johnstone striker Tony Watt insists he never doubted himself after finally ending his long wait for a goal.
Watt headed home a last-minute winner for Saints to beat St Mirren 1-0 in Paisley on Wednesday and his confidence is now sky-high heading into tomorrow's match against Dundee at Dens.
Prior to making it a miserable Boxing Day for the Buddies, Watt had last hit the back of the net against the Dark Blues in a single-goal victory at McDiarmid Park on August 25.
That is quite a drought for a striker but Watt always knew it would sort itself out.
Also, boss Tommy Wright stood by him all the way, continuing to play Watt in most of the Perth team's games.
Now Watt hopes to celebrate his 25th birthday by grabbing another goal against bottom club Dundee.
He said: "Before games the manager has been saying to me: 'Just keep doing what you are doing and I don't care if you score.'
"Eventually, the goal had to come and I have never doubted myself that it would happen.
"When you score it's a good feeling if you are doing it every week but when you score a 90th-minute winner after a long time (without a goal) it feels even better.
"In saying that, I will just keep doing what I am doing and it won't worry me one bit if I don't score again before the end of the season as long as the team keeps up this form."
Wright went on record after the victory in Paisley to reveal he had been urging Watt to get into the box more often and believe in himself when it comes to using the head.
Watt has taken the advice on board, adding:
"I have been holding the ball up and keeping people off but the longer it goes you start to drop back.
"That's just the manager (talking) because he loves getting on to you and getting the best out of you. I quite like that.
"Obviously, I don't say anything back because he would go through me but they have all been getting in my ear that I need to get into the box.
"The gaffer, Maybs (Alan Maybury) and Alex (Cleland) have been saying it for weeks so thankfully I got in there this time and got a goal.
"It was brilliant because we have a habit of scoring late goals this season.
"We were gutted not take anything off Rangers on Sunday but we more than made up for that.
"We have three points over the two games and if we can add to that against Dundee we will be going into the second half of the season on a successful run.
"The manager said to me at the weekend that for tactical reasons I wouldn't play against Rangers.
"I knew, obviously, that there were three games in six days so the team comes first and that's just the way football is.
"I was disappointed but I wasn't going to make any problems or do anything because he is the manager and he picks the team.
"The manager has been brilliant with me since I came in and has given me all the confidence.
"He has been telling me that even if I am not scoring I am doing well and that's a plus point.
"I have been trying to improve my all-round game and hopefully I can do that."
Watt celebrated by running a fair distance up the pitch in what appeared to be the direction of the St Johnstone dugout.
However, he rather dodged the question when asked if he was making his way to his boss to perhaps make a point.
"No, I can't say that!" he joked.
"I just didn't know what to do with myself.
"The boys have been hammering me because they have been saying I was going towards the manager but we'll just kid on I was going towards somebody…anybody.
"Our fans were at the other side of the pitch so I didn't want to goad the St Mirren supporters."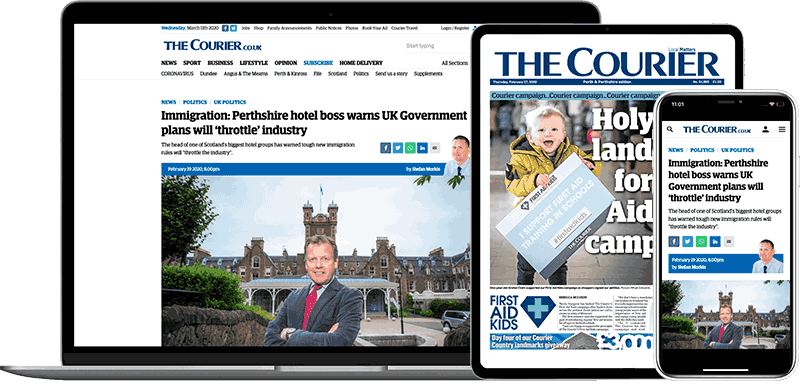 Help support quality local journalism … become a digital subscriber to The Courier
For as little as £5.99 a month you can access all of our content, including Premium articles.
Subscribe