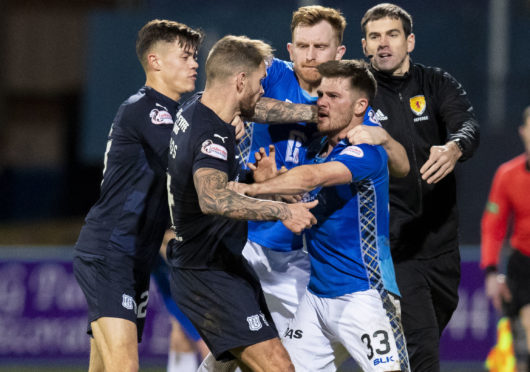 St Johnstone's Matty Kennedy has accused Dundee's players of taking turns to give him the boot.
Kennedy came in for some rough treatment at Dens Park on Saturday as Saints eased to a 2-0 win over the Dark Blues.
He claimed he enjoyed the victory all the more after receiving some extra attention from the opposition.
Kennedy even had teammate Liam Craig pick up a booking with 15 minutes to go for fighting his battle for him after he had been fouled by home player Martin Woods right in front of the away dugout.
"I enjoyed it and it was definitely my favourite win of the season," he said.
"Being kicked towards the end made it all the more enjoyable for me. I wanted the win even more.
"I was really happy just because of the fact they had been kicking me.
"It really annoyed me.
"I thought it was embarrassing but we did the job and that's why the gaffer (Tommy Wright) took me off.
"He knew I was starting to see red but I was delighted to get the win.
"I suppose you could take it like that (as a compliment) but I think it's embarrassing. I would never do it to anyone else but at the end of the day we got the win.
"It looked like they were taking turns in kicking me.
"I'm sure their manager wouldn't want them to be doing that."
The challenge from Woods caused uproar, with Craig sticking up for his colleague during a melee.
Kennedy added: "You could see my teammates sticking up for me when it all flared up because it was a bad tackle.
"There was just no need for it.
"It could have been serious, definitely.
"The first one, he's angry and he's just decided to kick me. It was knee high and it was a bad tackle.
"The second one maybe did not look as bad but it was horrendous. It was on the side of my knee and if he's caught me and my foot is planted then he would have broken my leg..
"When I got up I laughed at him. He said: 'Sorry, are you all right?'
"I just said: 'Yes, it's all right mate, let's just leave it.' I'm not going to hold a grudge but I would like it not to happen."
Kennedy also claimed that the officials felt he was over-reacting.
He said: "I heard the assistant speaking to his official on the far side and saying: 'Watch Kennedy, he's going down a bit easy.'
'But I was not going down easy at all.
"I was getting smashed all the time by their players.
"I am not asking for protection but I think the referees need to watch out for bad tackles. There's no need for it. It should not be happening."