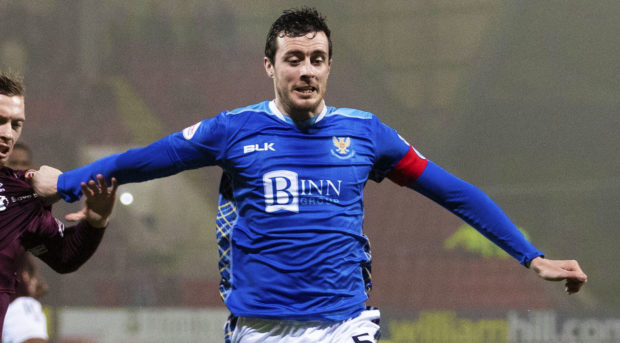 Tommy Wright hasn't given up hope of keeping his captain, Joe Shaughnessy, at McDiarmid Park – even though he knows Aberdeen will outbid St Johnstone.
The Dons have been in touch with Saints and are free to talk to the centre-back about bringing him back to Pittodrie next season.
But Wright has not resigned himself to losing the Irishman.
"We made Joe an offer a while back and were informed by his adviser that there was a lot of interest in Scotland and England," said the Perth boss.
"Only one club has contacted us and that's Aberdeen, so I don't know if his adviser is speaking to anyone else.
"Aberdeen have done things properly, Derek (McInnes) and I have had a conversation about it.
"They are the only club to have contacted us, so if his adviser is speaking to others then they're not doing it as properly as Aberdeen.
"We have made Joe a second offer which is a very good one for this club.
"When the likes of Aberdeen, who are higher up the food chain than us, come along then we can't compete with that.
"But the hope I am hanging on to is that Joe has consistently told us he wants to stay.
"I hope he looks at where he's best placed to keep playing.
"When we signed Joe he had been released by Aberdeen, we told him we'd play him as a centre half and he would get his opportunity here.
"Everything we promised him when he arrived here has happened.
"He's developed well here, he's improved and I still think there is a bit of improvement to come from him.
"So it will be a decision for him, he's got to weigh up all aspects of it on the financial side and the football side.
"There is not a lot we can do, we can only make the best offer we can then it's up to the player."
What could also count in Saints' favour is the fact that in this golden era for the club, player after player who have departed have found out that the grass usually does not turn out to be greener than McDiarmid's.
Wright said: "If he moves on, it will be like all the other players who have left here in the past – we move on and it's no big drama.
"That's the business we're in, if bigger clubs come and players go then we just have to deal with it.
"He wouldn't be the first player who has left us – although a few of them have the habit of coming back!
"He might want to speak to one or two of them in the dressing-room.
"Not too many players have come back to haunt us, I can sleep pretty well at night on that front.
"I don't think it will be a problem for him, he's our captain and I know he's not the type to be distracted.
"Joe is a good, honest lad and someone who respects what we and the club have done for him.
"It's a pre-contract Aberdeen are looking at so unless that changes he will be here until the end of the season at least."
Saints face Hamilton Accies in the Scottish Cup this afternoon.
"Hamilton is always a tough game," said Wright.
"They have made a couple of signings so will get a lift from that.
"They always have a habit of getting results when it's not expected so we're well aware of the fact we'll have to be at our best."
One centre-back who has committed his long-term future to Saints this week is local lad, Liam Gordon.
The club's one and only Scottish Cup triumph brings back happy memories for him.
"I must have been 17," he recalled. "I was on the books with Hearts at the time but our season was finished and I was up the back of the bus with the boys.
"It was a great day as a fan, and for the whole city.
"Most of us in the squad weren't part of it in 2014. All the boys would love a cup run. We've not had one for a few years."
Gordon is seeking to establish himself as a first team regular.
"It's frustrating when you play a few games and then drop out but the squad is so strong here," he said. "There are boys on the bench and in the stand who have got a massive part to play.
"The defence has been really settled. All four of them have been fit as a fiddle. The team's doing well, which is all that matters."